A

s we reach the business end of Euro 2020, it's been nothing short of an entertaining showcase. This edition of the tournament will arguably go down in history as one of the best in recent times. We've been spoiled with all sorts of drama, from a flurry of own goals to David & Goliath clashes that have seen the likes of Switzerland, Czech Republic, and Ukraine all progress to the last 8. Trying to live up to the dark horse label has proven to be a welcome challenge for some of these nations as they've taken the scalps of historical powerhouses along the way in the form of The Netherlands and favorites France.
Unsurprisingly though, on the other end of the spectrum your typical contenders; Spain, England, Italy and Belgium also find themselves in the quarterfinals, with the latter two being drawn together to face off for a place in the Semi-final. Having both breezed through the group stages, this serves up an enthralling encounter as the pair meet for the first time in the knockout phase of a major tournament in their history off the back of a contrasting recent couple of years.
Italy
It's been a renaissance of sorts for The Azzurri since Roberto Mancini took over in the Spring of 2018 following the team's failure to qualify for the World Cup in Russia. Seemingly hitting their peak as a team coming into this tournament, the Italians haven't slowed down one bit, cruising through their group with 3 wins over Turkey, Wales and Switzerland respectively. Now sitting on a record of 31 unbeaten games in the nations history they'll be looking to finish the job; a span that has seen them go over 1,000 minutes without conceding a single goal before finally surrendering one to a stubborn Austrian team in the last 16, seeing them off 2-1 in extra time thanks to substitutes, Federico Chiesa & Matteo Pessina. A Sasa Kalajdzic header deep in extra time wasn't enough but rather a consolation as Austria bowed out of the tournament at the hands of the revitalized Azzuri outfit. Italy will no doubt be looking to sharpen up their act as they produced 27 shots but only 6 on target in that game, numbers that won't be encouraging going into a game against the number one ranked Belgian team who are also in good nick, having last lost a game in October.
Belgium
On the other hand, after seeing off Denmark, Finland and Russia with little to know trouble in the group stages, The Red Devils edged off a relentless Portugal who dominated the game but couldn't penetrate or create any clear chances, as Thorgan Hazard unleashed a vicious strike in the 42nd minute which proved to be enough to send the reigning champions packing, sealing a 1-0 win and progression into the quarter-finals, but at some cost. Captain Eden Hazard and star-man Kevin De Bruyne both picked up injuries in the second half on course to the victory, more than likely side lining them for this massive game. This will no doubt have dampened the spirit in the Belgian camp but by no means signaled the end of their chances of going further into the tournament and possibly winning some silverware, as the 'golden generation' are running out of time to prove themselves worthy of the top spot in world football. The team has been spoiled with a historical amount of talent and will see this as their best shot at glory with the team's key players now in their prime or edging past it with Eden Hazard, De Bruyne, Toby Alderweireld and Jan Vertonghen all in their 30s. The Belgians have been very consistent for the greater part of about 6 plus years now but have nothing to show for it and will be buzzing to give themselves the best chance at ending a trophy laden period of international dominance.
Key players for Belgium
Thorgan Hazard – In a rich vein of form, the Dortmund man will be looking to build on a good run of performances so far at the tournament in the absence of his brother, be it by scoring himself or creating for the team. Usually ghosting in from the left in attack and looking to link up play, a underated trait of his is his willingness to track back and help in defense. With Belgium's setup pretty much similar to that off Borussia Dortmund, Thorgan has seamlessly thrived in his role. Martinez will be looking to exploit the space left in behind by Giovanni Di Lorenzo, as Italy prefer to use a lot of width by attacking with overlapping fullbacks.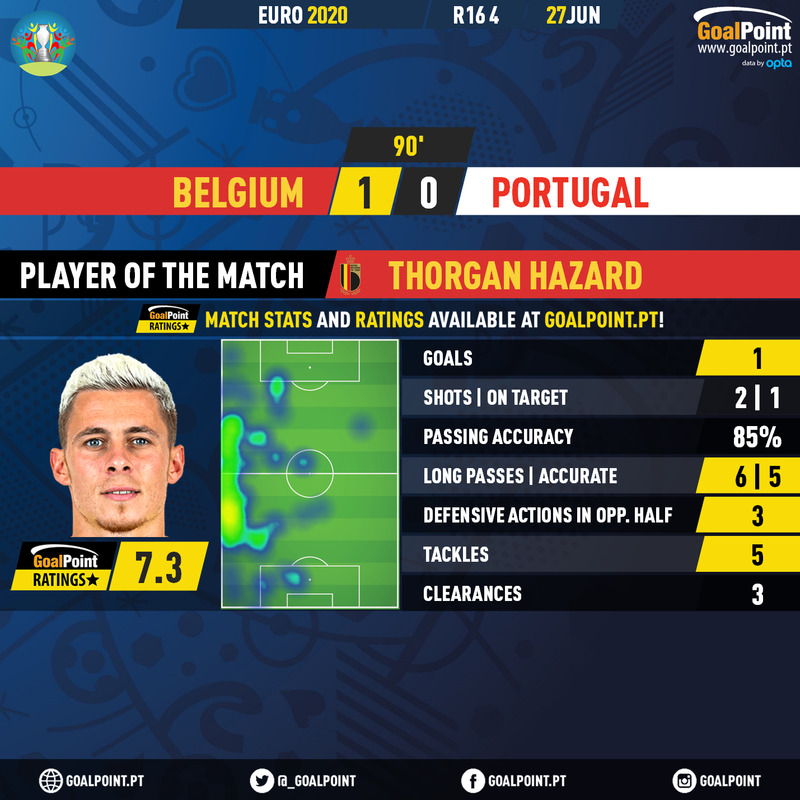 (click to expand) Thorgan Hazards had a match winning performance on both ends of the pitch vs Portugal
Romelu Lukaku – By far Belgium's biggest asset going into this fixture, Mancini and his men will be weary of the devastating effect Lukaku can have on a defense if given the chance. Physically imposing, sharp on the turn and able to run at a defender, the Belgian seems to have sharpened up his game in recent seasons which could potentially be The Red Devil's key to progressing further into the tournament. He will need his teammates to look for him throughout the game and create chances against a very stubborn Italian team that doesn't concede much.
Key players for Italy
Lorenzo Insigne – Having not really shown up since the first game of the tournament in which he scored, the Napoli star will be more than ever, motivated to prove his worth to this Italian side with an exemplifying performance. At 30 years of age now, Insigne is a seasoned veteran and a leader for this side. His ability to single handedly turn a game on its head can not be understated, having done so time and time again at club level. He enjoyed his highest goal scoring campaign for the Naples outfit, netting 19 goals and providing 7 assists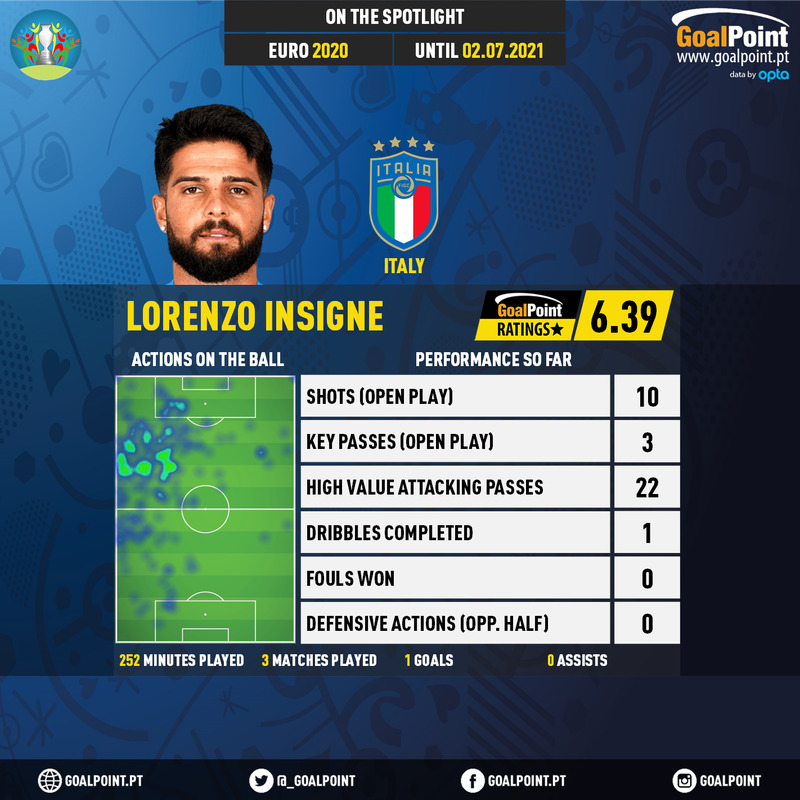 Federico Chiesa (if he starts) – his dynamism and directness is precisely what tournament football thrives on. Trying to lay a claim for a permanent starting spot his hunger to silence his haters is at an all time high. Not by any means the most stylish player in the Italian squad, Chiesa can still get past a man with his raw pace and athleticism. Domenico Berardi hasn't been in the greatest form lately, which could see Federico awarded a starting spot ahead of the Sassuolo man.
Tactical Corner
A lot of pressure will be on the shoulders of Romelu Lukaku to carry the goalscoring burden of the team without his main attacking supporting cast; a duty the Inter Milan striker seems to relish with open arms. Fresh off a campaign which saw him score 30 goals for the Nerazzurri in all competitions and adding three in four games so far in the tournament, he'll be looking to spearhead the Belgian frontline into rewriting history. One worry for them will be where the creative prowess of De Bruyne will come from with his absence. They have a more than capable midfield with Axel Witsel and Youri Tielemans pulling the strings from deeper but lack a threat to break the lines further up the field. Having not played a key role for Belgium so far, Dries Mertens is likely to come into the fray to fill the void left by Eden Hazard. He could potentially have a huge say in the outcome of the things come full time. 
Furthermore, going about his business in a cunning manner is Thorgan Hazard. Often in the shadow of his older brother, the winger has been outstanding in the three games he has played, chipping in with two goals and will be looking to add to that tally come Friday.
Juxtaposing the Belgian issues, Italy are blessed with an abundance of talent in the middle of the park, both defensive and attacking wise, posing a much welcome headache for Mancini – as Marco Verratti, Jorginho, Manuel Locatelli and Nicolo Barella are all raring to go. Their biggest threat comes from the left flank with Lorenzo Insigne and Leonardo Spinazzola in the form of his life. The Roma left back has already picked up two star of the match awards in four games in the competition, bombing forward and causing all sorts of problems for opposing defenses.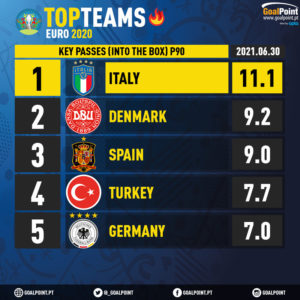 The team has been creating loads of chances but seem to be struggling with finishing them off at times. As we all know Ciro Immobile is one of the most lethal strikers in world football but sometimes he has struggled to keep up with the fast paced and relatively non-typical Italian style of play that Mancini looks to play but of course it would be silly to write the Lazio man off. He can change a game at any given point  with his goal scoring ability. 
Another interesting factor will be whether the enthusiastic and ever industrious Chiesa will finally get a chance to start ahead of Berardi. The 23 year old has been very impressive during his cameos in the tournament so far, coming off the bench thrice and starting once for the Azzurri, being rewarded with a decisive goal in their last game.
There's definitely going to be more than pride to play for, as the last meeting between the two managers at club level ended in victory for the Spaniard, Martinez' and Wigan; as they ran away 1-0 winners against Man City in the FA Cup clash back in 2013. Although it's almost been a decade since the encounter, surely Mancini will have that game at the back of his mind.
Conclusion
Ultimately this game is going to be won and lost in midfield, a case of who wants it more once the whistle blows. All signs point to a dominant Italian midfield overpowering the Belgian contingent of Witsel and Tielemans. With both teams relatively conservative in defense, it's hard to see a ton of goals in this game but as we've seen in the last couple of days, a frantic 10 minutes can turn a game on its head and produce goals a plenty.
If history is anything to go by, most signs point towards an Italy win; having never lost in four previous meetings against the Belgians. The loss of Eden Hazard and Kevin De Bruyne will be a massive factor and could conceivably be detrimental to their chances of going any further but if Lukaku is afforded any chances to attack the Italian goal it could be a different story when all is said and done.
Writer Prediction:
Belgium 0-1 Italy
Author: Vuyo Ndebele ( @RegaloJnr)