A

fter one of the most entertaining nights of Euro 2020, Italy won only their 5th penalty shootout in their footballing history. It only took 23 shots, two magnificent goals and 120 minutes of semi-final football to get to the nail-biting conclusion. In the first half, it became very apparent that Spain were not going to let Italy play through midfield like they have done so far at Euro 2020.
The front line dropped back to help man-mark Jorginho, Nicolo Barella, and Marco Verratti, limiting Roberto Mancini's side to just 1 shot in the first half. The next 45 minutes brought us goals though. First, Italy made a superb counter attack that included a delightful outside-of-the-boot ball from Lorenzo Insigne, which was then intercepted brilliantly by Aymeric Laporte, but only to seal a sensational finish from Federico Chiesa. His curling shot left Unai Simon glued to the turf, and sent Wembley into pandemonium.
With 10 minutes left and Spain pushing, Luis Enrique's side found their equaliser through a rare bit of total chaos from Italy. Alvaro Morata was allowed first to drop deep to the centre circle, then make a 180-degree turn and arrow straight through a strangely empty Italian midfield. A simple one-two with Dani Olmo gave him the space to finish past Gianluigi Donnarumma.
Extra-time came and went, with the only highlight being Barcelona's Pedri misplacing his first pass of the match. For the previous 105 minutes and 60 attempted passes, he had a 100% pass accuracy. However extra Italian bodies brought on managed to keep Italy's defensive block afloat, and it sent the game to a penalty shootout.
Manuel Locatelli's opening penalty miss threatened to pile early pressure on the Italians. The worry was short-lived though, as Dani Olmo fired Spain's first penalty into the stands. It then took until penalty number four for either side to miss again, as Morata's tame low spot-kick was saved easily by Donnarumma.
The daunting task of sending Italy through was left in the cool embrace of Chelsea's Jorginho. He effortlessly outwitted Simon, waiting for the Atletico Bilbao keeper to inch towards his right-hand corner, only for Jorginho to place it the opposite way and send his nation through to the Euro 2020 final.
GoalPoint's Player of the Match: Dani Olmo
Despite his penalty miss, it was Dani Olmo's influence and versatile positioning that kept Spain on top throughout the game. Morata and Moreno, Spain's usual strikers, were left on the bench as Olmo was listed as Spain's center-forward flanked by Oyarzabal and Ferran Torres. However, Olmo was a definitive false 9. In the first 60 minutes, it was not uncommon to see Olmo occupying space between Sergio Busquets and Koke in Spain's first line of midfield.
This tactical setup worked a treat though. Olmo allowed Spain to progress the ball vertically, free from the tight marking of Leonardo Bonucci and Chiellini. Olmo overloaded the midfield, helping Spain keep 70% possession. He also defended from the front, making 33 pressures on the night.
When Spain went 1-0 down though after 60 minutes, Olmo moved wide to the left wing to accommodate Alvaro Morata entering the field. From there for the remainder of the game, the 23-year-old completed a through ball, two key passes, and assisted Morata's goal with a simple but well-paced pass into the box.
Overall, he had 5 shots, with 2 on target, and he won 5 free kicks for his side. He also made 8 shot-creating actions, the highest number on the pitch. Pedri may continue to steal plaudits but if Spain were to have won that game, it would have come through the creativity of RB Leipzig's Dani Olmo.
Author: Alex Barker ( @EuroExpert_ )
Italy's Narrow Press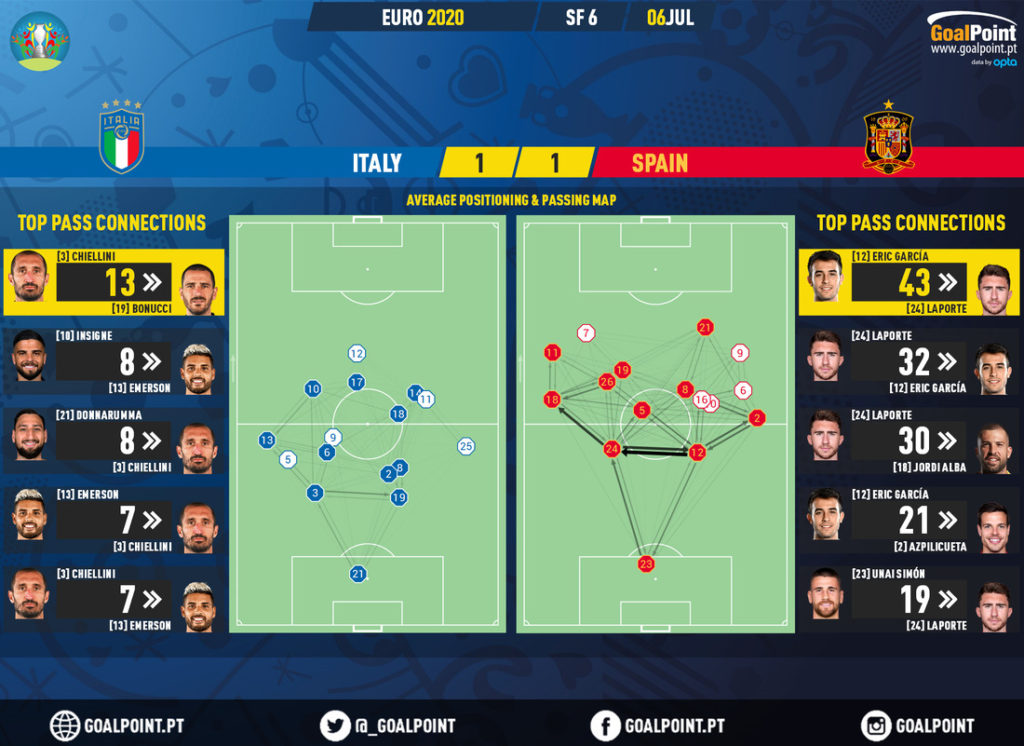 The Azzurri's path to the final of the European Championship has been littered with praise for Roberto Mancini. Since taking over as Italy head coach three years ago, the former Manchester City manager has revitalised the fortunes of his national side.
Against Spain in the opening semi-final of EURO 2020, it was a defensive element of Mancini's tactical blueprint that made the difference for the Italians. Throughout the match, though particularly during the first half, Italy operated with a narrow press, thereby limiting Spanish influence in central areas of the pitch. Ultimately, Mancini's revised approach was effective for two reasons.
First, Italy's focus on defending narrowly encouraged Spain to concentrate their attacks on zones of the pitch where they are typically uncomfortable. With Ferran Torres and Mikel Oyarzabal keen to drift inside from their respective flanks, Mancini's decision to force Spain's offensive production into wide areas undermined the effectiveness of the players at Luis Enrique's disposal.
Second, Italy's narrow scheme of engagement crushed the space in which Dani Olmo, Spain's false nine, could receive possession. In doing so, Mancini reduced the scope of Giorgio Chiellini and Leonardo Bonucci's defensive responsibility, forcing Olmo to drift into areas of the pitch occupied by Italy's central midfielders.
However, Mancini's plan is not without its faults. Following the introduction of a Spanish forward willing to exploit the space behind Chiellini and Bonucci, the narrowness of Italy's press became less important. As a result, the Azzurri may be forced to drop their defensive line in Sunday's final if their opponents deploy pacey players in the final third.  
Tipping Point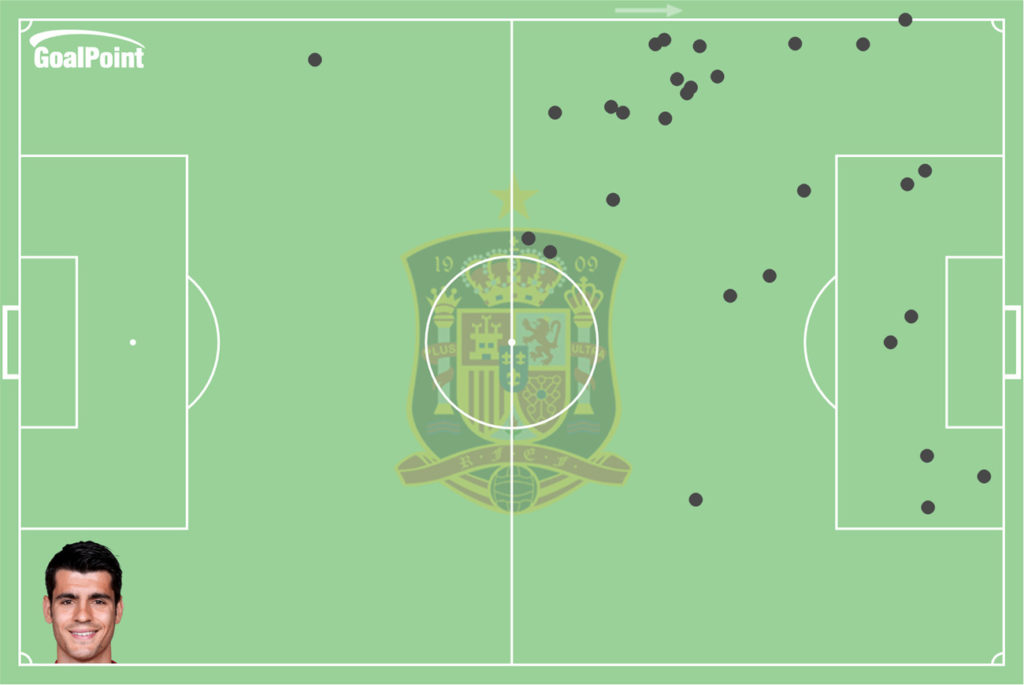 Almost immediately after Spain conceded the game's opening goal, Luis Enrique switched Ferran Torres for Alvaro Morata. With the former Barcelona head coach hoping to bolster his side's vertical movement in Italy's half of the pitch, Morata's introduction was integral to changing the course of the tie.
Initially deployed on the left of Spain's attack, Morata performed brightly as La Roja sought to overturn the deficit.  However, seven minutes after entering the fray, Morata's task was altered again. Rather than attack from the left, the Juventus forward was instructed to partner fellow substitute Gerard Moreno in the centre. The switch had an immediate impact.
With Moreno dropping deep and Morata seeking to break Italy's offside trap, Spain quickly found the breakthrough. With 80 minutes on the clock, Morata raced behind the Italian defence before slotting a cool effort into Gianluigi Donnarumma's net. Although Morata would later cast himself as Spain's scapegoat by failing to convert in the shootout, his presence markedly improved La Roja's attack in open play.
After the game, however, Enrique insisted that he has "no regrets" about omitting the Juventus forward from his starting line-up. "I saw Chiellini and Bonucci deal with [Romelu] Lukaku and thought maybe it's better to take away a reference point and add another body in midfield," Enrique explained.
Though, as the dust settles, questions will be asked about why La Roja started without an out-and-out striker against an ageing Italian defence. After all, Alvaro Morata's introduction was the turning point of the opening semi-final of EURO 2020.  
Author: Luke James ( @LukeJames_32 )
Roberto Mancini, the unbeaten
Spain started this tournament very slowly, but by the end, they looked more like the team that dominated Europe in the early 2010s. Luis Enrique will no doubt be heavily criticised for omitting Sergio Ramos and other Real Madrid players, yet he has clearly done enough to keep the job going into next year's World Cup.
Italy meanwhile has booked their place in the final, against one of Denmark or England. They stretched their now-famous unbeaten streak to 33 games. Roberto Mancini's side may have erupted when Jorginho finished Spain off, but what will scare England and Denmark is the sheer coldness of their performance. Whether it was Chiellini toying with Jordi Alba ahead of the penalty shoot-out, or the way they shut Spain out in extra time, Italy's top-level experience was crucial in easing them through.
Although their record may suggest otherwise, Italy are not invincible though. According to SoccerBlogger, Spain bettered Italy in XG at 1.74 to 0.78. Certainly, in normal time, Spain completely dominated Italy. Perhaps Sunday will prove it was a simple bump in the road for this bulldozing of international football from Italy. Or maybe, it provided Kasper Hjulmand and Gareth Southgate the final piece in their plans to defeat the Azzurri. 
Author: Alex Barker ( @EuroExpert_ )