I

taly-Spain has become something of an Euros classic, in the same vein as the PSG-Barcelona clashes in the Champions League. Both teams have met in the previous three editions of the tournament; in 2008 La Roja overcame the Azzurri through penalties in a tense quarterfinals affair that ended goalless, then thoroughly outclassed them four years later in one of the most one-sided finals in international football history, only for Antonio Conte to put an end to the glorious Vicente del Bosque era with a 2-0 win in the EURO 2016 Round of 16.
The events that followed those encounters have been, in fairness, quite bleak for both sides. Conte's departure to Chelsea sent Italy into a downward spiral that culminated in failing to qualify for the 2018 World Cup, while Spain were in an upward trajectory prior to that tournament until Real Madrid announced an agreement to sign their manager Julen Lopetegui, who was sacked immediately, resulting in a chaotic Round of 16 exit at the hands of hosts Russia.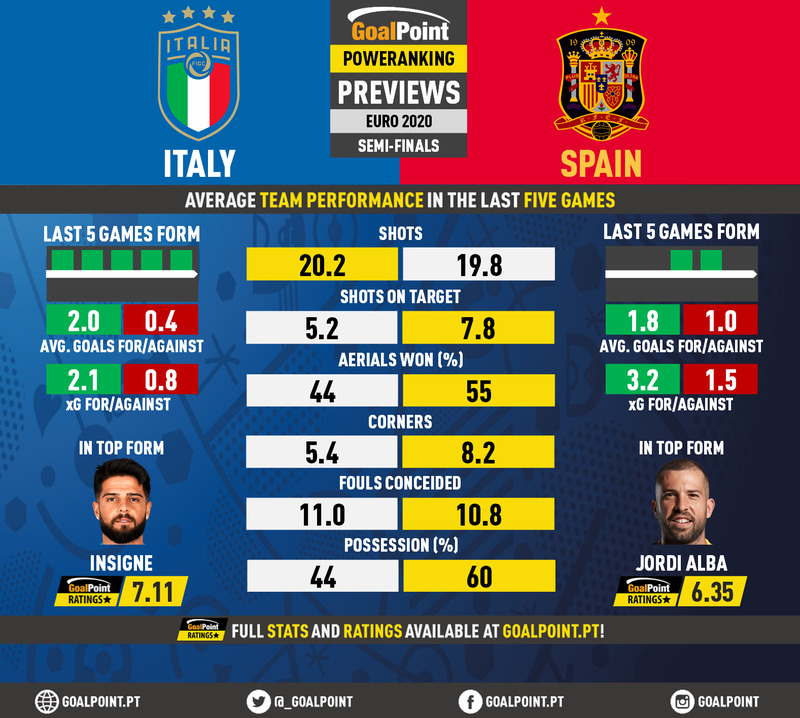 Since then, Italy and Spain have found relative peace coming into EURO 2020. Roberto Mancini has had a hugely positive impact on his team, establishing Leonardo Bonucci and Giorgio Chiellini as true leaders of a young, exciting squad nurtured by a more direct, higher-pressing and scintillating school of Italian tacticians. There is no better reflection of that positive change than his record-breaking 32-game unbeaten streak, in which they have won all of their last 13 matches, thanks in large part to Jorginho's ability to dictate the tempo, Nicolò Barella and Marco Verratti's ability to pass and run to generate space, Leonardo Spinazzola's overflows and pinpoint deliveries and Lorenzo Insigne's magic.
Meanwhile, Spain have somewhat steered the ship in their attempt to finally break away from the pressure to equal their era-defining side from a decade ago, albeit it hasn't been smooth sailing either. This is a team that has faced intense external pressure, from Luis Enrique's personal tragedy to criticisms regarding his selection and deployment of certain players (most notably Marcos Llorente at right back), and the reprehensible abuse levelled at part of the playing squad due to inconsistent performances, particularly towards Álvaro Morata.
And still, La Roja have fought their way into the semifinals by showing up when it mattered. When they needed a win to progress to the knockout rounds, they routed Slovakia. When they were shaken by an appalling own goal and a Croatian comeback, Morata emphatically recovered his goalscoring touch in extra time. And when they were unable to crack Yann Sommer's goal open against Switzerland, Unai Simón redeemed himself in the penalty shootout to set this encounter up.
Early rumblings will give Italy the upper hand in this game, and rightly so. Even after losing Spinazzola to an Achilles tear, they have shown enough credentials to be considered the best team in EURO 2020 and even favourites to go all the way. It's a squad that feels cohesive and united after playing together for three years, an anomaly in international football. And Spain haven't yet faced an opponent of this calibre so far. However, there is a feeling among Spanish supporters that they have been able to overcome all kinds of adversity, even when it's self-inflicted. With Pablo Sarabia out through injury, it's likely that Gerard Moreno will be given another chance to redeem himself after misfiring in the previous round. Judging by what his teammates managed, he will hope to continue the pattern.
Key Players
It is hard to single out one particular performer from a side as complete and consistent as Italy. Nevertheless, it is impossible to ignore just how important Leonardo Spinazzola has been to Roberto Mancini's system, and he could prove to be even more influential knowing that he's out of the squad due to that Achilles tear. Playing almost as a wingback in a 4-man defence, he's been crucial to Italy's build-up and quick transitions into attack, combining brilliantly with Marco Verratti and Lorenzo Insigne. His contribution in the attacking third is crucial, recovering the ball 13 times, providing 5 accurate crosses (one of which assisted Chiesa's cracking goal against Austria) and 8 key passes. He will be replaced by Emerson Palmieri, who was a regular fixture in the qualifying process under Mancini, so his absence should be manageable, but it is still a sad ending to a brilliant campaign where he shone among countless others in his position, such as Jordi Alba, Joakim Maehle and Luke Shaw.
On Spain's side, while Pedri has been brilliant and a key component to help kickstart Spain's attack, with eight key passes and 46 high value attacking passes throughout EURO 2020, Sergio Busquets' role in revitalising this Spanish team after their slow start cannot be understated.
Having missed the opening two games with COVID-19, upon his return against Slovakia he took the reins of the midfield and provided some much needed clarity and effectiveness to Spain's ball progression, as shown by his 91% passing accuracy in the mid third of the pitch and 21 high value attacking passes. While his defensive prowess is somewhat underwhelming, winning 54% of his attempted tackles, it needs to be considered that Spain have averaged more than 60% of possession in their five games, reflecting that he has not been called into that situation as often. His impact can also be seen in how Aymeric Laporte and Eric García have improved, with Busquets' presence providing them a solid outlet to play out from the back. Luis Enrique was terribly wrong to choose him to open the penalty shootout against Switzerland, but he has become undroppable in the current setup, and will be key to try and unlock the Italian defence.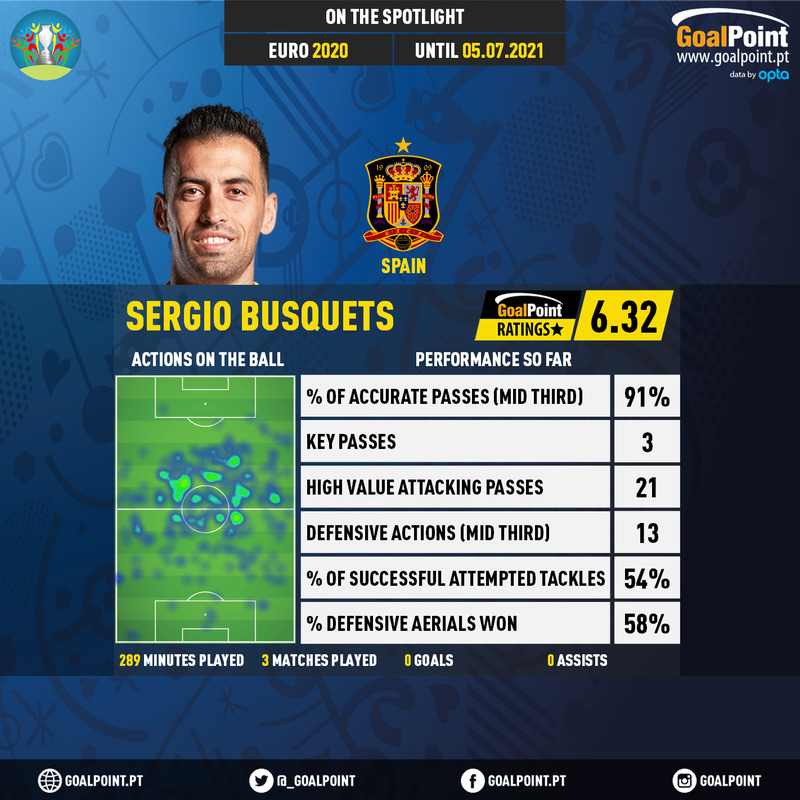 Upon his reintegration into the squad, Sergio Busquets has truly exerted his influence in the Spanish midfield, providing some much-needed organisation into their attacks.
Tactical Corner
The common theme in Spain's EURO 2020 campaign is one that has become eerily familiar with La Roja in the last five years: they will create countless chances and dominate possession, but find it increasingly hard to score goals. That might not be apparent given that Luis Enrique's side total 12 goals in 5 games throughout the tournament, but considering 10 of those came in two games (with two coming after extra time) and the fact that they are underperforming their xG by 1.4 goals, it starts to become a real worry. While Álvaro Morata has been the subject of a lot of scrutiny in this aspect, Gerard Moreno, on the back of a 30-goal season with Villarreal also has blood in his hands; he missed two big chances against Switzerland from an xG of 1.24, totalling 3 out of 6 shots on target.
In addition, it is also important to factor in that Spain have not yet faced a defense as solid as Italy's. During this tournament they broke their own record by keeping a clean sheet for 1,168 minutes, including the entire group stage, before conceding only twice more against Austria and Belgium. The fact that they are still outperforming their xG against goes to prove how imperious Bonucci and Chiellini (and Francesco Acerbi whenever he was called upon) have been.
Luis Enrique will also need to figure out his centre back partnership. He went with Laporte and Pau Torres against Switzerland to offset Haris Seferovic's strength in the air, yet the perils of playing with two left-footed players in those positions was exposed in Xherdan Shaqiri's equaliser, which resulted from a loose ball they failed to clear. Italy do carry some threat in that department through Bonucci, Chiellini and Ciro Immobile, who average 1,87m in height, although Italy do not tend to hoof balls into the box from open play, as opposed to creating overloads in the wings and generating spaces with the movement of their midfielders and wingers. Therefore, if Spain decide to prioritise ball progression, Eric García should be given the nod ahead of Torres.
Conclusion
This should be an exciting game. There is lots of recent history between Spain and Italy to warrant the pedigree this fixture has earned. The narratives write themselves; although it might be odd to call this a David v Goliath affair considering there are five World Cups and four Euros between the two sides, the paths both teams have taken to reach this semifinal could not have been more different. It will be very interesting to see how each team copes without two of their best performers in Spinazzola and Sarabia, and whether their managers will attempt to exploit those absences by targeting those parts of the pitch.
On paper, as expressed earlier, Italy should have the edge. This looks like a generational side, one that has captivated neutral fans with their scintillating displays, camaraderie and passionate renditions of their national anthem before games and Un'estate Italiana afterwards. However, they have not been put to the sword quite yet, and this Spanish side could be a thorn in their side if they can manage to convert their chances. Unlike Roberto Mancini's squad, their whole campaign has been a constant test in rising up to the occasion in tough circumstances, and that resilience could make up for their shortcomings.
These are not quite the Spanish and Italian sides we have become accustomed to seeing – Spain have added some directness to their play under Luis Enrique, while the current Italian tactical philosophy has seen them steer away from catenaccio and seeing games through in favour of a much more positive approach. No matter the result, both teams will be proud of how their EURO 2020 has turned, but only one of them will go down in history.
Author: Santiago Bauzá (@santi_bauza)