W

ednesday's Euro 2020 semi final meeting between England and Denmark has all the makings for one of the tournament's more exciting games, which is saying something. Both sides have proved doubters wrong along the way on their journey thus far, but on various ends of the spectrum.
For Denmark, it's been tough to overcome the loss of their talisman Christian Eriksen, who is thankfully recovering well. For the Danes to rally around each other and put in one spirited performance after another, it's been the tournament's most heartwarming story. After squeezing through the groups, Denmark thumped Wales 4-0 in the round of 16 before sweeping aside Czech Republic in the quarter finals. In their best tournament performance since winning the European Championships in 1992, the Danes will be hoping to continue their magical run.
England on the other hand came into the tournament with the weight of the entire country on their shoulders. With expectations sky high, England have managed the pressure well after a slow start throughout the group stage. With many skeptical of their performances, Gareth Southgate's men came out and swept aside Germany in a disciplined and professional manner, before hammering Ukraine 4-0 in the quarter final to reach back to back tournament Semi Finals under Southgate.
Both sides are expected to be full strength heading into the semi final meeting, with suspensions and injuries avoided in their respective quarter final victories. With that being said, it shouldn't be a surprise to see some players coming into the sides as Bukayo Saka could be drafted into England's starting XI to nullify the threat of Denmark's Joakim Maehle, who is enjoying a breakout tournament. On the other hand, Daniel Wass may regain his place on the right hand side of Denmark's formation.
The two sides last met in the UEFA Nations League last year, with Denmark winning 1-0 after an early Harry Maguire red card.
Key Players: Raheem Sterling and Mikkel Damsgaard
Despite often finding himself as the scapegoat for England, Raheem Sterling has carried the nation on his shoulders this summer. With 3 goals so far at Euro 2020, each being the decisive goal in 3 games, it has been Sterling who has given England hope of winning their second major tournament in history. The Man City man has played with bags of confidence thus far, posing a constant headache for opposing defenders and picking up excellent positions to eventually put the ball in the back of the net. It was his beautifully threaded pass that allowed Harry Kane to open the scoring against Ukraine, and it'll be Sterling again who will look to trouble Denmark's backline on Wednesday.
On the other hand, Denmark have had the trouble of trying to find someone to fill the boots of Christian Eriksen. Mikkel Damsgaard has stepped into this role exceptionally and has been able to unlock defences in the attacking third. The 21-year old has burst onto the scene this summer, but faces his biggest task yet against England's formidable defence. Damsgaard has registered one goal and one assist so far, but his attacking presence can't be ignored and his ability to pick up the ball in the spaces between the defence and midfield poses a real threat for England.
Tactical Corner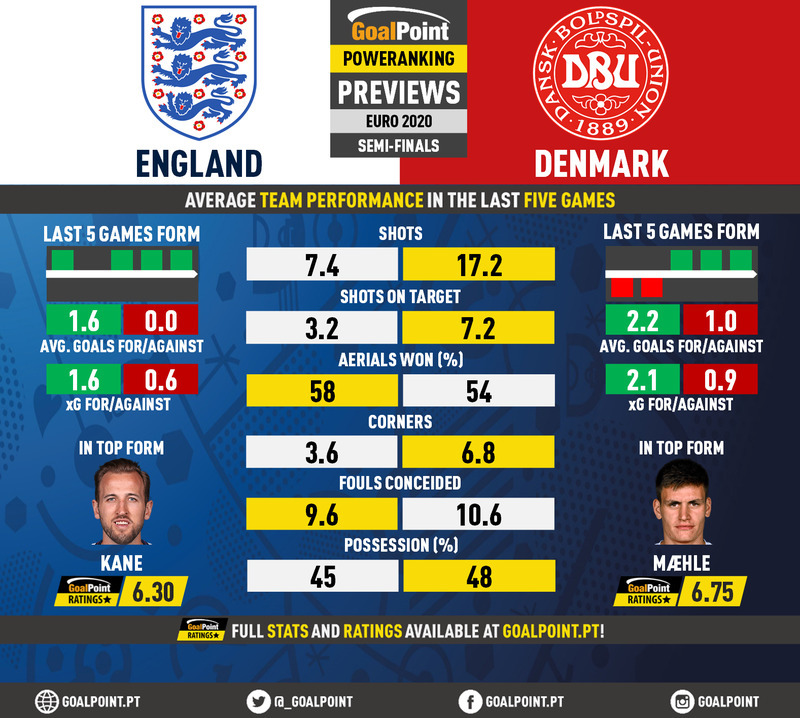 There are various tactical angles to look at this matchup from, with both Gareth Southgate and Kasper Hjulmand showing their ability to adapt to difficult situations and emerge victorious. 
For England, their two focuses will be on Andreas Christensen's ability to step out from the backline and into midfield. The Chelsea man's ability on the ball provides Denmark another man in midfield during their attacking build up, and nullifying that with a high press will be key for England. The high press of Phillips and Mount will ideally keep Christensen from playing out from the back and making it uncomfortable for the Chelsea defender as he looks to spread the ball.

For Denmark, the key battle will come down their left-hand side. For as much as Joakim Maehle loves to get forward, it leaves space in behind for England's abundance of attacking talent to exploit. With the potential for Raheem Sterling, Mason Mount, Harry Kane and many more to get forward and attack, it'll be a challenge to keep Maehle honest instead of bombing forward at every opportunity. 
Conclusion
Both teams have their hands full and both managers will have to constantly tweak things tactically as the game progresses. The midfield battle should be one to watch as well, with both sides boasting strong midfielders that have provided the spine of these impressive tournament runs.
Wednesday's meeting at Wembley Stadium has all the makings for a classic, with so much pressure on both sides to make history. England playing at home has been a sight to see so far, with fans turning out in excellent support for the Three Lions and it should make for a boisterous atmosphere on Wednesday evening. Denmark will hope to continue their fairytale run into the final, which no one could've dreamed of, and spoil England's party in the process. 
The two teams have experienced very different journeys to get to this point, but the dream is all the same. Denmark have hopes of winning a second European Championships, channeling the spirit of that 1992 side. While England, who have experienced so much heartbreak in this tournament, are still aiming to bring it home for the first time.
Despite all the storylines surrounding the game, England are the favourites to reach the final. With their excellent defensive record and attacking prowess, I'm predicting England to beat Denmark, 2-0.
Author: Harry Harris ( @Harry8_ )