A

s the dust barely begins to settle from the historical victories of both England and Ukraine, they are now aiming to go one step closer to the ultimate goal. Two sides that are very much polar opposites. England is one of the favorites to win and is yet to lose a single game, whilst Ukraine is the underdogs who managed to scrape through the group stages by winning one match. Now the two will go head-to-head at the Stadio Olimpico in Rome.
England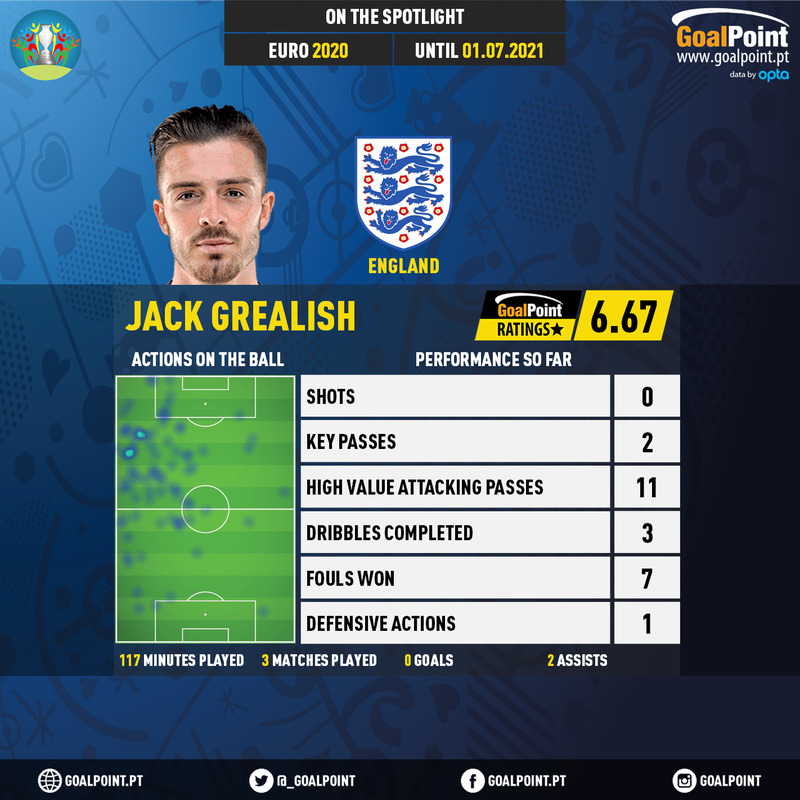 After their intense round of 16 matches against Germany, England will be full of self-belief heading into the game. Southgate took another round of condemnation for his line-up, but his side managed the game well throughout; he made the game-changing substitution, and his entrusted forwards: Sterling and Kane, were both clinical when the chances fell to them. 
The line-up will be interesting to see how England approaches the game against Ukraine. They played in a 4-3-3 formation during the group stages before changing to a familiar 3-4-3 against Die Mannschaft. When Ukraine played the Netherlands, they faced a similar formation and struggled to cope with the attacking wing-backs, which may stick out to Southgate when choosing his formation. Otherwise, he could revert to the 4-3-3 and reintroduce Mason Mount for added creativity and attacking energy in the midfield.
Another key position for England will be the third forward who will join the unmovable Harry Kane and Raheem Sterling. Southgate began the tournament with Phil Foden and then brought on either Jack Grealish or Marcus Rashford as substitutes. 
More recently, he has added Arsenal starlet Bukayo Saka to the mix and there is also the ever-present talk of Jadon Sancho. But Jack Grealish was sublime against Germany; his substitution was vital to winning the match and could land him the starting spot on Saturday.
Ukraine
Meanwhile, Ukraine will be feeling equally elated after winning their first-ever competitive knock-out game at a major tournament with Artem Dovbyk's header in extra-time against a stubborn Sweden. However, their group stage performances were far from impressive, with their only victory coming against North Macedonia after losing their two previous matches versus Austria and the Netherlands.
Led by footballing legend Andriy Shevchenko, this Ukraine side has been highly unpredictable in nature as one of the tournament's highest goal-scoring and conceding sides. Similar to England they implemented a 4-3-3 formation in the group stages, unshy to play expansive football even against the tougher competition, but they changed this in their match against Sweden, opting for a 3-5-2 formation. 
England's Key Man: Raheem Sterling
Raheem Sterling has been England's most important player in the tournament so far. The 26-year-old's direct dribbling has caused chaos for defenses using his close control and supreme balance to weave between defenders. But most importantly, the Manchester City forward has shaken his scoreless record in major tournaments and now leads the scoring stat line for England with three of the four goals. 
Sterling has always been good at making astute runs into the box to find goalscoring spaces which he has shown for the Citizens. Not only do his runs put him in the scoring positions, but it also opens spaces for his teammates to score which could be vital to unlocking Ukraine's defense. 
In the match, he will likely be involved in numerous duels with right-back Oleksandr Karavaev and the 18-year-old right-sided center-back Ilya Zabarnyi. Both players struggled against the Netherlands, so Sterling should relish the opportunity.
The last time these two sides found themselves against each other on the same pitch at a major tournament was in 2012 for the European Championship during the group stages. England won the game 1-0 with a headed finish from Wayne Rooney to ensure that they topped the group, setting up an infamous match-up against Italy in Kyiv.
Ukraine's Key Man: Andriy Yarmolenko
During the season, the Hammers forward faced numerous injuries which kept him from playing, but Ukraine will be extremely thankful for his presence in the team. The majority of their attacking play has been led by the 31-year-old, who has assisted and scored two goals, one of which was an unstoppable curling strike into the top corner against the Netherlands. 
If he finds the space, the talisman can be lethal, but he also has the awareness to set up his teammates when defenders are overly eager to close him down. Andriy Yarmolenko brings the moments of magic, the ability to change the tide of a match within an instance which will be desperately needed to undo the dogged English defense. He is the type of player that can be decisive to a team's success in the tournament format and he will no doubt be a dangerous man for England to watch.
Tactical Corner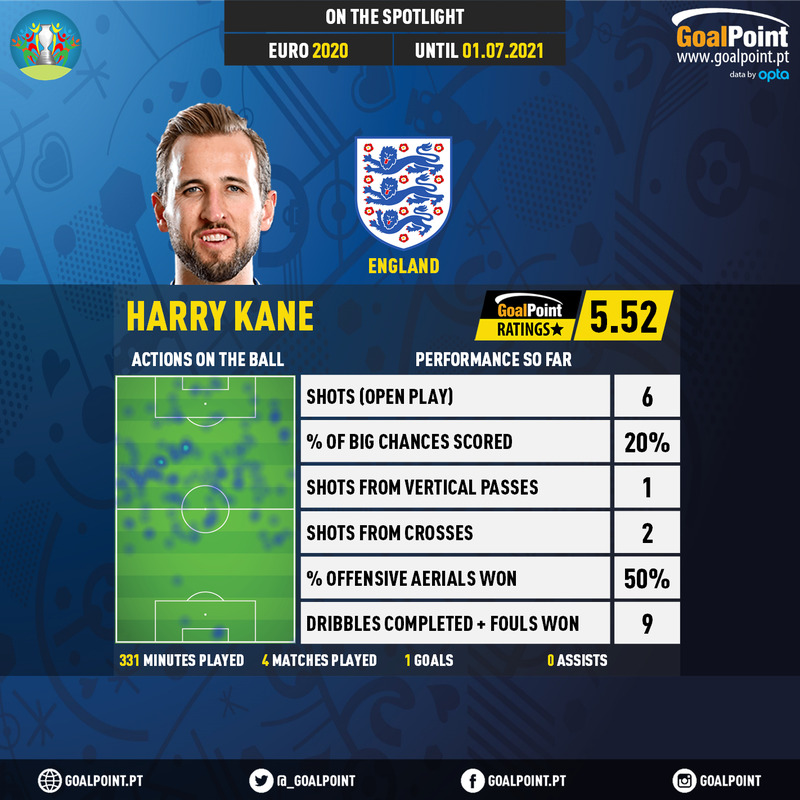 England's biggest strength lies in its defensive fortitude. The partnership between Stones and Maguire has proven to be a formidable duo and any of the numerous full-back choices that Southgate can call upon will pose difficulties for Ukraine's wide players to break down. 
Their main issues so far this tournament have been a lack of attacking creativity and tempo in the build-up of play. The introduction of Maguire has been a massive boost to remedy the latter issue, but now their midfield needs to give more attacking influence and to do so, Southgate may need to bring Grealish, Mount, or Foden to the side. 
Above all, Harry Kane will be crucial for England to win this game. So far in this tournament, he has only managed a single goal and has been a mere shell of his domestic season form. Fatigue is likely setting in following a turgid season, but now he needs to join Sterling in bringing goals to the England side as the spearhead of the attack.
Meanwhile, Shevchenko's biggest worry will be with the defense that has yet to accomplish a clean sheet in the tournament, conceding six goals so far. The inexperience of Matviyenko (25 years old), Mykolenko (22 years old), and Zabarnyi (18 years old) has shown throughout and will be targeted by the English attack.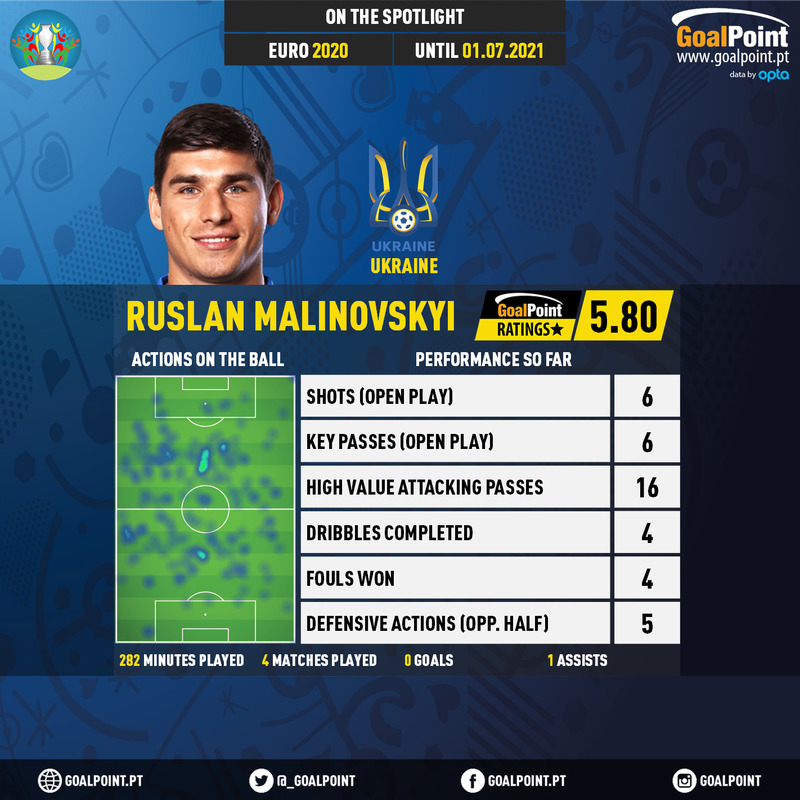 Ukraine's strengths have been in possession of the ball, working the wide areas before exploiting their opponents' gaps in midfield or defense. Yarmolenko has been the talisman throughout the tournament, but as his success continues, England is likely to try and limit his time on the ball, which means Ukraine's supporting cast will need to provide attacking support.
One player that will be key to Ukraine progressing, is attacking midfielder Ruslan Malinovskyi. So far, the Atalanta B.C. playmaker has had a turbulent tournament but still poses a threat on set-pieces, is technical on the ball, and has a wide range of passing. He was crucial to Atalanta's second consecutive season finishing third in which he scored eight goals and assisted twelve. Now he must replicate his performances for the Yellow and Blue.
Conclusion
Given the volatile nature of tournaments, nothing is nailed-on, but England should win this match by a large margin due to their strong defense and deep attacking talent which overmatches Ukraine's squad. Southgate has brought unity, enforced his style of play successfully, thus far, and their previous experience in the Russia 2018 World Cup will prove vital as the latter stages of the tournament progress.
However, Ukraine will be unwavering in the build-up to this game. Often brushed aside, this team is no stranger to being the underdogs and they will not back down from the challenge. This tournament has already had its fair share of upsets shown in the round of 16 with Switzerland knocking out France but Ukraine will have to pick and choose their moments to attack and brace against the pressure that England will implement; otherwise, they will be punished.
Prediction: England 3-0 Ukraine
Author: Toby Rathborne ( @TobyRathborne )