N

ow that's what I call tournament football. Apologies at a risk of sounding like the cheesy advert of the NOW! Series in the UK that compiles chart music, but I am still recovering from that high-octane thriller that was Belgium-Italy.
We have been completely and utterly spoilt with the rambunctious, nutty football this tournament has produced, with giant-killing being a frequent occurrence served with many a side dish of comeback after comeback, mainly attributed to the never say die attitude of the so-called ´lesser teams´. We have wanted and anticipated the big guns going at each other, and there have been a few this tournament but none that have really tickled the fancy.
The game at the Munich stadium this evening is just what the doctor ordered. Played at such a breathtaking pace, mainly due to the devastating trifecta in Italy´s midfield that kept the ball moving in a slick, pacy manner that allowed Italy to be direct and stun Belgium into trying to chase the game. The Italians forcibly played the game at breakneck speed which was just too much for Belgium.
As the midfield circulated the ball in a Sarriball-esque manner, credit has to be given to defenders Leonardo Bonucci, Giorgio Chiellini and Leonardo Spinazzola, in particular, the amount of times Spinazzola marauded down the flank to support Insigne troubled Belgium but the biggest compliment I can give to the three is how quick and direct they progressively passed the ball to midfield who were then in sync to get it forward to Italy's attack.
In action-packed first half Belgium did look dangerous when they were able to break on Italy and rely on Kevin De Bruyne and Romelu Lukaku to create chances who both had good shots saved by Gianluigi Donarumma. This was Martinez´s prerogative at an attempt to beat the Azzurri.
Sit deep, wait for a ball recovery in transition and hopefully score with the quality of his attackers, because Spinazzola was frequently attacking it left Belgium attacking the three remaining defenders and the defensive midfielders tracking back but in truth they didn't do this enough.
Italy´s energetic style of play paid off in the opening 45 when Nicolo Barella stunningly converted a chance after Belgium lost possession on the edge of their own penalty area, then just 13 minutes later Lorenzo Insigne drove into space, a sight so familiar for Neapolitans who have had the pleasure of seeing it time and again over the years, before he unleashed a stunning strike past the helpless Thibaut Courtois.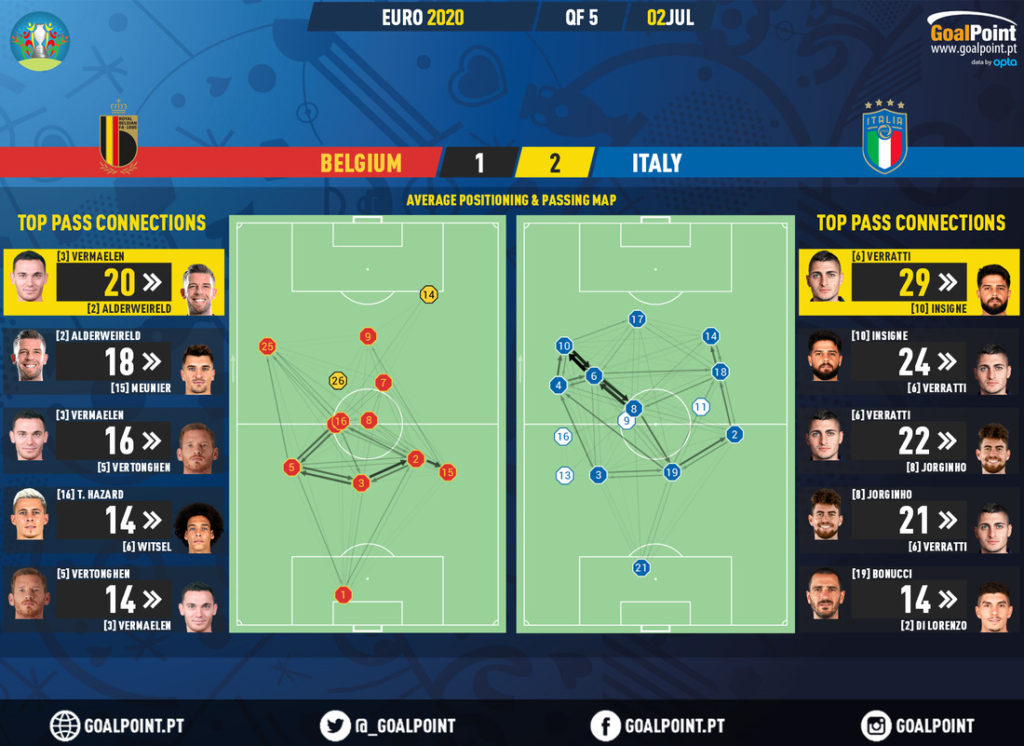 Italy remained in the ascendancy but Belgium got a lifeline when their best player of the match and most attacking asset Jeremy Doku earned a penalty after being brought down rather softly by Giovanni Di Lorenzo which Romelu Lukaku converted. A special mention has to be given to Doku who tormented Di Lorenzo down the right throughout the game Di Lorenzo just couldn't handle his directness and willing to easily take him and other Italy players on, it is probably the hardest Man of the Matches I have not given these Euros.
Doku is young and unassuming, the occasion never seemed to phase him as he increasingly looked like Belgium´s best route to an equalizer in the second half. Constantly driving past Di Lorenzo almost did result in a Belgium equalizer as he played De Bruyne down the line who squared for Lukaku in front of an empty net only to be usurped by the brilliant Spinazzola, who was in tears later in the half as he was stretchered off injured.
Lukaku once again was provided with a key opportunity when a deflected cross left him with a header from point blank range which he somehow failed to connect with. Belgium frequently fed Doku the ball, in the knowledge that Doku was fearless in taking Italy on, and when he glided past four Italy players to unleash a shot that rose over the bar it would´ve been well deserved.
Besides Doku and trying to break on the counter, Belgium resorted to going long to Lukaku in the second half as they were forced to get themselves back in it. Mancini changed up Italy with 15 minutes remaining as Bryan Cristante and Emerson Palmieri came on to sure things up as the Belgians had been overwhelmed by Italy but were then expertly kept at arm's length as the Azzurri lived up to their previous infamous reputation as the master defenders. Italy expertly caused break after break in play leading to no more minutes for Belgium to score.
Italy were the thoroughly deserved winners and have been the team of the tournament. The fluid, electric football they play makes them appear as the team that best know a style of play but also can pull it off with panache. I have never seen an International football team so geared to a Klopp style of football that is devastatingly entertaining to watch. Roberto Mancini and the players he possesses were purring.
GoalPoint's MVP: Lorenzo Insigne
After an unconvincing display against Austria, Lorenzo Insigne dropped his finest performance of the tournament and tormented Thomas Meunier from start to finish.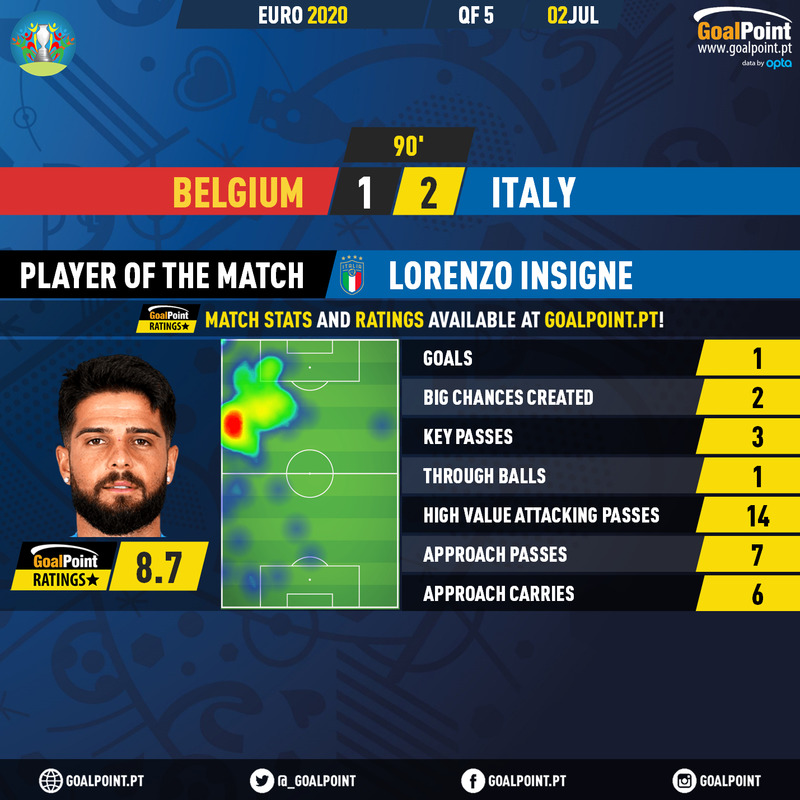 The new King of Naples was picked as my one to watch before the tournament. He has been in dazzling club form this year and has replicated it in the tournament. His goal was straight out of the Insigne playbook, how dare Belgium give him so much space to drive into before unleashing a curling rasper past Courtois. Classic Insigne.
The little man was a constant threat vs Belgium with his pace and Italy's quick style of play suiting him. Insigne is so aesthetically pleasing when attacks play well because of his pace but also his ability to control passes that are being distributed quickly which is exactly what Italy did for most of the game. It was a pleasure to watch the speedy and encouraging way to watch Spinazzola and Insigne combine down the left, we may have to savour it as the last time for the tournament as it looks like Spinazzola has an unfortunate injury.
Insigne racked up an astonishing 14 high value attacking passes controlling the balls sent to him by the dynamic, buzzy bee midfield or the mercurial Spinazzola, but if you go back and rewatch the game what is joyous to watch is how Insigne controls a ball at any distance or length given to him whilst also managing to play the game at 60 mph it seemed just like the whole Italian team, it feels like they were playing a game of ´Rondo´ in the park with each other.
Author: Dharnish Iqbal ( @DharnishSizlak )
The Italian Chariot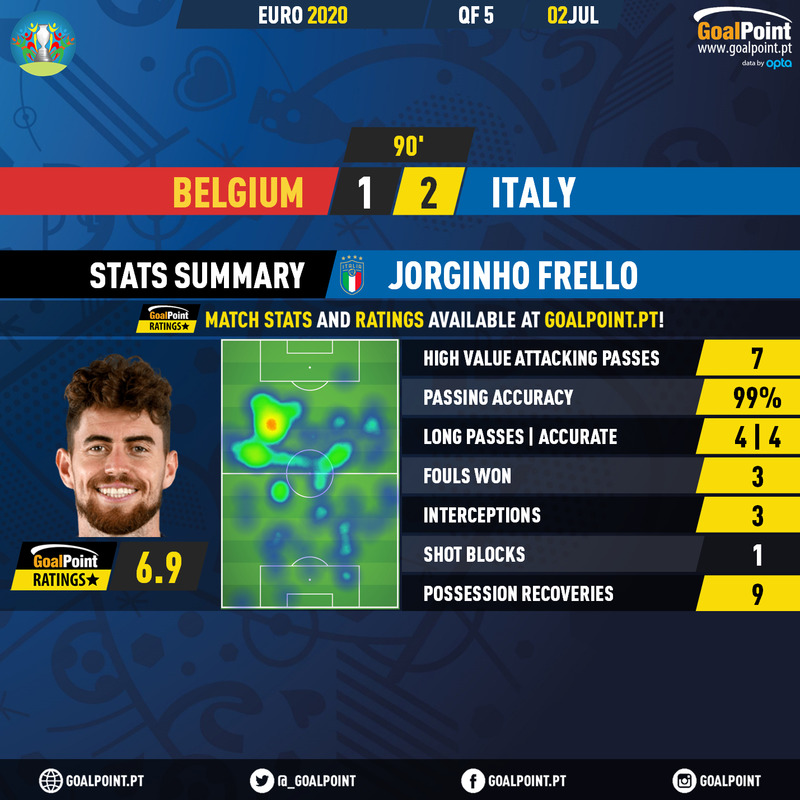 Italians and defending go hand and hand in a footballing marriage that has lasted over a century. The passion and skill to which they perform the art in the Azurri blue is long enamoured by spectators, but tonight in Munich it was Roberto Mancini's midfield trio that took the reins.
The trigarium in question was Nicolo Barella, Jorginho and Marco Verratti. The Italian stallions' energetic and well-oiled display squeezed out the duo of Tielemans and Witsel from getting involved all night long. The relentlessness of Mancini's approach reduced Tielemans and Witsel to just 84 touches between them, Tielemans achieved 109 in the opener against Russia.
The Belgian pairing were frozen out by the dogged press of Veratti, excellent sweeping from Jorginho and Barella's floating that forced Witsel to drop deeper to cover the star performer. Examining further into the midfield three, Mancini's role allocation is what nailed down their victory. Jorginho's tactical nous aided by Verratti's pressing, similar to his club teammate N'Golo Kante, was the key in authorizing him to occupy the deeper areas of the pitch.
By dropping into the half-space; the space in which Lukaku had to hold up the ball was decreased, De Bruyne had nowhere to go when he drove at the Italian backline and more importantly, Tielemans and Witsel were bypassed in the Belgians' transition. Jorginho's deployment as a defensive midfielder gave the freedom of Munich to Barella who sufficiently acted upon it.
A goal and an assist for the Inter man provided Italy with much-needed central attacking poise. Barella operated off of the back three and as Immobile had a less than influential performance, Nicolo supplied when it mattered. The highlight packages will show Spinazzola's on-the-line block and Chiellini mountainous headers, but Mancini and co know to thank the work ethic and flawlessness in which the midfield functioned.
Hazard Warning: Disappearance
After all the clamour over his performance against Portugal, Thorgan failed to fully emerge from his brother's spotlight and gave a dismal performance against Italy. 
On Sunday, Thorgan had finally escaped the shadow. His wonderstrike that saw Belgium progress past Portugal into the Quarter-Finals earned the younger Hazard brother much needed leverage to emerge from within Eden's trophy-packed silhouette.
Fast forward a mere 5 days and Belgians alike are left wondering the impact Eden could've if he featured against the Azzurri. If's, but's and maybe tend to be responses to an international tournament exit but what we do know is that Thorgan Hazard let his moment pass him by.
It's cruel to compare Thorgan to Eden on every occasion, but not against oneself and Thorgan showed very little promise that he did last Sunday against the reigning European Champions. As per GoalPoint data, inspecting Thorgan's base rating over the two games he saw a drop off of 1.6 (7.3 v Portugal) yet the disparity in performances from the Borussia Dortmund man go much further than ratings.
Studying Thorgan's heat map over the two clashes, his involvement in the attacking third was minimal compared to his previous outing. His disappearance in the final third can be largely attributed to Italy's excellent transition of players getting behind the ball after a loss of possession. Space for Thorgan to run into or receive the ball was limited by the enduring press of Federico Chiesa and Ciro Immobile.
Martinez's selection of Jeremy Doku also was not the ideal partnership for Hazard to flourish. With Eden, his chemistry and styles benefitted one another but with Doku they looked disjointed. His directness and initiative often left Thorgan behind and resulted in him not actively contributing on the attacking end. A final element to note, and credit to the Italians, is that Thorgan found himself drifting over to the opposite side of the pitch in an effort to affect the game.
Unlike against Portugal where he gave Diogo Dalot problems all evening long, Di Lorenzo was often given respite, at least from Hazard, as he moved over to try and cause havoc in the space left by the marauding Spinazzola. Jorginho's positioning and Verratti's press, as mentioned before, combatted this tactical switch-up by Martinez and left Thorgan a ghostly presence in Munich.
Author: Taylor Toney-Green ( @TaylorTG_ )
Conclusion
Italy and Roberto Mancini have turned pain into pride from their humiliating no show at the World Cup in 2018. You can see the emotion pouring from the players, no least from bellowing the national anthem or to the jovial celebrations.
The ball went out in the 96th minute and Gianluigi Donnaruma turned to the fans and punched the air as he yelled, the writing was on the wall. This Italian team knows exactly how they want to play, heavy-metal, pressing from the front, vigorous football and when it comes off like this it is impossible not to laud, they are the team clicking the most.
As for Belgium, the golden generation will have another crack at next year's World Cup, but this is team over-reliant on its attacking stars with a creaking, aging defense. Martinez´s ideology of dropping off and trying to hit Italy on the counter did not work today and when they were forced to come out and play an 18-year-old was their biggest weapon, perhaps Martinez will need a reshuffle for Qatar.
Author: Dharnish Iqbal ( @DharnishSizlak )