S

witzerland and Spain's quarter-final tie comes, as a result, of one of the most exhilarating days of international tournament football. Monday 28th June 2021 will forever be immortalised as a day of high drama where football's ability to delight and dishearten came to the fore. 
Stories of redemption ran thick through Spain's 5-3 victory over Croatia. From Alvaro Morata's winning goal to Unai Simon's embattled performance in the face of his earlier mistake. The opening game of the day provided Spain with a test of character from which they emerged victorious in spite of their critics. Whilst the guile and craft with which Spain dominated the globe a little over a decade ago has never deserted them, they had appeared to many onlookers as a team of style over substance. Gone were the days of battle-wearied souls like Sergio Ramos and Carles Puyol. Instead replaced by tormented artists such as Morata, a player who for all his ability, has not only been fighting against 11 men every week but himself.
Morata is a modern man in an archaic game, he has been open about his mental health struggles, but in a sport of instant gratification and heightened emotions, there is often little sympathy reserved for such characters. Against Croatia, though, it was Morata who enjoyed the last laugh as his goal in extra time restored Spain's lead, after they'd seemingly gifted Croatia a route back into the game. Mikel Oyarzabal would then go on to wrap up the win for Luis Enrique's men. This was a rare triumph of mentality and perseverance that will have made Spain unenviable opponents heading into the quarter-finals. 
Underdog stories are a wonderfully engaging and uplifting narrative arc, especially in the face of hubristic antagonists. And this is what makes Switzerland's penalty shootout victory over France one of the most compelling stories of triumph in recent sporting memory. From 1-0 up to 3-1 down either side of a penalty miss from Ricardo Rodriguez, post-match coverage looked set to centre around Paul Pogba's magisterial performance and Switzerland's plucky attempts to upset the natural order. Alas, there was to be not one but two twists in the tail.
First Switzerland somehow restored parity with two goals in the final ten minutes. Before Kylian Mbappe, the jewel in the French crown, who has been dogged by allegations of egotism, saw his penalty saved by Yann Sommer. Switzerland, like Spain, have shown a remarkable spirit in the face of mounting criticism. Qualifying as one of the best third-placed sides, the Swiss looked for all intents and purposes mere cannon fodder for France's array of attacking talent to regain form. The fact is, though, this has been a tournament of the underdogs where discipline and a collective understanding have trumped individual quality. Switzerland possesses a creative spark In Xherdan Shaqiri, but above all, they are a team whose shared collective experiences bind them together. It's not about the individual but the team, as Shaqiri notes, "It doesn't mean I have had a bad game if I don't score or provide an assist, as I help out a lot defensively and that is important for the team."
Spain currently have a fully fit squad to pick from, whilst Switzerland will be without their captain Granit Xhaka through suspension. Both sides meanwhile are expected to line up in a similar fashion to the last round, with either Denis Zakaria or Djibril Sow set to replace Xhaka in the centre of midfield. This will be the first meeting between the two sides since their 1-1 draw in the UEFA Nations League last year, whilst the two countries have only met three times since Switzerland's infamous 1-0 win in the 2010 World Cup.
The Key Player
Barcelona's Pedri is something of a throwback, albeit to the recent golden age of Spanish football, a slight and wiry midfielder who not only possesses quick feet but an equally quick mind. But whilst we are more than accustomed to players of this ilk, Pedri's delicate touches and ghostly movement between the lines are a direct contrast to football's recent preference for physicality across the pitch, mark the meteoric rises of Messrs Erling Braut Haaland and Ruben Dias. 
Pedri first came to people's attention on loan at Las Palmas in 2019, before returning to Barcelona to play a starring role in Ronald Koeman's much-heralded midfield revamp alongside Frenkie De Jong and Sergio Busquets. His breakthrough season in Catalonia has not gone unnoticed, and Pedri, despite only being 18, has played every minute of Spain's EURO 2020 Campaign thus far.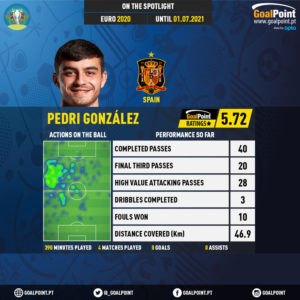 Spain were criticised early on in the tournament for failing to be progressive in possession, often trying to play around and not through their opponents. Pedri, however, has been a direct counterbalance to this argument, as he currently leads the competition for passes in the final third (114). 
The youngest player to appear for Spain at a European Championships, Pedri plays with the confidence of a man ten times his senior. Looking to pick the ball up in the half-spaces, his ability to add disguise to his passes adds to this deceptively innocuous aura that helps him evade the attention of his markers. Drifting in and out of space, he often faints to cross the ball before clipping a pass behind the full-back for the onrushing Jordi Alba. The connection between the pair at club level has seamlessly found its way to the international stage. 
For players of Pedri's stature, there is often criticism about their place as a luxury commodity – why should the rest of the team have to work harder to accommodate the creative abilities of one player? Pedri, however, is immune to such criticism, for he has covered the most ground of any player currently left in the competition (46.9km). Selfless in and out of possession, his superb decision making is underpinned by an innate dedication to his teammates.
Tactical Corner
Xhaka's suspension will pose Petkovic real problems against Spain. Not only is Xhaka a commanding leader, but he is doubtless Switzerland's best midfielder. A distinct lack of options to replace the former Arsenal man threatens to expose an area of weakness where teams have already found great joy. Both Italy and France were relentless in their pursuit of line breaking passes, and Spain will be no different. In Koke, Pedri and Busquets, they possess three of the world's best progressive passers. Switzerland may be a free-scoring side, but for that, they often leave themselves overexposed. With their wing-backs playing high and wide, Switzerland's midfield is often overrun, especially by teams who deploy a midfield three like Spain.
What makes this game so fascinating, though, is that both teams play into each other's hands. Whilst Spain will likely find great joy in the midfield. Their ability to prevent and defend crossing opportunities will give Switzerland plenty of hope – Croatia's equalising goal against Spain, deep into stoppage time, came from an inswinging cross by Mislav Orsic. As previously mentioned, Switzerland, who set up in a 3-4-1-2, like to deploy their wing-backs high and wide with the sole purpose of picking out the runs of Haris Seferovic. The striker scored twice against France from crosses into the area, whilst the penalty which Rodriguez eventually missed came from a darting run by left wing-back Stefan Zuber. 
In a game that looks likely to become stretched, emphasis will be placed on retaining possession to dictate the tempo. By doing this, the team in possession will be better equipped to find and exploit the opposition's glaring weaknesses. Whilst this may appear self-explanatory, these two teams counterbalance themselves so well, that a failure to control possession could lead to an embarrassment of opportunities for the opposition.
An analysis of Spain & Switzerland's tournament Assist maps tells an interesting story. Spain have mostly found success when getting the ball centrally in and around the box, whilst Switzerland are most dangerous when crossing the ball in from wide areas.
Conclusion
Despite Monday's heroics, Switzerland will once again go into the game as underdogs. The suspension of Xhaka is a painful blow and makes their task yet more difficult, but if any team is capable of exposing Spain's weaknesses it is Petkovic's men. Their system is perfectly set up to hurt Spain out wide, whilst Shaqiri offers them an unpredictability that on any given day can cause sides problems. 
Spain meanwhile showed a more resilient side to themselves in overcoming Croatia. Free-scoring, and with a plethora of attacking options to pick from, success for them on Friday will come down to their ability to break up transitions and prevent Switzerland from moving the ball out wide. 
Both teams have hit form at the right time, but with each side possessing significant weaknesses defensively, the game promises to deliver goals. Switzerland will be buoyed by memories of Gelson Fernandes's winning goal against eventual champions Spain in the 2010 World Cup, whilst their recent record against La Roja suggests a closely fought encounter. Ultimately I expect Spain to end Switzerland's fairytale run at the quarter-finals stage, but only if they showcase the same steely determination that got them here in the first place. 
Writer's Prediction:
Switzerland 2 – 3 Spain
Author: Sam Tabuteau ( @tabuteauS)