T

hey walk into Wembley as the sporting god's intended it. Spirit lifting frenzy, stomach churning fear. Thrill competes with jeopardy – beyond this for England or Denmark, the ultimate game or nothing. A semifinal underpinned by a gripping narrative with an energizing edge.
An introduction worth its weight in gold and fit for any occasion by the highly esteemed Peter Drury – as the two teams stepped out onto the turf to a chorus of cheers and applause from both sets of fans who were anticipating an engrossing showdown. At stake, a birth in the Final. England prevailed in the end to progress into their first European Championship final – at the 37th attempt – with a nervy 2-1 win (after Extra-Time), over the mettlesome Denmark.
Without a doubt, the surprise package of the tournament, The Danes made a great account of themselves throughout the competition, having endured a distressing opening game with the loss of Christian Eriksen. The lack of depth in their ranks combined with fatigue proved too tall an order as they grew weary late on, succumbing in the extra period.
It wasn't a straightforward win for The Three Lions as they were stunned by breakout star, Mikkel Damsgaard, on the 30-minute mark with a wondrous free-kick from 25 yards out. The recently turned 21-year-old did not only break the deadlock in style but his goal also meant that Jordan Pickford's new record of 720 plus minutes without conceding a goal for England (previously set by the legendary Gordon Banks in 1966) wouldn't last a minute longer.
The Everton goalkeeper and England's first concession in this year's finals. Even though Gareth Southgate's men had started the brighter of the two sides, Denmark now had the upper hand and were frustrating Harry Kane and Co. with relentless pressure, opting for a high defensive line that had worked well thus far.
The English soon found a breakthrough in the 39th minute to level the scoreline, as Kane dropped a bit deeper, in turn, playing in Bukayo Saka who had made an incisive run behind, catching out the opposition backline – scurrying back to defend, Simon Kjær turned the ball into his own net, attempting to cut off a simple square ball intended for Raheem Sterling at the back post from Saka. It was the first own goal that has ever gone England's way at a EURO. Parity restored. 1-1.
With Wembley buzzing heading into the second half, neither side could make further inroads as the subsequent 45 minutes ended one apiece with both teams evenly matched and struggling to create clear-cut chances. Harry Maguire came closest for England, with a leaping header that was parried away by Kasper Schmeichel. Going into extra time, the hosts looked the likelier of the two to go ahead, as they pushed for the go-ahead goal.
It proved to be so. A controversial penalty was awarded in the 104th minute, following what was adjudged to be a foul on Sterling near the byline in the box. Kane stepped up to take in the ensuing spot-kick, eventually dispatching the rebound after Schmeichel had repelled the initial effort by the skipper: the marksman's fourth goal of EURO 2020 and his 15th against Schmeichel in all competitions. 2-1 England.
It was all about running down the clock and keeping their cool from then on for Southgate, bringing on Kieran Trippier in place of the attack-minded Jack Grealish. Denmark jostled to get back into the game late on but ultimately it was to no avail, as England made history. Not necessarily a thoroughly cogent performance from them but effective, setting up a date with the Azzurri on Sunday – a team on a 33-game unbeaten run and like England, have a stubborn defense led by Leonardo Bonucci and Giorgio Chiellini.
Author's Man of the Match: Raheem Sterling
Sterling has been instrumental for England this tournament and will hope to finish the tournament on high by lifting the trophy come Sunday.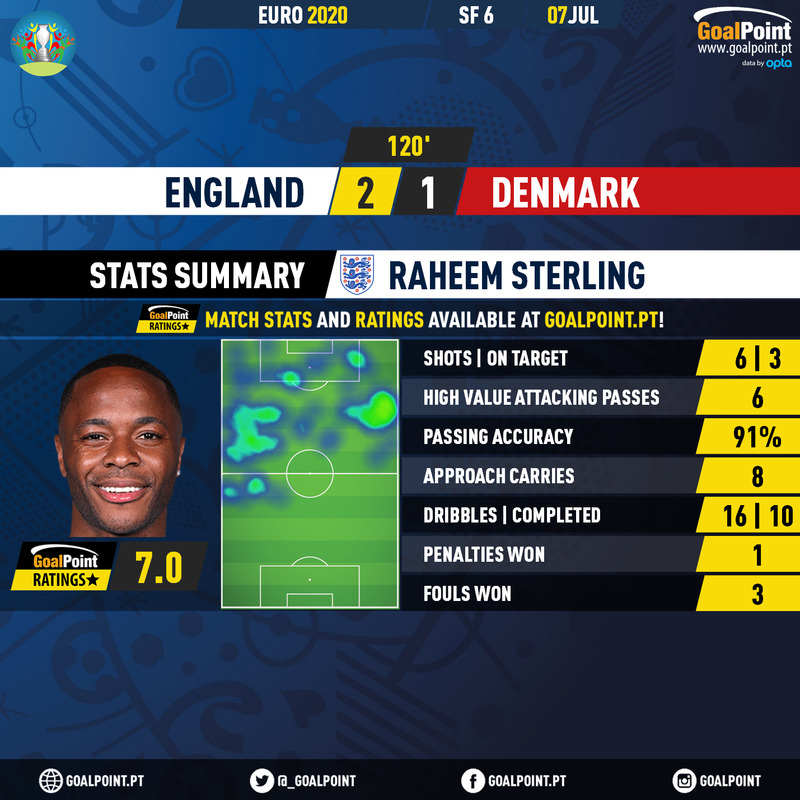 If Gareth Southgate had opted to leave Raheem Sterling out of the starting line-up or even the 26 man squad, as many called for, considering the lackluster season he had for Man City, perhaps England would not have made it this far – let alone gotten to their first European Final in the nation's history.
The vastly experienced 26-year-old came up big once again for The Three Lions, winning the decisive penalty in the first half of extra time after making one of his signature darting runs. Completing 10 dribbles (most) with 16 touches in the opposition box (most), he's proved his immeasurable value to this team.
Often targeted as a scapegoat and disrespected in certain parts, it's safe to say that he's earned his flowers. He has notched up 3 goals and an assist in the 6 games to go with his impressive performances. Come Sunday, if England are to be crowned champions, Sterling will have to be at his dazzling best against a staunch Italian outfit who will no doubt be aware of the threat he poses.
Author: Vuyo Ndebele ( @RegaloJnr )
Repeatable Patterns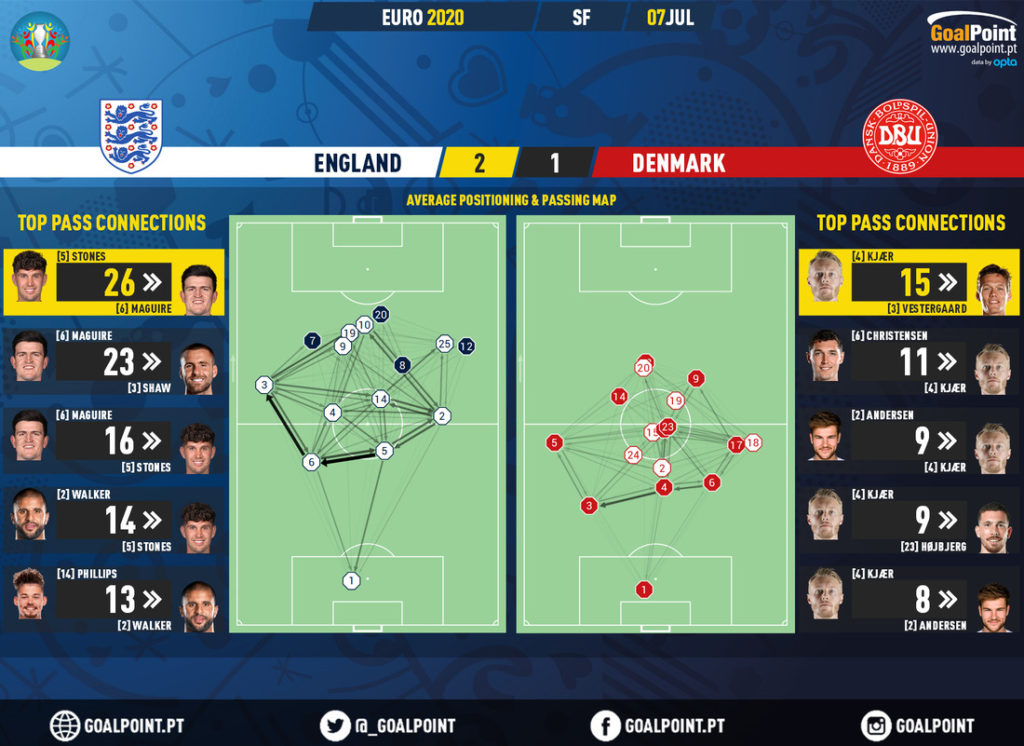 Even as just a semi-regular watcher of basketball games, the sequence of events between the 37th and 38th minutes of this game were very familiar. A team runs a play and executes it with not much opposition; then they run it again and again, for as long as it is still effective.
At times it is a structural issue that prevents the defending team from providing an adequate response to that challenge and in other scenarios the quality gap between the two teams, even if that gap is only a factor in a few positions, means that they are constantly on the wrong side of a mismatch.
A combination of those two factors created the right conditions for such a situation and England only needed to run their play twice to get their equalizer. Harry Kane and Bukayo Saka were the protagonists in this performance as well as Raheem Sterling and for its maiden iteration it was Saka who graced the stage first. After receiving a pass from Kyle Walker on the right wing, he turned and began to drive towards his man, Joakim Mæhle.
The Atalanta full-back faced up to Saka with a defensive stance that offered the English winger the opportunity to cut inside onto his stronger left foot. Saka gladly accepted it, moved inside and slipped a pass through to Harry Kane who played a ball into the box for Raheem Sterling. Schmeichel made a brilliant save from Sterling's shot and Denmark cleared the danger.
The ball was recycled to Jordan Pickford as England intricately forced their way upfield again. Once the ball came to Kyle Walker, Saka darted along the touchline, anticipating the pass again. This time, Walker fizzed the ball into Harry Kane who had dropped into the midfield.
Saka had continued his run and after receiving the ball and turning, Kane duly returned the favour to the Arsenal youngster who then played a pass across the face of goal, and this time Sterling – or rather Simon Kjær – made sure that the ball found the back of the net.
These two scenarios are eerily similar and the fact that they happened mere seconds after each other will be something Denmark will not be happy about when they look back at the game. Playing three centre backs should, in theory, secure that space in behind the wingback but poor positioning and a lack of concentration from Jannik Vestergaard meant that he was a non-entity for both opportunities.
The fault does not lie solely at his doorstep though, failures higher up the pitch meant that he was caught in two minds at critical moments, allowing England space and time to create chances.
Bukayo Saka's Impressive Outing
Bukayo Saka bursting past Joakim Mæhle for the first opportunity prompted Vestergaard to step up as he wanted to provide cover for his wingback. He then checked back slightly, realizing that Harry Kane was close by and within that moment of hesitation Saka found the pass that left Vestergaard stranded in no man's land.
Saka did not play the full game but Maehle will probably remember those 69 minutes for a while. The forward, who is nominally left-footed has shown impressive dexterity on his right as well and it was the alternate threat of him going on the outside that always put Mæhle in two minds. Saka was excellent at pinning back the Danish wingback and combining effectively with Kane and Mason Mount.
Even though this England team is stacked top to bottom with exciting talents, it is clear to see why Saka has become a favoured choice for Southgate as this competition has progressed. The young attacker possesses a technical security that allows him to combine well in tight spaces and an impressive directness that can create chaos for the opposition. Now Southgate has to decide whether to stick with the teenager for what might just be his country's biggest game in over 50 years.
Author: Wepea Buntugu ( @Wepea_ )
"It's coming home" (?)
Certainly, the best story to come out of this tournament has been the togetherness of this Danish team. Kasper Hjulmand ushered the Scandinavian nation to their first semi-final in 29 years and can be immensely proud of all they've achieved. Faced with unexpected adversity to start off the tournament, they have impressed fans the world over with their fearless approach that unfortunately saw them fall short of the Final thanks to a contentious penalty late on.
Despite their disappointment, the fans and clubs have taken notice of talents such as Mikkel Damsgaard and Joakim Mæhle, the prior scoring a goal for the ages as they bow out. It will definitely be interesting to keep an eye on their development as a group and individually heading into the 2022 World Cup in Qatar next year. On the other hand, England's progression to the final has been nothing short of years in the making.
"It's coming home" has almost become a trademark phrase for Gareth Southgates' team. Surely most are starting to believe that football, indeed, might be "coming home" after a 55-year wait to win an international tournament following their 1966 World Cup triumph. With the likes of Jadon Sancho and Marcus Rashford yet to play a pivotal role, many are keen to see what the conservative Southgate will have in store for the finale.
One more obstacle, in the form of Italy, stands between them and football immortality. A nation holds its breath as its jubilation or despondence rests on the shoulders of a golden generation. Rome or Home.
Author: Vuyo Ndebele ( @RegaloJnr )