I

n the early hours of the evening in St Petersburg, the Spanish and last 16 shocks of the tournament Switzerland faced off at the Krestovsky stadium for the quarter-final, in another action-packed match of Euro 2020. This fixture, already played 2 within the last year, were both cagey affairs, and both started and remained as such throughout the full 90' of play in Russia.
The action started quickly, where a corner played in from Koke, fell on the edge of the 18-yard box to Jordi Alba who smashed it toward the goal, unfortunately taking a deflection off of Denis Zakaria who was in despair at seeing his side go a goal down in the 8th minute of play.
Though some may argue that the Swiss ran their luck against the French, this had seemingly run out, by the 18' minute; a goal down and talisman Breel Embolo injured, without his injection of pace, the counter-attacking looked far tougher. However whilst the Borussia Monchengladbach forward went off, a change in system to 4 at the back aided the Swiss astuteness defensively. As the half drew on, the drama of Monday evening in Bucharest had been put to bed by a resilient pass-based approach from the Spanish.
Despite carrying a 1-0 lead into the second half, the Spanish ascendency was never dominant, while the Swiss threat from set-pieces and counter-attacks was great. This was showcased in the 68th minute, where Remo Freuler capitalized from a mix-up between both Aymeric Laporte and Pau Torres and passed the ball to Xherdan Shaqiri for a simple finish to make it 1-1.
Whilst Freuler set up the goal, his heroics would turn to villainy, wherein the 76th minute he got sent off after a straight red card challenge on Gerard Moreno. Swiss backs were firmly against the wall at this point. Monday seemed a long way away, however, hope was not lost, as the Swiss saw the extra time, and then penalties a repeat of that night in Bucharest.
Similar takers, same order after Mario Gavranovic, to Monday, all 3 scorers, Fabian Schar, Manuel Akanji, and Ruben Vargas, missed their spot-kicks to see the Spanish win in a poor penalty shootout 3-1. The Swiss fairytale ends, but boy how close did they come to dreamland once again.
GoalPoint's MVP: Yann Sommer
After such a torrid time on Monday, Unai Simon put in a strong performance in today's match on the back of a horrifically embarrassing mistake against Croatia, however, the MOTM had to be Yann Sommer for his star performance.
Whilst the Spanish were in the ascendency for most of the match, the red card for Remo Freuler in the 75' minute, up until the end of extra-time, saw the Swiss be heavily pummelled with 10 shots on-target forcing diamond hands from Die Borussie's goalkeeper.
Unai Simon had only faced 2 shots on target, however, the penalty shoot-out was where both goalkeepers shone. Yann Sommer saved a good penalty from Rodri and outfoxing Sergio Busquets to misplace his shot. Though these efforts were concerted, Simon's resilience to bounce back showcased itself majorly by saving 2 penalties from both Schar and Akanji comfortably.
All in all, it was an outstanding penalty shoot-out from both goalkeepers, but with the ability to be cool throughout the match under constant bombardment, Sommer deserves the MOTM award.
With Busquets deployed as Spain's disciplined deep-lying playmaker, this approach allowed the 'away' side to dominate the ball during the first half, controlling 75 percent of possession through 25 minutes of play in Saint Petersburg.
However, the Spain of 2021 is not the World Cup-winning team of 2010. When pressured aggressively by their opponents, Spain's fallibility is clear. Moreover, Switzerland's second-half goal came as a result of a poor turnover on the edge of the Spanish penalty area, with miscommunication between Busquets and Laporte allowing Xherdan Shaqiri to pounce.
In fact, the 52 minutes of play that followed Switzerland's goal exemplified Spain's weakness. Unable to convert golden chances and fragile when moving quickly from defense to attack, there are gaps in Enrique's armory that could be exploited in the final four.
As always, though, the Spanish national team will live and die by its sword. Luis Enrique's approach is here to stay – the question is whether it will guide Spain to success or cause them to sink against world-class opposition.
The Flop: Gerard Moreno
Gerard Moreno endured a torrid evening in front of goal, missing more big chances than anyone else who took to the field in Saint Petersburg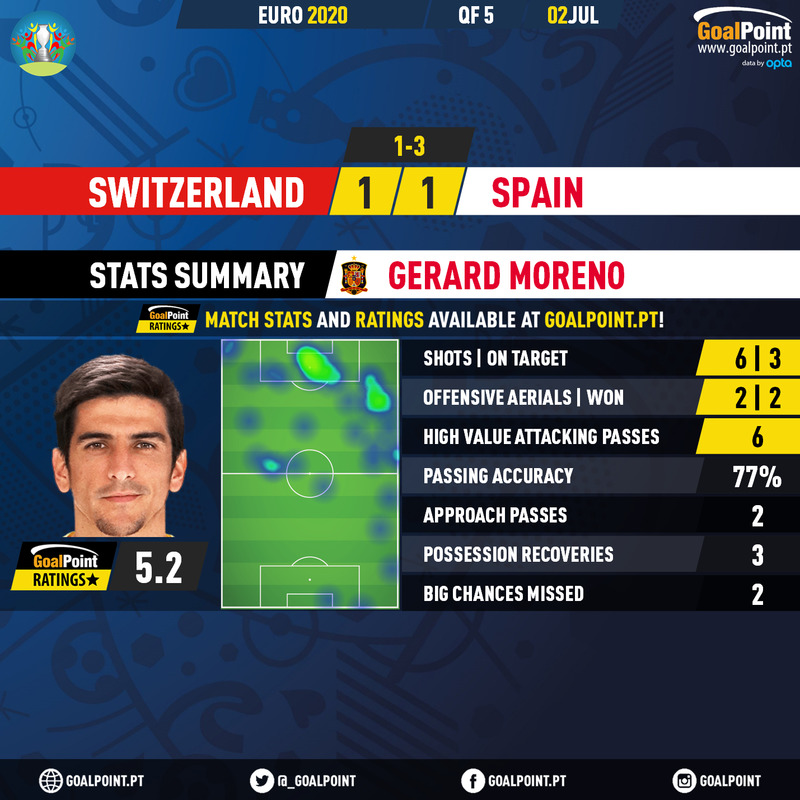 Although Gerard Moreno played a key role in Spain's penalty shootout victory, his performance during extra-time left a lot to be desired. The 29-year-old Villarreal forward struggled in front of goal, missing the highest number of big chances (two) of any player to take the field during Friday's match in Saint Petersburg.
A 54th-minute substitute, Moreno had several opportunities to prevent the game from going to penalties but failed on each occasion. Although the 5'11" forward's six high-value attacking passes were integral to Spain's build-up play, Moreno's finishing – with both head and boot – was left wanting. On 110 minutes, for example, the Villarreal forward climbed highest in the penalty area but mistimed his jump and was forced to watch as his shouldered effort spun beyond the post.
Luis Enrique's Tactical Plan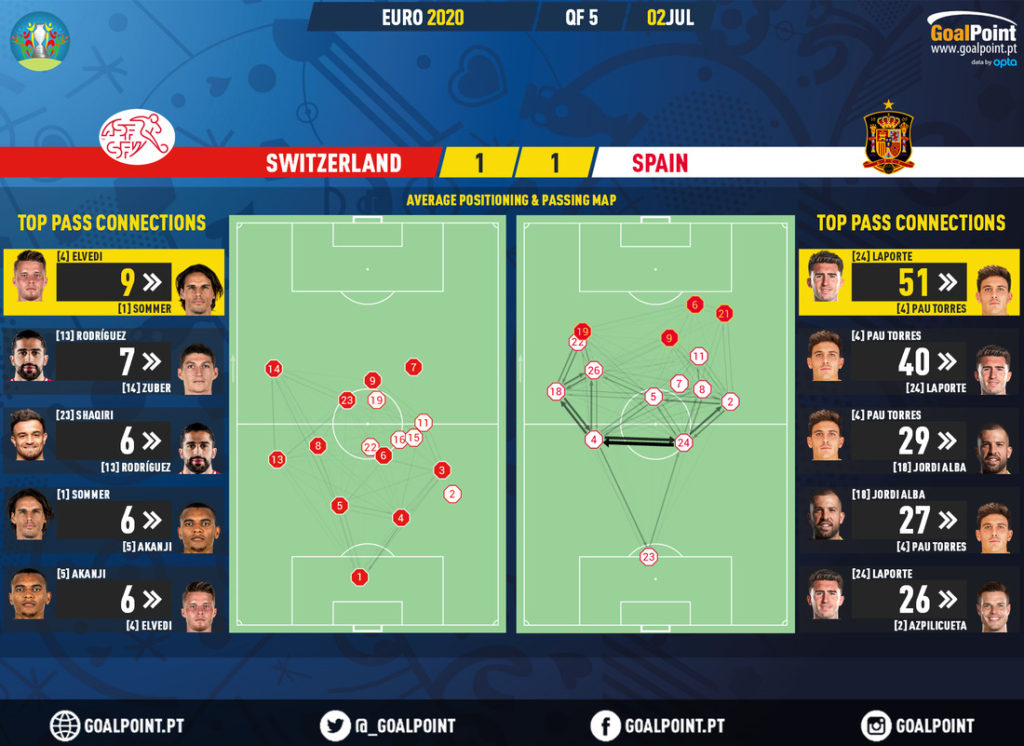 Despite starting the group phase slowly, scoring just once in their opening two fixtures of EURO 2020, Spain has grown into the tournament of late. Guided by former FC Barcelona head coach Luis Enrique, La Roja largely controlled proceedings during their penalty shootout win over Switzerland in the quarter-final of the European Championship.
Pivotal to Spain's development during the Euros is the squad's commitment to the guidelines enshrined in Enrique's tactical philosophy. Positionally fluid in possession, the European champions of 2012 can attack with confidence in the knowledge that Sergio Busquets and Cezar Azpilicueta provide a solid base from which to build on.
With Azpilicueta asked to tuck inside in support of Aymeric Laporte and Pau Torres, left-back Jordi Alba is given license to be aggressive during the transition under Enrique's system. Designed to operate as a 4-3-3 in defense and a 3-4-3 in attack, Enrique's approach allows La Roja to control the ball but can be exploited if Alba moves upfield too quickly during the transition.
"Spain is a striker away from being a really top team," former Scotland international Graeme Souness said on ITV Sport at full-time. "Without that striker, you're going to see more of these sorts of games going to the wire." Speaking on BBC Radio 5 Live Sport, former England international Dion Dublin agreed: "[Spain] created so many chances but you can't keep missing those chances because you will get bitten in the backside."
Although Gerard Moreno displayed bravery during the penalty shootout, his performance through regulation- and extra-time left Spain on the cusp of a quarter-final exit despite them creating enough high-quality chances to defeat thirteenth-ranked Switzerland. If selected to play at Wembley, the Villarreal forward must improve if 'La Roja' is to qualify for the final.
Author: Luke James ( @LukeJames_32 )
Swiss fairy tale ends
The Spanish squad march on to the semifinal where they will meet the Azzurri who has remained a strong unit throughout the tournament. Swiss efforts will not go unnoticed, the result against the French will be told as a story for years to come. Spain on the other hand will surely face the effects of playing 120 minutes 2 times in 5 days and need to find some composure and efficiency in front of the goal if they hope to proceed to the final in London.
Author: Arnov Paul Choudhury ( @ArnovPaul01 )