J
ust nine years ago, in June 2012, Ukraine played their first-ever game at a European Championships. Today, against the same opposition, Andriy Shevchenko's men played only their tenth. Remarkably, of those ten games, Ukraine has won just three, with two of those coming against Sweden. Yet, Tuesday's dramatic extra-time triumph over their favorite Scandinavian opponents, coupled with their solitary group stage win against North Macedonia, means that this weekend will see Ukraine in their first-ever European Championship quarter-final.
Before this tournament, Shevchenko had scored every single Ukrainian goal in European Championship history. Over the last three weeks, though, the Eastern Europeans have found four new goal-scorers, including today's last-gasp hero Artem Dovbyk, a striker from mid-table Ukrainian league side SC Dnipro 1, who won his nation one of the biggest games of their history with one of the last touches of the game.
For Sweden, the side who topped Group E unbeaten, the 121st-minute header was a heart-breaking breach of their brave final stance. After a controversial red card for Marcus Danielson, 20 minutes of 11 vs 10 proved just too much for even the most resolute of Swedish systems, a well-oiled, battling machine that earned plenty of admirers throughout the competition.
And, with Emil Forsberg hitting the woodwork twice in the second half, Janne Andersson will be bitterly disappointed that he couldn't take his side to a second consecutive major tournament quarter-final. For now, though, it's Ukraine who goes through to face England in the last eight. We've seen the Swiss beat the French, the Czechs defeat the Dutch – who's to say that Andriy Shevchenko doesn't have one more trick up his sleeve.
GoalPoint's MVP and UEFA Star of the Match: Oleksandr Zinchenko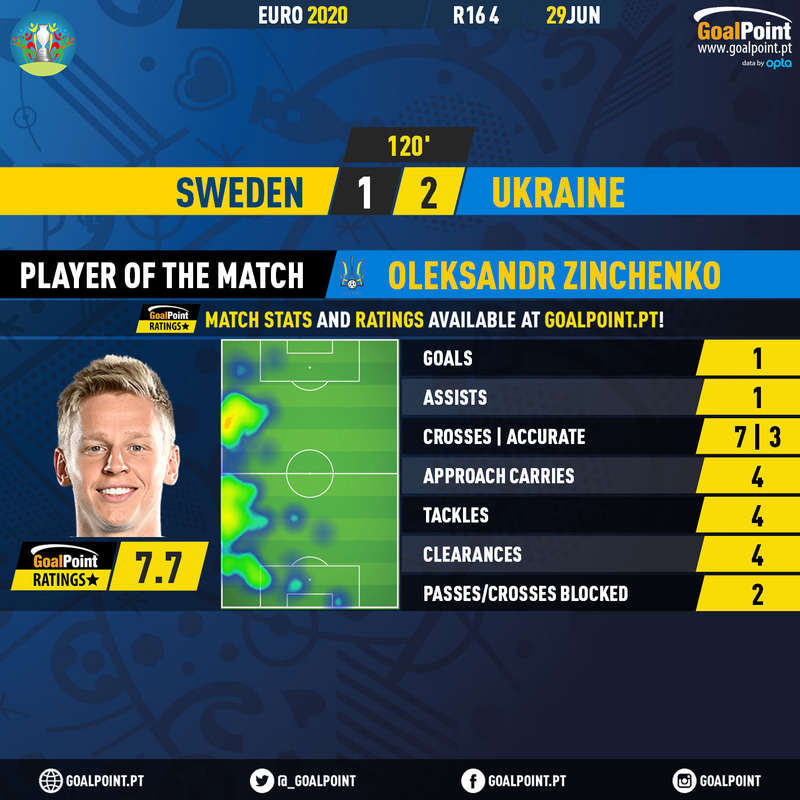 Unleashed in a left-wing-back role, Oleksandr Zinchenko consistently combined with Andriy Yarmolenko and Roman Yaremchuk in attack and proved why he is far more than just a utility left-back.
In what turned out to be a topsy-turvy, almost end-to-end encounter, Oleksandr Zinchenko was Ukraine's anchor, metronome, and attacking spark all rolled into one.
Manchester City's utility man locked down the entire left-hand side of the pitch from minute one, putting in a typically tenacious display off the ball, winning five of his six defensive duels, making four tackles, and ensuring that he wasn't dribbled past all night. It was his extra attacking responsibilities, however, playing in a more advanced midfield role than he is often afforded at club level, that allowed Zinchenko to show his underrated creative abilities, and to make his established Premier League quality clear for all to see.
After fantastic work from Andriy Yarmolenko, it was Zinchenko who gave Ukraine the lead, sending the ball rocketing past Robin Olsen with a powerful left-footed half-volley. The real moment of magic, though, arrived when his country needed him most, producing a practically undefendable cross with whip, curve, and accuracy in the 121st minute of the game.
A player who cost Manchester City just £2 million, filling in at left-back despite being signed as an attacking midfielder, the determination and commitment required to stay and fight for his place at such a star-studded club came to the fore for his country tonight. In Oleksandr Zinchenko, Ukraine has a captain who really embodies the self-belief that his country will need if they're going to write another dramatic chapter in their Euro 2020 fairy-tale.
Author: Thom Harris ( @ThomHarris_ )
The Tipping Point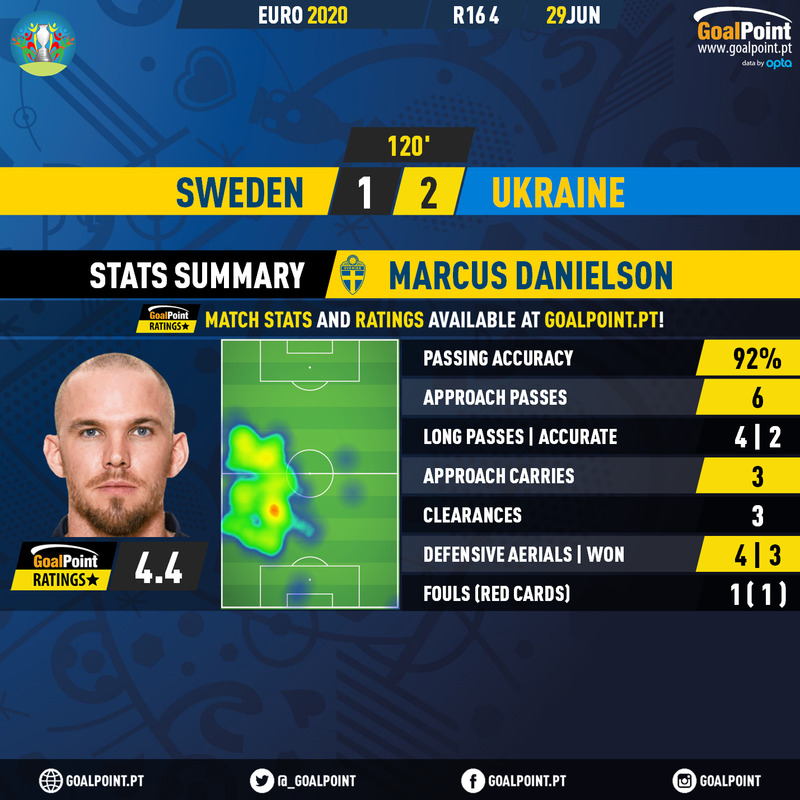 After a grueling regulation period, defined by two moments of quality the game headed to what began as a fairly somber extra time. Both teams seemed content with or were too tired to push for anything other than another scoreless period, before settling for the lottery of the penalty shootout. That was until the 97th minute when Marcus Danielsson, stretching and then clearing a bouncing ball, collided studs first with Artem Besyedin.
At first, the collision looked fairly normal, if such things ever are, Danielson was booked and the surrounding Ukrainian players gathered around Besyedin, hoping to help him up so that play could be restarted. He, however, was in no shape to continue playing and as this became apparent, some tension began to build. The referee made the now-familiar signal, indicating that he would be going to the monitor to review the incident, meanwhile, Besyedin was being attended to by the Ukrainian physios and he looked in quite a bit of pain.
The Swedes – including Danielsson – were indignant, wondering why the referee wanted to go the monitor while at the same time aware of the possible repercussions of that action. They did not have to wait long for the result, after a few seconds at the monitor, the referee ran back onto the field and brandished a red card in the direction of the Swedish center back. His decision made with such urgency that he did not even bother to make the quite amusing action of rescinding Danielsson's yellow card first.
Besyedin was in tears as he limped off the field, assisted by the physios to be replaced by Tsyhankov. Danielsson already having taken that dreaded walk down the tunnel left his team not only down a man but immediately having to withstand a barrage of Ukranian pressure. Andriy Shevchenko's side, smelling blood for the first time during the game, went all out for it.
At this point the Swedes were hanging on for dear life, wishing for what was now for them, the sweet relief of the penalty shootout. That relief never came though, Artem Dovbyk's 121st-minute header sending the traveling Ukrainian fans into pandemonium and leaving the Swedes totally deflated, hopes totally dashed.
The Tactical Point of Interest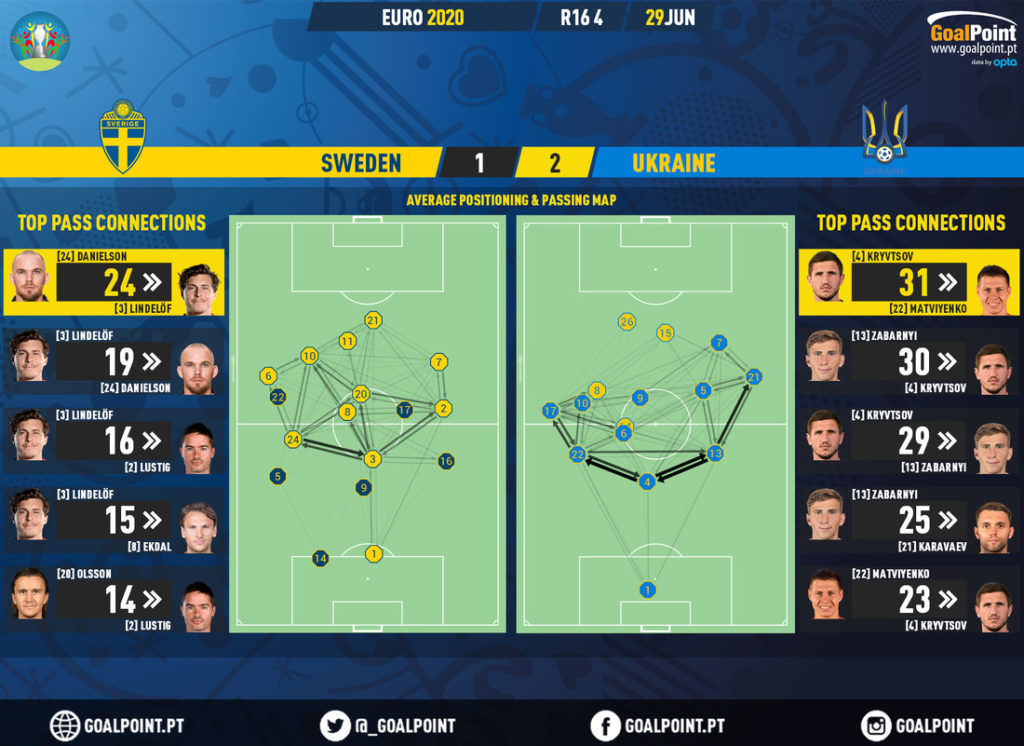 With Ukraine pressing in a 3-4-3 formation the normal buildup structure of the Swedes was having some issues progressing beyond the first line of pressure. Sweden usually builds up with a 3-2 structure, Augustinsson, the left-back moves high and wide while Lustig the right-back stays deep alongside Lindelöf and Danielsson to form that back three.
Ukraine was matching those three players with their own front three, making it more complex for the Swedes to build out from the back. This prompted the midfield two of Kristoffer Olsson and Albin Ekdal to begin rotating into the backline alternately to provide a numerical superiority the Swedes needed to makes buildup easier.
This adjustment created a spare man and was an effective workaround to the Ukrainian press. At times, Emil Forsberg dropped very deep, appearing alongside the centrebacks to help carry the ball forward and play some incisive passes through into midfield. Victor Lindelóf, I feel, was an underused asset in this area.
Lindelöf has shown at Manchester United and in moments during this competition that he has the eye for a pass that can break lines and allow his team to get up the pitch quickly. He was not as aggressive as he could have been with his passing, an avenue that Sweden could have benefited greatly from especially as Alexander Isak and Dejan Kulusevski kept picking up good positions but were not getting involved enough, Isak especially.
Author: Wepea Bungtu ( @Wepea_ )
Conclusion
And so, while Sweden heads out in the cruelest of circumstances, their performances at Euro 2020 leave little doubt that we'll be seeing them again in Qatar for the 2022 World cup. The epitome of organization, team spirit, and togetherness, with a little bit of star-quality, sprinkled on top, Janne Andersson's Swedish project is far from over.
For Ukraine, meanwhile, and while they may have scraped through to the knockout stages by the skin of their teeth – never mind this quarter-final – the maturity of performance from their experienced heads, namely Zinchenko and Yarmolenko, will surely give them huge encouragement ahead of the biggest game of their history on Saturday.
Alongside outstanding 18-year-old center-back Ilya Zabarnyi, powerful striker Roman Yaremchuk and lethal sharpshooter Ruslan Malinovksiy, they're a side with underrated technical quality throughout, who is more than capable of punishing any English complacency.
Author: Thom Harris ( @ThomHarris_ )