It's coming home!
Probably.
Maybe.
England will at least be final bound, right?
Who knows. But what we do know is that England finally has beaten Germany in a knockout stage of a major tournament since the 1966 World Cup, failing to do so four times since then (1970, 1990, 1996, 2010). The first half was somewhat of a tense affair, with both Gareth Southgate and Joachim Löw setting their teams up with a back three (England with a 3-4-3, and Germany with a 3-4-2-1). Both teams had a few chances, but neither team looked firmly on top after 45 minutes.
Come second half, it was clear that some changes needed to be made for both sides. Löw opted to sup off Timo Werner for Serge Gnabry, and Southgate brought on Jack Grealish for Bukayo Saka. Grealish was exactly what England needed, providing forward passes making England look a bit more progressive in possession. His forward thinking was what got England the opener, scored by Raheem Sterling.
Sterling's third goal in the entire tournament came from some quick passing between Harry Kane and Grealish before Luke Shaw's low ball provided Sterling with the assist. Sterling, who before today had been England's only scorer in the tournament, has far and away been England's talisman during this tournament, and his goal put the home side ahead in the 75th minute.
Germany was not completely out of it though, and they had chances. Kai Havertz looked especially up for it today but was unable to put anything past Jordan Pickford. Thomas Müller had a glorious opportunity to level ten minutes after England's goal when Sterling needlessly gave away possession in a dangerous area. Müller was one on one with Pickford after John Stones kept him onside, but his effort went just wide.
It was a chance that Germany would really regret not scoring because five minutes later, England doubled their lead. Shaw and Grealish combined once again giving Kane a routine low header to score past Manuel Neuer. Kane, who has been poor for the majority of the tournament, and missed an insane chance in the first half, finally got his goal.
All Eyes on Luke Shaw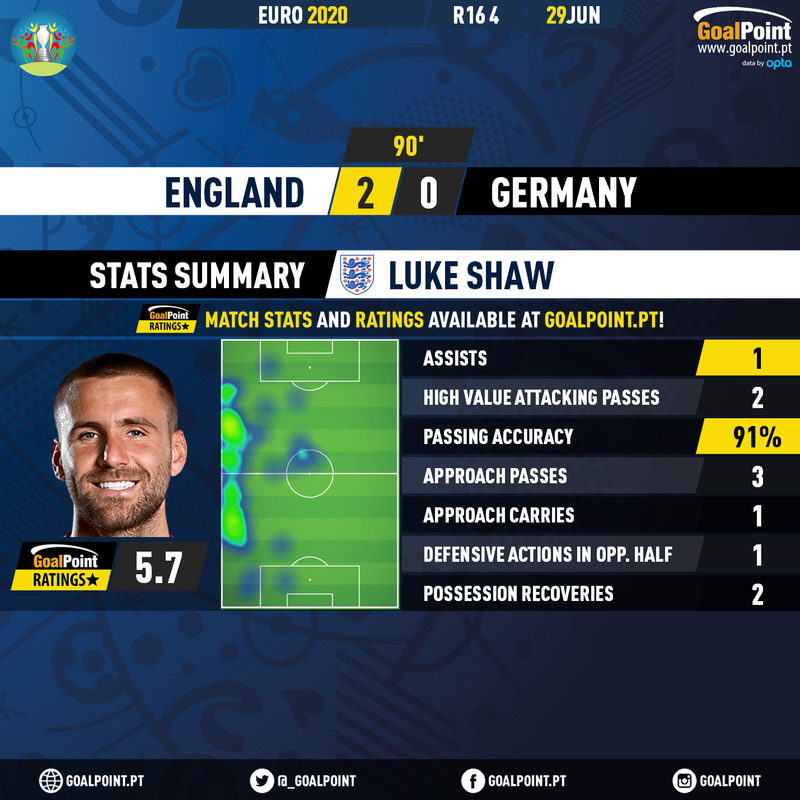 Despite being an unused substitute in their first match against Croatia, Luke Shaw has gradually become one of Gareth Southgate's most dependable performers in the Euro's and continued his impressive form at Wembley Stadium.
This is a tough one. There were a few players on both sides who had good spells, but the overall gameplay was not that of high quality, and it is hard to pick a player who impressed over 90 minutes. Despite conceding two goals, Mats Hummels was everywhere for Germany. Four out of seven offensive aerials won, three tackles won, including a last-minute tackle on the Kane chance in the first half, and five clearances. He was the stand-out German tonight.
As mentioned previously, Sterling and Grealish did impress, as well as Harry Maguire, but my man of the match would have to be Luke Shaw.  The Manchester United full-back not only provided the assist for Sterling's goal, he had five final third passes which helped England remain on the front foot in the second half. His 91% pass accuracy allowed England to recycle possession when they needed to, and defensively, he was crucial in keeping a clean sheet, with 100% of his tackles won, two ball recoveries, and one clearance.
Author: Yara El-Shaboury ( @yaraelshab )
The Tipping Point
A highly defensive affair was had between England and Germany for the majority of the game. With both managers Joachim Löw and Gareth Southgate being reactionary to the changes that are made by an opposing manager, to then be able to match up against the changes.
It was Gareth Southgate who broke first, bringing Jack Grealish on for Bukayo Saka, who by all means had a fantastic game playing in the pocket of space from Robin Gosens and Antonio Rüdiger, with Toni Kroos in close proximity at all times. The change in the 69th minute saw Raheem Sterling move over onto the right where Saka had departed to allow Grealish to play on the left side of the attack, the very wing that saw the two goals created from.
The first one to Raheem Sterling from an overlapping Luke Shaw played in by no other Jack Grealish to play the ball across the 6-yard box for a simple tap-in for Sterling. A formidable partnership has been struck up between Shaw and Grealish with both players seemingly understanding how each other plays perfectly. And the second goal, Shaw picking up the ball and carrying it into the final third, found Grealish, for yet another fantastic cross but this time to Harry Kane who put the game to bed.
An assist in every 58 minutes from Grealish so far at the Euros. 0.66 assists per game on average and with Grealish only playing 116 minutes of football so far, the statistic per 90 minutes would skyrocket. Another game-changing performance from Grealish who with another fantastic performance today has staked his claim for starting in the Quarter-Finals on Saturday in Rome.
Harry Maguire's Stellar Performance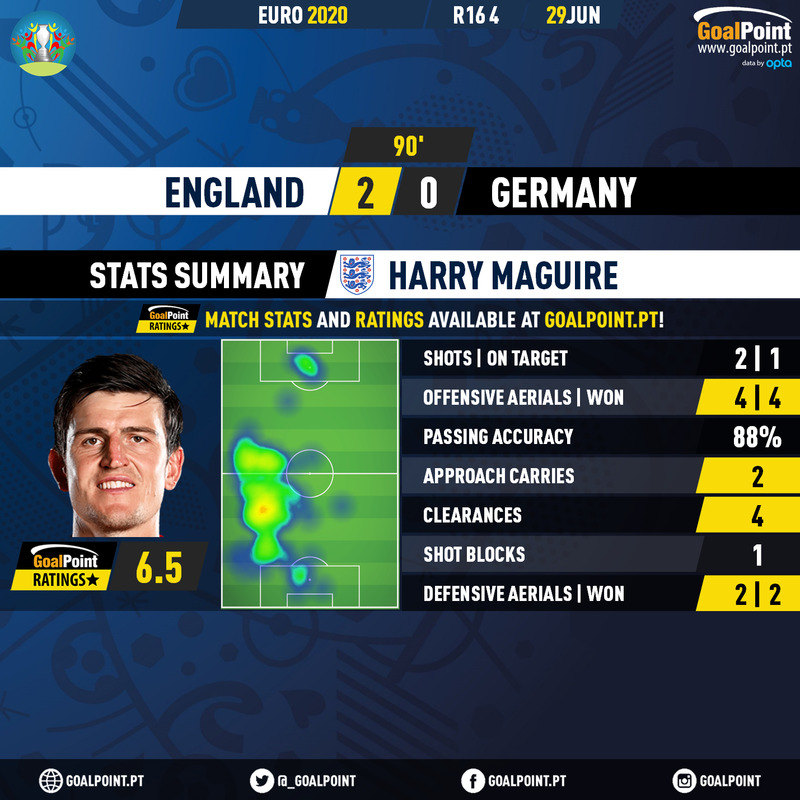 Another fantastic performance from England's back-line, who are still yet to concede a goal at this European Championships. A massive cog in this back-line was Harry Maguire, back from a lengthy injury against the Czech Republic which was his first game of football since the 9th of May against Aston Villa.
It was in a 4-2-3-1 that Maguire played a part against the Czech Republic, alongside John Stones which meant for Declan Rice or Kalvin Phillips to drop in between or alongside them if England went to a temporary 5 back-formation. However, due to Gareth Southgate wanting a match-up against Joachim Low's Germany, it meant that Maguire was played on the left side of a 3-4-3 with flying wing-backs of Shaw and Kieran Trippier.
This allowed for Maguire to progress with the ball further up the pitch due to the cover that Stones and Kyle Walker had left him at the back, this caused easier transitions for England going forward. Carrying it along the left flank various times was a massive reason why England managed to break the German counter-press.
Defensively, England had wing-backs of Shaw and Trippier who dropped alongside Walker and Maguire, with Rice and Phillips pressing the ball in front. The U-shape formation caused Germany to either try to force the ball forwards or play sideways, causing frustration and then allowing England to capitalize.
A fantastic display from Maguire, a man of the match performance. Winning every aerial duel, both attacking and defensive was a masterclass, stopping every cross or chance into the box with the man he was marking. Superb from Maguire, showing how vital he is for this England team. And one that now has a real chance at winning the European Championships.
Author: Oliver Hargreaves ( @TownEndAnalysis )
Conclusion
It's still too early to tell whether England can truly win this tournament, but they do have to favor their chances now. They are on the easier side of the bracket, and heavyweights France and Portugal have been knocked out. They do also have the home advantage should they reach the semi-final and the final, with both set to be played at Wembley.
As for Germany, it was a disappointing end to Löw's 15-year stint as German manager. His team was still in it at 1-0, but the German manager's in-game tactics were poor: the decision to sub on Emre Can when a goal was needed, and to wait until the 92nd minute to sub on an attacking threat in Jamal Musiala speaks volume as to how the last few years of his tenure have been.
Author: Yara El-Shaboury ( @yaraelshab )