A
s the camera panned to Swedish fans on the 40th minute, they were seen enjoying a couple of beers in the stadium in the manner of which one watches a cricket game, a stop-start sport attended more for its ´day out feel rather than the games themselves, well at least the fans were having a good time. 
There have definitely been better games at the Euros so far than the snoozefest of Sweden-Slovakia where both teams were reluctant to force an error, with neither wanting to blink first and attack. Slovakia's encouraging win vs Poland meant that they had three valuable points coming into the game and it was clear they wanted to shut up shop and play for a point, despite playing some surprisingly good attacking football vs the Poles with Ondrej Duda sticking out as a performer.
Sweden ground out a defensive point vs group favorites Spain, but you could see the anxiety of having one point rather than three creeping up on the Swedes as slowly but surely they committed more men forward and crucially got Alexander Isak more into the game resulting in them picking up the win. 
Without a sniff on goal from either team in the first half around about the 60th minute, Sweden upped the tempo (which wasn´t difficult considering the lackadaisical pace of the game) committing more men forward, Seb Larsson and Emil Forsberg started to drop deeper and have more of the ball.
Sweden increased the pressure from mild to slightly warm, in the end, it was enough to see off Slovakia who arrived with Plan A of "play for a point" and after going behind to an Emil Forsberg penalty they never switched to a different one as the game started, meandered and ended on the same note, a damp squib.
GoalPoint's MVP and UEFA Star of the Match: Alexander Isak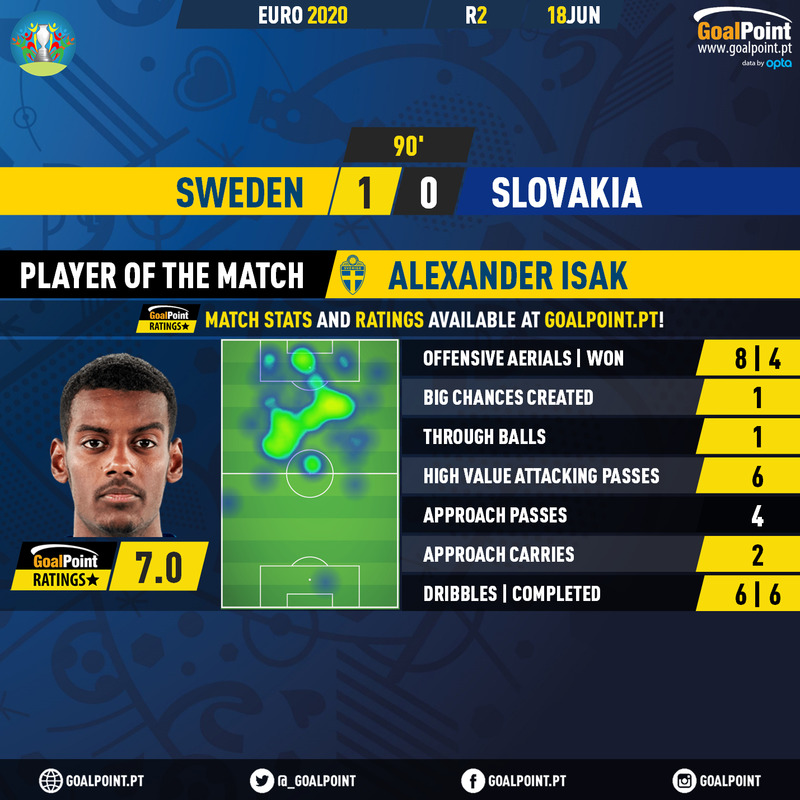 Oh dear god, thank you for Alexander Isak. Providing the only respites and exciting moments of the game by sheer force of will many times, he looked like the only player who wanted to score a goal or even play attacking. It truly was the old cliche of waiting for one moment of magic from a player and it was becoming increasingly inevitable it was going to be Isak to provide that. Sweden had four key moments in the attack and Isak was involved in three.
It was his flick around the corner that led to Robin Quaison being brought down by Martin Dúbravka for Sweden to score from the penalty. There was a fantastic dribble in the 70th minute where Isak glided past three players and got a shot off, Isak was the only light in the dark tunnel that was this game. Why are we not hearing more about Zlatan Ibrahimović not at the Euros? It's because Isak is ensuring the big swede is not the headline it is instead the young Real Sociedad striker.
Author: Dharnish Iqbal ( @DharnishSizlak )
The Turning Point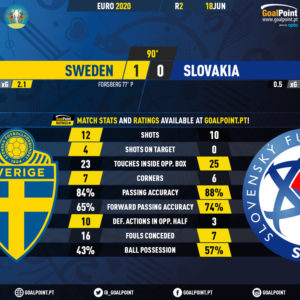 As history indicates, Sweden is not a first-half team. Of the 26 goals they've scored in their Euros history, 23 have come in the second half including the one in this game.Add to that the fact that their opponents, Slovakia came to play specifically for a goalless draw, the result is one of the worst halves of football ever played. Sweden tried and failed to establish any rhythm going forward while Slovakia seemed to be playing to Stefan Tarkovic's instructions. 
Both teams combined for one shot on target and 0.23 xG, Sweden's 0.09 expected first-half goals tell the story, they never looked like scoring… until the second half. Only those present in the Swedish dressing room know the truth but whatever Janne Andersen told his players proved pivotal, the halftime break was the turning point.
Author: Tunde Young ( @tunde_young )
Flop of the Match: Emil Forsberg
Speaking of Emil Forsberg, he was quite underwhelming for large portions of this game and still hasn't played at the high level expected of him in this tournament so far. This might come across as unfair especially when you look at the stats, Forsberg was the second-highest rated player in this game according to Goalpoint and he scored the only goal of the game.
However, he was unable to control this game as Sweden's main creative outlet especially in the first half where they had a lot of the ball and he was anonymous at some point, opting for sideways and backward passes when he did have the ball. He along with the team improved drastically in the second half, Forsberg got into better positions and called for the ball more but still wasn't playing at his optimal level.
Twice he had the chance to slide in a pass for Marcus Berg and Alexander Isak and both times he botched it.  Forsberg's pass to Isak would have been perfect on his day and set the Real Sociedad striker up with a one-on-one but he over-hit it and the chance was gone. To be fair to Forsberg, he did show a lot of composure to tuck away the Swedish penalty and help them secure a spot in the next round.
I reckon the only reason his stats looked good was that this was such a bad game and there wasn't a lot of top-quality football on display. Or maybe Emil Forsberg was just a victim of his own usually high standards, either way, one thing is certain- he must raise his level for Sweden to have a chance of making a run in this tournament. 
Author: Tunde Young ( @tunde_young )
How Sweden Narrowly Defeated Slovakia
The plan was quite simple. Get a point against Spain in the opener – or three if they came along – and then win one of their next two fixtures and make it to the knockout stages. The first part of that had been quite admirably executed and the Swedes came into their second group game against Slovakia in a very decent position. Slovakia was not going to be pushovers though. An impressive win against Poland in their opener meant that they could qualify for the next round simply by avoiding defeat.
Therefore, the stage was set for an interesting encounter in St. Petersburg. The Swedes lined up in their familiar 4-4-2 formation, unchanged from the first game against Spain. Slovakia started within a 4-2-3-1 setup with a couple of changes. Patrik Hrošovský came into midfield to replace Jakub Hromada and Martin Koscelnik replaced right winger Lukáš Haraslin. On paper, the two teams were just about evenly matched and that reflected in the opening exchanges. There was a tension that hung over the game with both teams unwilling to really go for it.
As the half progressed, Sweden began to gain a slight foothold in the game, pressing Slovakia high up the pitch in their first phase of buildup before retreating into their solid block of two banks of four and denying them any space to progress. Slovakia however, found a way around the Swedish schemes, and then the tide turned towards the Slovaks. Marek Hamšík and Ondrej Duda were operating in free roles, able to float around the pitch to create superiorities for their sides and help knit moves together.
Through quick combinations and effective ball carrying from players like Juraj Kucka – who was also influential in that first period – meant Slovakia was often able to get the ball into a free man in wide areas or in the half-spaces. Duda's roaming, however, meant that they lacked any presence up front, and moves too often broke down after balls into the Swedish box with one or even no Slovakia players ready to attack them. 
The half ended with Slovakia on top but not able to translate their momentum into any tangible opportunities. In the second half, the Swedes began to take the initiative. Utilizing an initial 3-2 buildup structure they sought to outnumber the three-man first line of pressure presented by Slovakia. One of the differences in the second half involved Emil Forsberg who started wide on the left, drifting much closer to the striker than he had in the first half and connecting the midfield to the attack more effectively. 
That led to more space out wide for rampaging fullback Ludwig Augustinsson who managed to get a couple of dangerous crosses into the box for Isak and Berg to attack. Sebastian Larsson on the other flank also began to improve the quality of his deliveries, one of such balls allowed Augustinsson to draw a huge save from Dubravka. Another delivery saw Isak glance at a header just over the bar.
The intensity was beginning to ramp up and that was helped even further by the offensive substitutions made by Swedish coach Janne Andersen. Robin Quaison, who came on for Marcus Berg in the 64th minute ended up provided the golden moment for Andersen's side. Quaison ran onto an Alexander Isak flick, getting there just before Dubravka who could only foul him. Forsberg converted the resulting penalty with aplomb giving the Swedes a lead which they protected for those final 13 minutes and added time.
The quality of Sweden's danger men created a number of good chances for them in the second half and their dominance eventually resulted in a winning goal. Slovakia will be disappointed with their inability to create any clear-cut chances when they found themselves on top. Their staleness in the second half will also be a source of worry for coach Štefan Tarkovič. The final day will still be a source of drama as three of the teams could potentially finish with three points meaning there is still a lot to play for in Group E.
Author: Tunde Young ( @tunde_young )
A Look Ahead
Group E is an intriguing prospect chock full of teams with grit and a lot of heart. Even if they don´t have the players necessarily Slovakia and Sweden have an ability to dig in and frustrate teams, Sweden in particular relied on their stubbornness for an impressive Quarter Final place in the World Cup in 2018, they could rely on some more heroic defending to go further.
Spain is clearly the superior side but lacks a forward and this isn't a Spain team full of Barcelona-Madrid top-notch quality anymore, Poland possesses enough players that could possibly hurt them which could blow the group wide open.
On the face of it, Sweden has ground to an impressive four points from six, and looks like they will now qualify. Slovakia can actually play good football, intricate passes were shown even today and against Poland, now it is a case of trying to get something out of the final group game for them. The tournament has boasted of frantic, exciting football, this was anything but.
Author: Dharnish Iqbal ( @DharnishSizlak )