B

etween Austria's 11 starters for their match at the Johan Cruyff Arena, they had just 23 league goals between them. The Netherlands meanwhile, had 42 goals between Memphis Depay and Wout Weghorst alone. This stat is perhaps the best summary of Thursday evening's game in group B.
Though Franco Foda's Austrian side pressed high in the early minutes of the game, barely 10 minutes had gone before David Alaba recklessly stamped on Denzel Dumfries inside his own box. VAR awarded the penalty which was slammed home by Memphis Depay. The former Lyon man should have made it 2-0 inside 40 minutes, when Wout Weghorst unselfishly laid him off for a near-open net, only for Memphis to blast the ball over the bar.
Austria would fight back in the second half, having 7 shots aimed at 38-year-old Maarten Stekelenburg's goal. Yet they would only hit one on target looking toothless throughout the second half, clearly missing the rightly-suspended Marko Arnautovic.
The same cannot be said for Frank de Boer's side, whose decision to stick with the 3-5-2 was rewarded once again. Dumfries raced through alongside substitute & club teammate Donyell Malen to slot in for an open net, killing the game off at 2-0 with 20 minutes to spare. 
UEFA Star of the Match: Denzel Dumfries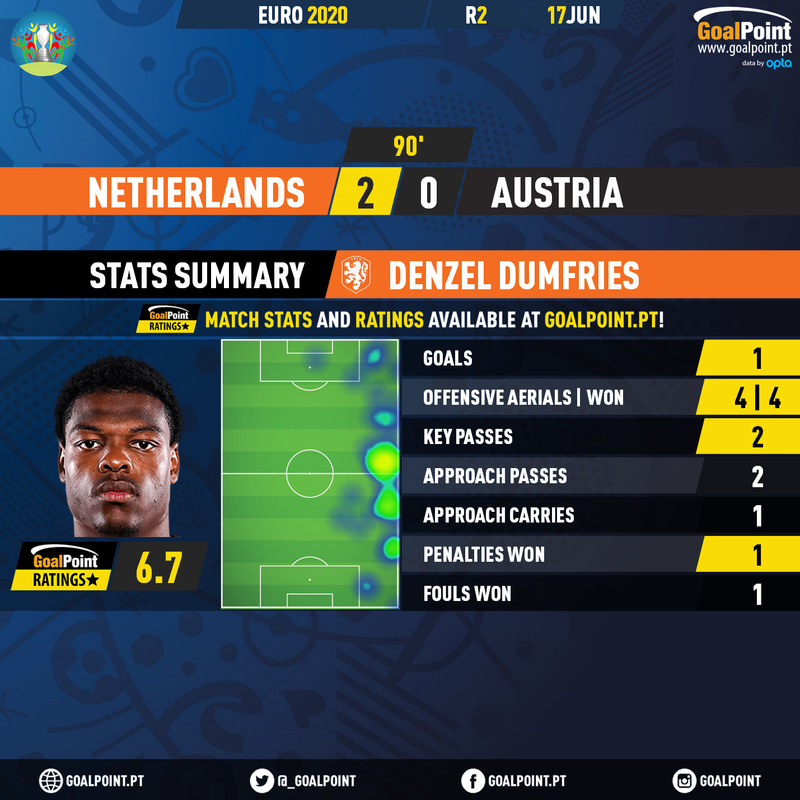 The Man of the Match award could easily have gone to Frenkie de Jong. He was exemplary in the early stages at escaping the Austrian's press, completing a game-high 5 dribbles. However, Denzel Dumfries edged him with his second consecutive match-winning performance.
Much like his display against Ukraine on matchday one, it was not just Dumfries' goal contributions that caught the eye. Dumfries caused huge issues for the Austrian defense all night, with his relentless running on the right-wing continuously stretching the opposition backline. His commitment to his task saw him complete just 20 passes on the night, the second-lowest of any starter on both sides. Yet 2 of them would lead to a teammates' shot.
Though defensively he would not even complete a single tackle, interception, clearance, or block, this was just an example of the game plan on the night. While the 25-year-old is ordinarily a defender at his club PSV, against Austria last night he was used as an out-and-out attacker. Perhaps his positioning will be exploited by a more potent opponent, but against the Ukraine and Austria, he has been a decisive weapon used by Frank de Boer. 
Author: Brad Jones ( @bradjonessport )
Frank de Boer's 5-3-2 Works a Charm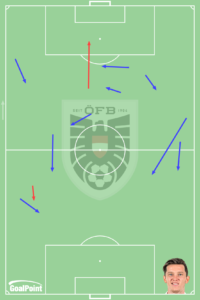 Despite Frank de Boer's decision to switch from a 4-3-3 formation to a 5-3-2 in the build-up to the tournament – which was understandably met with some scrutiny – it's fair to say that such a bold move has paid dividends for the Netherlands so far, and one man who has been key to the success of the system is Matthijs de Ligt.
Where they have struggled to utilize the flanks going forward with Memphis Depay in particular always looking to come inside from the left of a front three, de Boer's has created a chain reaction throughout his side which facilitates a new attacking dimension. But where does de Ligt come into this?
Through his ability to man-mark lone striker, Michael Gregoritsch, not only did de Ligt nullify any threat within his defensive half as shown in Gregoritsch's passing map, but attacking freedom was afforded to Daley Blind and Stefan de Vrij, who, in possession, would essentially play as full-backs as one tucked in to help de Ligt
In turn, this allowed Dumfries and van Aanholt to attack at will, tearing Austria out of position and exploiting the space with ease. As a result, a once-controversial change has proven to be the key to Holland's success; an inconsistent side may well have found consistency at exactly the right moment.
The Flop: David Alaba
After a superb performance against North Macedonia, David Alaba's following match against the Netherlands in Amsterdam left plenty to be desired as the Oranje calmly secured a 2-0 victory.
To a man, the Dutch won their duels, dominated possession, and drowned out any slither of attacking pressure from Austria with ease, and for those pretty damning reasons, you could make a case for a handful of underwhelming performances from Franco Foda's starting eleven.
With that being said, there is one man that slightly stands out, more so for being comparatively substandard to his usual shining displays. Although he is criminally underused within Austria's system, even David Alaba himself will be cycling the numerous mistakes through his mind after an uninspiring performance. Having excelled in the opening match, the Real Madrid defender struggled to convince against superior opposition.
It began when Alaba made a rash challenge on Dumfries, which gave Holland an early penalty, and never really picked up from there. Positionally, he struggled to find his way in a disorientated back five. Technically, he looked uncharacteristically erratic at times with his decision-making under pressure.
All in all, whilst Austria's two group games were expected to be significantly different, you would anticipate your captain to step up in both. Instead, Alaba won one duel from three as opposed to four from four against Macedonia, as well as completing zero tackles compared to three, and most importantly, distributing zero long balls as opposed to 11 in the opener.
It was a bad day at the office no doubt, but one that could prove to be the catalyst for some much-needed tactical changes from Foda. First port of call, allow David Alaba to play wherever the hell he wants because, at his best, he's just that good. At his worst, look at where he's distributing high-risk passes from.  
Author: Alex Barker ( @EuroExpert_ )
A Look Ahead
This victory has sent The Netherlands through to the knockout stages with a game against North Macedonia to spare. They play Igor Angelovski's side next Monday, again at the Johan Cruyff Arena. Frank de Boer can prepare for a 'round of 16′ match against a third-placed team from group D, E, or F.
Three hours earlier Austria will face Ukraine in Bucharest, in a game which will decide who finishes second in Group C, and potentially who progresses to the round of 16. While Arnautovic should return for this game, Ukraine looked dangerous against North Macedonia, so 17:00 Monday evening is set to be a game not to miss.
Author: Brad Jones ( @bradjonessport )