H

eading into this crucial game at Hampden Park, Croatia had never lost their second game at any of their last 10 major tournaments. In those 10 games, they've won six, drawn four.
The Czechs had the upper hand in the first half but weren't creating any clear cut chances until the 33rd minute when Dejan Lovren confused the 18-yard box for an octagon and hit Patrik Schick's face with a flying elbow that would have made Stipe Miocic proud.
A VAR review ensued and center referee, Carlos del Cerro was required to have a look for himself before eventually awarding Czech Republic the spot kick which was coolly converted by the red-hot Patrik Schick.
Zlatko Dalic looked elegant and stylish as always on the sidelines but his Croatian team struggled to mirror his look with their style of play. Few players like Kovacic, Modric and Gvardiol showed flashes of individual brilliance in the first half but it was a disjointed team performance.
Two half-time substitutions followed, including the removal of the disappointing Ante Rebic and Croatia equalised seconds later. Ivan Perisic fired a rocket of a shot into the corner of the net after he had made Vladimir Coufal look like he was starring in "Dancing with the stars".
Both teams continued to press for that all-important third goal which never came and in the end they had to share the spoils which suited the Czechs more than the Croats.
Writer's Choice MOTM: Joško Gvardiol
Ivan Perisic will get all the plaudits and rightly so, afterall he did score that great goal to earn Croatia a valuable point but it was his teammate, Josko Gvardiol who impressed me the most.
The 19-year old was efficient rather than fancy and displayed maturity beyond his years in silencing the dangerous Lukas Masopust and limiting Vladimir Coufal's attacking influence from right back. His energy proved to be a great asset to Croatia, one of the perks of being 19-years old.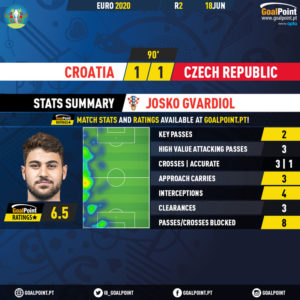 Gvardiol covered a lot of ground down the left side, he read the game efficiently to time his runs to perfection. He knew when to run as a passing outlet or a decoy for Ivan Perisic ahead of him to gain some extra space, he never looked out of place.
He was influential on both ends of the pitch, blocking and intercepting the Czech moves and then charging forward to make several high value attacking passes, Gvardiol was incredible.
Dinamo Zagreb prodigy looks like a veteran already while only just playing in his first ever international tournament, for someone so young, he may well have locked down that Croatian left back.
By: Tunde Young ( @tunde_young )
Croatia's First Half Attacking Struggles
Hampden Park, Glasgow, where the "do or die" match, at least for the Croatians, took place in front of 5,607 spectators. However, in the first half, Zlatko Dalić's boys had some issues progressing the ball from their defensive zone where the Czechian side adopted a 4411 shape out of possession, led by Bundesliga players, Hertha Berlin midfielder Vladimír Darida in the center attacking midfielder position behind the striker Patrik Schick, tried to disturb that Croatian 4- staggering 2 build-up structure, having also, Slavia Praha's Lukas Masopust as a right-winger and Jakub Jankto, Sampdoria's player, as a left-winger.
Besides, the latter, when defending, advanced to Croatia's right center back Dejan Lovren while cover-shadowing the right-back Sime Vrsaljko, squeezing the area and guiding the play to one side. Still, Croatia struggled in the first phase, as their front players did not find solutions in between the lines.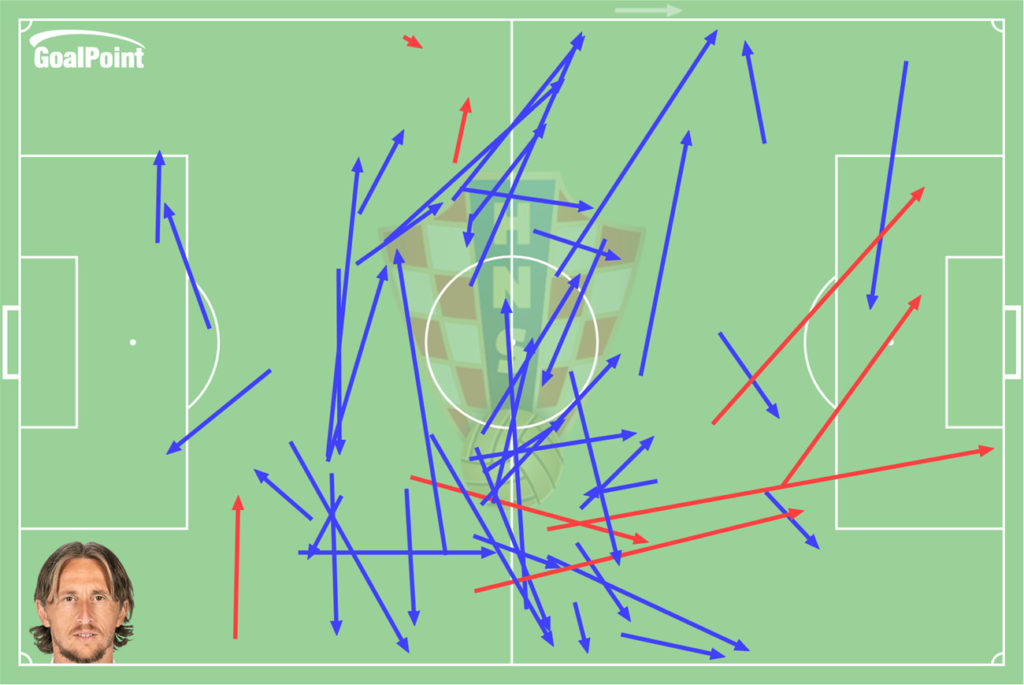 By: Moussa Behlil (@BehiliMoussa)
Ivan Perisic: Gamechanger
Zlatko Dalić made two substitutions with the introduction of Bruno Petkovic and Luka Ivanusec instead of Ante Rebic and Josip Brekalo at halftime. This allowed Ivan Perisic to move back to his natural position in the left-wing.
Subsequently, the last World cup finalists game has changed as Inter's winger was the missing piece his country needed, as he was pivotal, scoring the equalizer. In fact, he became Croatia's only player ever to score in four major competitions which are the World Cups 2014, 2018, and the Euros 2016, and of course, the current one. Furthermore, winning two of his three offensive aerials, as well as, his defensive ones, but more importantly, he reduced West Ham's right back Vladimir Coufal attacking effectiveness, he who enjoyed that right flank with an interesting performance in the first half, where he even joined the penalty box at times. As Czech conceded the equalizer, the team had to step up their game and tried to play their cards. Next, that opened spaces for the Croatian players, especially, the midfielders, Modric, more precisely who enjoyed dropping and positioning between the lines when in the build-up. Accordingly, the 2018 Ballon d'Or winner showed vital passing contributions, to mention, two key passes and a nice passing accuracy percentage of 85%.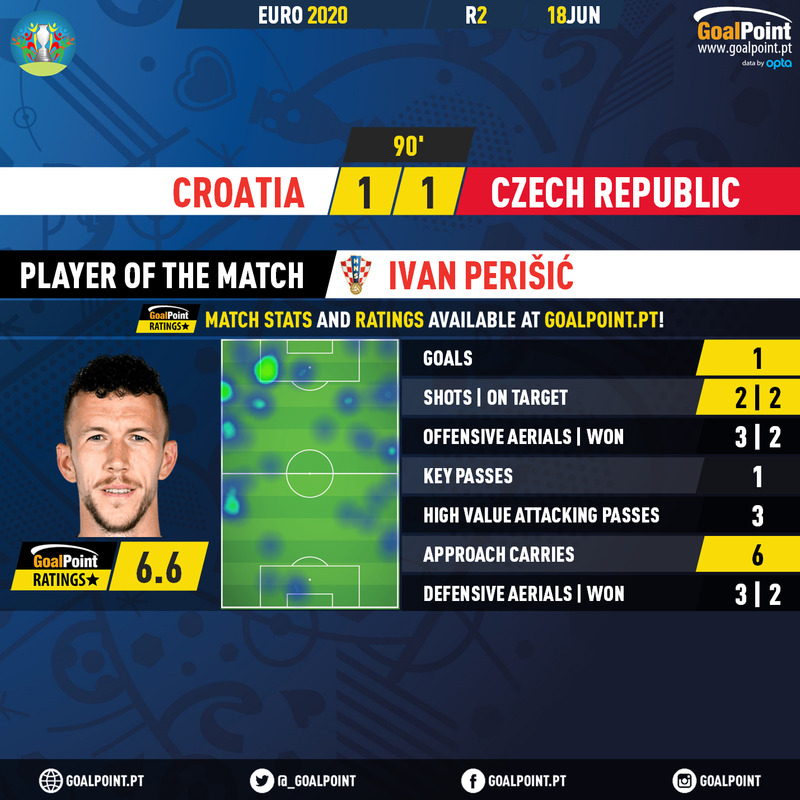 By: Moussa Behlil (@BehiliMoussa)
A Look Ahead
For Zlatko Dalic, this will feel more like a loss than a draw. Croatia were the favourites to win this game and are expected to finish in second place behind England in Group D but that seems less likely on the evidence of their two opening games.
As a result, the 2018 world cup runners up must now beat Scotland in the last group game to stand a chance of qualifying either in second as one of the best third-placed teams. Noteworthy to mention how difficult that could be because Scotland also need a win to keep their qualification hopes alive.
Czech Republic on the other would be delighted with this result, although they played for a win, they knew a draw would be enough to put them in the driving seat and top of the group on goal difference.
The Czechs play England in game three and are well aware that any result other than a loss would see them qualify for the round of 16 as group D winners, a scenario that would have been considered unlikely pre-tournament by even the staunchest of Czech Republic supporters.
By: Tunde Young ( @tunde_young )