S
ummer had well and truly arrived in Rome as Italy took on Wales under the sunny skies of the Stadio Olimpico. It was Italy that led Group A with a spot in the knockout stages already guaranteed. Meanwhile, a Welsh draw would secure them a top-two spot, however, if Gareth Bale and could manage to overcome the very impressive Italians, they'd leave Group A winners. 
The nerves were tangible both on the pitch and in the commentary box as Switzerland's first, then second, the goal was greeted by the agitated groans of former Wales striker John Hartson. Italy was heavily changed yet dominant, spending the first half shipping the ball out to Federico Chiesa on the right-hand side. His driving runs in behind Neco Williams and towards left-center back Chris Gunter caused Wales major issues.
Following a fairly innocuous foul on Chiesa, Italy was allowed to flex their newly-found set-piece routines. Marco Verratti's low cross allowed Atalanta's Matteo Pessina to guide the ball into the far corner. It was 1-0 and, for just a few minutes, Hartson's alluring Welsh prose gave way to silence as Wales dealt with a barrage of Italian attacks. It certainly didn't help when Ethan Ampadu became the youngest player to be given a straight red card at the European Championships.
Chances for Wales were few and far between. At one point, Aaron Ramsey looked bewildered that he'd been found through on goal and was unable to work an angle whilst Gareth Bale's close-range volley went painstakingly over the crossbar. For all of Italy's possession, Wales could've come away with a point.
Goalpoint MOTM: Marco Verratti
Marco Verratti was a silky soldier, divulging the keys of the Welsh defense into the hands of his teammates whilst remaining as resilient and robust defensively as he always has been. His free-kick found the boot of Pessina and gave Italy what ultimately turned out to be the game-winner.
Today's game was played at his luxurious tempo, taking his fair share of Italy's 69% possession with 136 touches, as well as being the provider of twenty-three shots with five key passes. His manipulation of the ball from side to side was a neutral's dream.
His passing was effective and sharp, his shirt tucked in, he even took the armband from Bonucci at half-time. This was a domineering performance capped off with a well-earned assist that ultimately gave Matteo Pessina his first international goal. No man in Rome had more touches or a greater influence today than Marco Verratti.
Out of possession, Verratti was able to nullify the threat of Gareth Bale effectively and helped Italy limit Wales' chances to just set-pieces. Tangibly, this can be seen via the graph with his four tackles, but Verratti's game intelligence and positioning provided much more than that.  Here now lies a major selection headache for Italian boss Roberto Mancini as Marco Verratti was back to his scintillating best.
Author: Tom Quartly ( @TomQuartly )
Italy's Rotated Side Runs Ragged Over Wales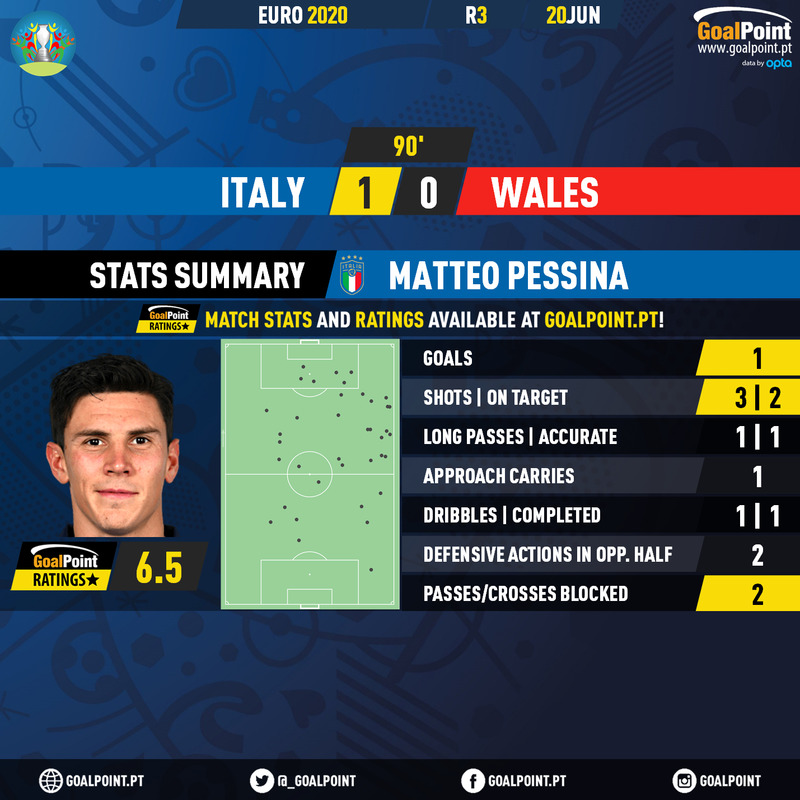 The Azzurri's EURO 2020 set-piece masterclass continued against Wales, with Matteo Pessina giving the Italians the lead following a first-half freekick delivered by Marco Verratti. Italy's creativity from dead-ball situations has been evident throughout the tournament – as exemplified on numerous occasions against Turkey in the opening game of the European Championship.
In the instance of Pessina's deft strike, the devil is in the detail. Roberto Mancini's side destabilized the Welsh defense before the ball was kicked by stationing both center-backs in offside positions. Although Leonardo Bonucci and Alessandro Bastoni promptly drifted back onside, their presence caused Wales to prematurely drop towards Danny Ward's goal.
Then, Federico Bernardeschi introduced a second wrinkle to the play by faking a cross before peeling around the wall, distracting Joe Morrell in the process. Having wreaked havoc amongst the Welsh defense, Italy struck. Freed from Morrell's attention, Pessina redirected Verratti's cross at the near post to give Mancini's side what was ultimately an unassailable lead.
As England demonstrated at the 2018 World Cup, capitalizing from set-piece opportunities can be the difference between success and failure on the international stage. If the Azzurri – who conclude the group stage with a perfect record – can continue to create chances from training ground routines, there is every chance that Mancini's side will end their tournament in London on 11 July.
The Flop: Ethan Ampadu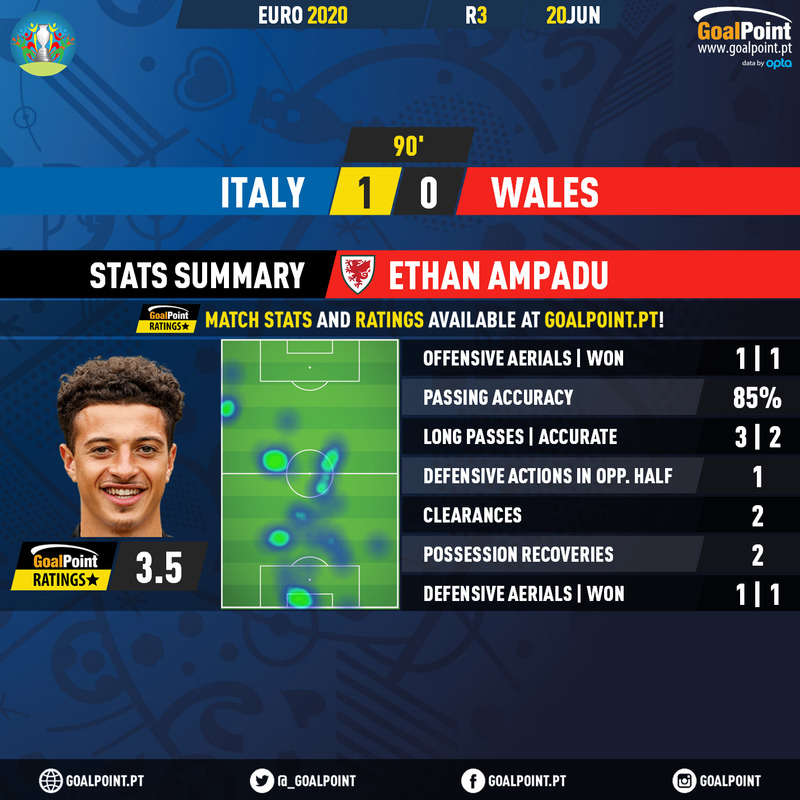 Dismissed by Ovidiu Haţegan ten minutes into the second half, Ethan Ampadu endured a day to forget against the Italians. "I think it was a bit harsh maybe," Aaron Ramsey said of his teammate's sending-off, "I know he caught him, but it's one of those decisions that could've gone the other way."
However, unfortunately for the traveling side, Ampadu effectively tied the referee's hands when his boot came down on Bernardeschi's ankle. With Haţegan's decision upheld by VAR, the Chelsea youngster left the field of play in Rome knowing that his indiscretion had cost his side. To make matters worse for the 21-year-old, it was his turnover that handed Italy possession prior to his ill-fated lunge.
Deployed on the left of Rob Page's three-man defense, Ampadu's performance was largely uninspiring, even before his sending-off. With his confidence shaken by a loose pass before the break, the former RB Leipzig loanee was often reluctant to move the ball progressively. A general malaise entered Ampadu's play as a result, with the Welshman completing just 85 percent of his passes at the Stadio Olimpico.
On what was a busy evening for the Welsh defense, Ampadu struggled to make his mark, winning just one defensive aerial duel. Although the 2000-born prospect will have better days in a Wales shirt, Ampadu will have to wait to make amends as he is suspended for his side's Round of 16's. After suffering relegation with Sheffield United this season, he'll be keen to get another shot in the team as Wales looks to advance to the quarterfinals for the second straight tournament.
Author: Luke James ( @LukeJames_32 )
A Look Ahead
Cutting to the chase, Italy was quicker, sharper, and technically supreme. Leonardo Bonucci came off at half-time and you'd know no different. Wales was determined to limit the Italian front line, but the fluidity of Chiesa, Bernardeschi, and Belotti gave them no end of issues.
Looking forward, Italy emerged as winners of Group A and will travel to Wembley as they await their opponent in the round of sixteen: the runner-up of Group C. One of the Netherlands, Ukraine, and Austria will be in charge of trying to find the net past a side that hasn't conceded for over 1000 minutes.
As for Wales, they will travel to Amsterdam to play the runner-up of Group B: one of Belgium, Russia, Finland, or Denmark. They certainly showed their resilience in keeping various Italian attacks at bay, and will always remain a threat going forward with Gareth Bale and Aaron Ramsey on the pitch.
Author: Tom Quartly ( @TomQuartly )