A

s the final whistle pierced the drone of chatter inside the Estadio de la Cartuja, the Spanish players looked to the sky and puffed out their cheeks once again. Another uninspiring draw in Seville means that it's the first time since 1996 that the national side hasn't won either of their opening two group games at the European Championships. They haven't lost any, either, but something just doesn't feel right in the Spanish camp.

Off the pitch, Luis Enrique always seems to be a man under fire. Constantly having to defend his decisions from a barrage of disgruntled journalists, none more so than his unwavering faith in Álvaro Morata, there seems to be national disagreement as to how to best utilize this talented Spanish squad. And, while his vote of confidence in the on-loan Juventus striker was rewarded with the opening goal tonight, the lack of national harmony and trust in their set-up has never been so clear.

It's not as if the Spanish aren't creating chances, though. With a combined xG of 6.06, Enrique's men have statistically been the most productive team in the entire tournament, with the Netherlands being the only other side posting a figure higher than 5. A missed penalty, a glaring missed rebound, and countless goalmouth scrambles today, only, in the end, served to worsen their statistical underperformance.

Poland though, just as Sweden was five days ago, was defensively resolute, and provided Spain with exactly the type of low, flat block that they seem to struggle to break down. In the end, after a disappointing opening-day defeat to Slovakia, Paulo Sousa's men will be delighted that they're still in with a chance of qualifying.
Writer's Choice MOTM: Robert Lewandowski
In a game of such fine margins, it's the smallest details that make all the difference. And, as Robert Lewandowski leaped into the air to meet a floated Kamil Jóźwiak cross, just nudging Aymeric Laporte out of the way as the ball came in, it was an instinctive flick of the neck muscles that earned Poland a precious point to keep their dreams alive.
Guiding the ball perfectly into the corner, it was the finish of a man with 41 league goals to his name. It may not have been his most prolific game in front of goal, but the national superstar led the line as well as he could've done for Poland, working tirelessly to drag his side up the pitch by winning six duels and two free-kicks, as well as digging out a fantastic cross Karol Świderski just before the first-half came to a close.
As shown by his heat map, a very different type of heatmap to what we're used to seeing when the talisman plays for Bayern München, Lewandowski was selfless, covering most areas of the pitch to try and bring balance to the side. Even so, with limited service and support, the striker was able to step up and show his quality when it most mattered, making the difference for his country once again.
Author: Thom Harris ( @ThomHarris_ )
Poland's Back Five and the Biało-czerwoni's Defensive Superiority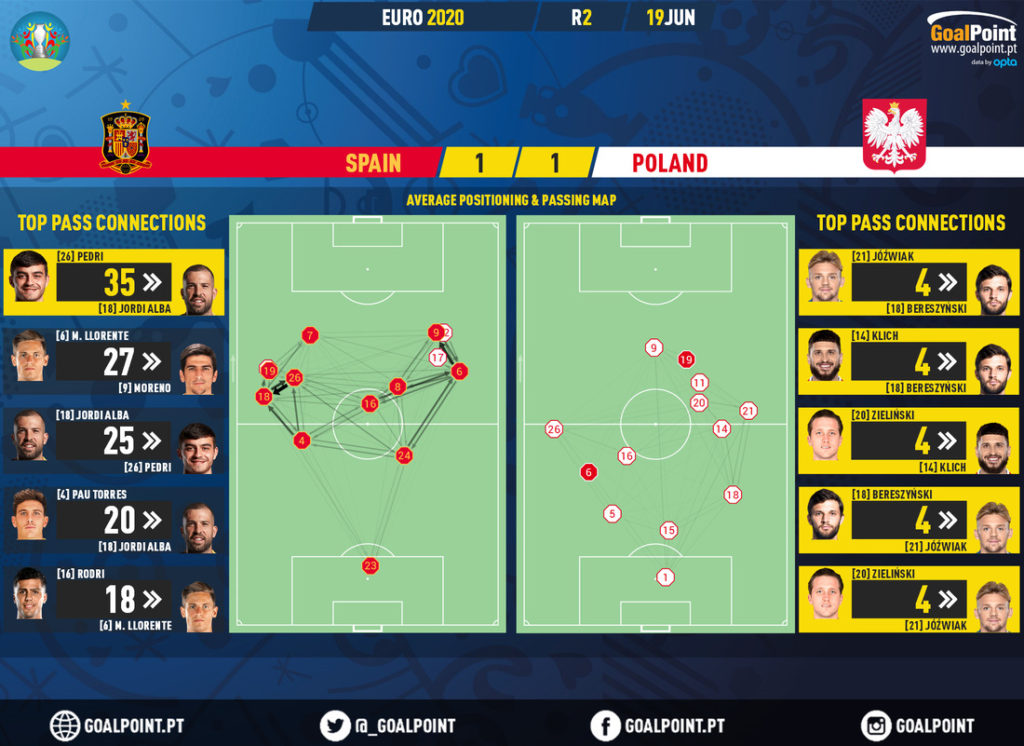 With 76% possession, 10 shots inside the box, and 27 attempted crosses, it is tempting to look at this game as Poland clinging on for a point. However, their tactical shape was clearly prepared well, and it is worth exploring how they got things near-perfect defensively.
On paper, Poland lined up in a 3-5-2 with Kamil Jóźwiak and Tymoteusz Puchacz on the wings, but in reality, Paulo Sousa's side was a flat back 5. Up until Morata's goal, Poland kept their wingers nearly exclusively alongside Bednarek and Bereszynski, outnumbered Spain every single time.
Even after going 1-0 down, Poland did not shift much. Their wing-backs pushed slightly higher, of course leading to Jozwiak's fantastic cross for Lewandowski's equalizer, but in defense, they kept their numerical overload. It may have led their attackers to be isolated, but Spain completely failed to deal with it.
Spain attempted 14 dribbles and completed just 4. As seen by their pass map they had virtually no incision into the center of the pitch, and instead resorted to relentless unsuccessful crossing. Together, Poland's defensive trio made 22 clearances. Luis Enrique should rightly be criticized for his side's lack of off-the-ball movement, but Poland's defensive setup was fantastic.
Quality Over Quantity for Robert Lewandowski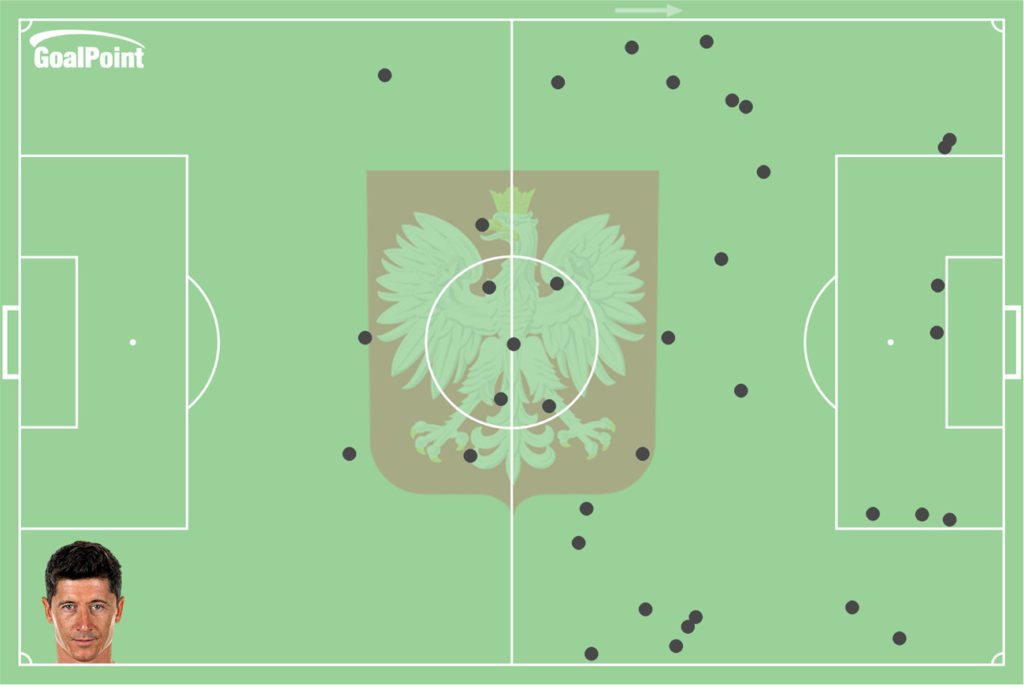 Robert Lewandowski had 5 shots, 6 touches inside the box, and won 4 headers in 90 minutes before Poland lost 2-1 against Slovakia. Numbers-wise an impressive display, and more productive than the 2 shots, 3 headers, and 4 touches inside Spain's box from last night. Yet Bayern's number 9 proved that quality was more important than quantity, providing even more than his wonderful equalizer.
Against Slovakia, Poland enjoyed over 60% of the ball before they were down to 10 men. Yet Lewandowski was absent from highlight reels, unable to make an impact. Last night versus Spain, Poland managed barely 24% possession, sitting in a back 5 with other forwards Zielinski and Swiderski helping out defensively. Lewandowski was given every striker's nightmare task of being isolated upfront and running the attack by himself.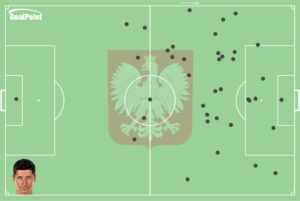 Yet despite this pitch being far less attractive for a goal-hungry striker, Lewandowski thrived against Spain. He drove attacks single-handedly and dropped across the pitch to receive the ball. With Sweden next, who knows what to expect from a Polish perspective. One thing is for sure though, they will be happy their all-time leading goal-scorer has arrived at Euro 2020, on the night he was probably least looking forward to.
Author: Alex Barker ( @EuroExpert_ )
A Look Ahead
From the neutral perspective, then, another Spanish draw was probably the best possible result, leaving all four teams in with a shout of qualification when they all face-off for a final time on Wednesday. For Spain, it's another result that raises more questions than it does provide answers.
The inclusion of Gerard Moreno inspired noticeable attacking improvement from their opening 0-0 draw with Sweden, as the Villarreal man offered dynamism and positivity from the right, providing the assist for Morata's opening goal. Yet, in missing a later penalty, having scored his previous 14 in a row, it perhaps summed up Spain's woes in front of goal this tournament better than anything else could.
With Adama Traoré still an unused substitute, and Marcos Llorente bursting with positivity and liveliness from right-back, you wonder if either could be introduced into more advanced positions to add extra cutting-edge to what seems, at times, to be a rather blunt Spanish knife.
Poland, on the other hand, will surely take the positives from a battling display against one of the most talented squads in Europe. Their final group game, a tough tie against a staunch Swedish side, is now a must-win. However, with the confidence gained from today's performance, and with the promise of a healthier slice of the 23% possession that they mustered today, they still have 90 minutes to make amends for their Slovakian slip-up. All eyes on Robert Lewandowski, then, on 23rd June.
Author: Thom Harris ( @ThomHarris_ )