A
chorus of boos erupted upon the final whistle in Turkey's home away from home, as Baku bore witness to a series of performances that only the Turkish lira can rival in terms of national embarrassment. The Turkish provided an abject and soulless performance that would see most of the players get abuse at their local park, let alone the Euros
.
So much can be said about the calamitous Turkish performance; however, much should be made of the terrific Swiss.  The tempo was set early as the much-criticized Haris Seferović put the ball past Uğurcan Çakır's right post after somehow being allowed to take three touches just outside the box. A second soon followed as Xherdan Shaqiri, again unmarked, took aim from outside the box, placing the ball firmly past Çakır into the top right corner.
Half time truly couldn't come quick enough for the Turkish as it seemed that they were on their way to a result that could cement them as statistically the worst performers to feature at a euros. Despite the first half horror show, Şenol Güneş continued with the same eleven. This seemed to work as Irfan Can Kahveci found the goal from a distance; however, any ambition was short-lived as Shaqiri struck a Steven Zuber cross first time with the ball sneaking past the flailed hands of Çakır.
Upon the final whistle, the Swiss rejoiced as they confirmed their participation in the knockouts whilst the Turkish players were already thinking of ways to navigate the inevitable scathing blows that the Turkish media were ready to serve up.
GoalPoint's MVP and UEFA Star of the Match: Xherdan Shaqiri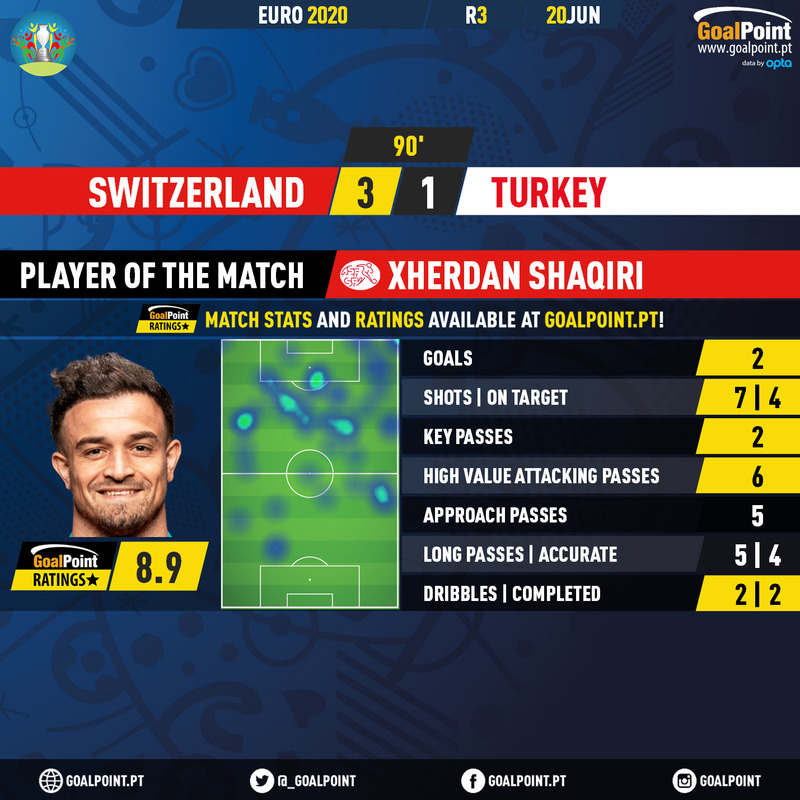 Who else but Xherdan Shaqiri? When Switzerland plays well, it's almost always off the back of their outstanding pint-sized magician; performances like today make you think, should Liverpool tweak the shade of red they play in to convince Shaqiri he is always in the red of Switzerland.
Special mention must go to Steven Zuber, who deserves all the plaudits that come his way, as the left wing-back was everywhere and assisted on all three Switzerland goals. When it comes to Shaqiri, you will go far to find a more well-rounded attacking performance this tournament than his tonight, as he took a mammoth seven shots, produced six high-value approach passes and finished with 100% dribble success.
To top all that off, Shaqiri provided the perfect equilibrium between style and substance as his two goals were a pair of the highest aesthetic order. One showed off the pure brilliance of the Liverpool-man, whilst the other demonstrated the dynamic qualities of this Swiss squad as he capped off a quick counter. 
Author: Patrick Caskie ( @CaskiePatrick )
Şenol Güneş' Failure and Switzerland's Inspired Left-Wingback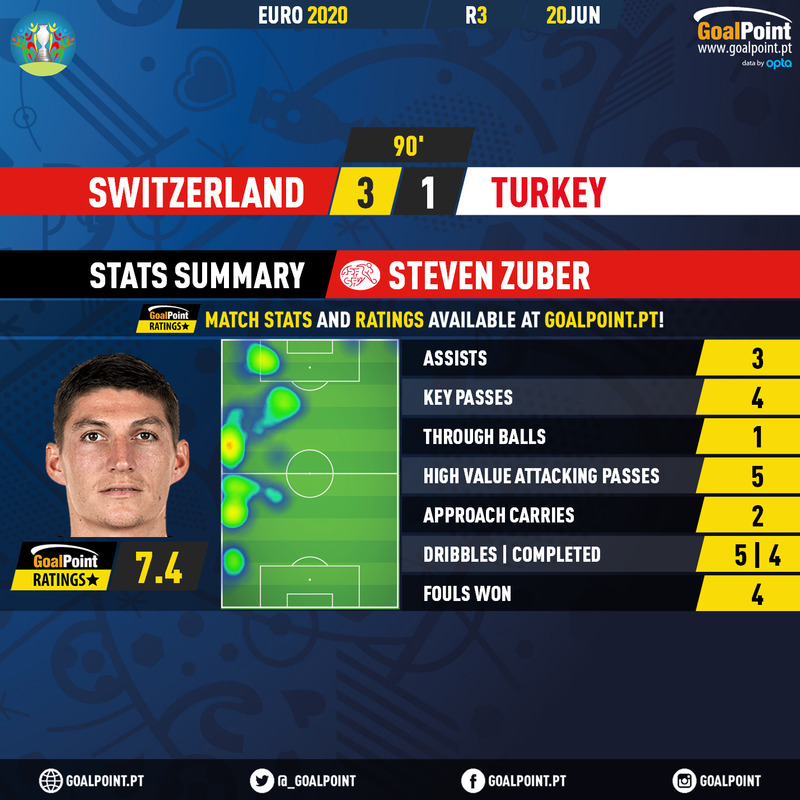 Turkey came into the Euros having only conceded three goals in qualifying, but despite being heralded as underdogs by many onlookers, Şenol Güneş' side exit the competition having failed to register a point, conceding eight goals in the process. Turkey has a young team, and they will no doubt enjoy many more chances at redemption in the next 10 years, but ultimately the last two weeks will have been a reality check.
Their dogged displays, especially in keeping Italy at bay in the first half of the tournament's opening game, have been undermined by an inability to play out and relieve pressure on the backline. Whilst individual mistakes from the likes of Merih Demiral aren't symptomatic of a poor defensive structure, but they do suggest that Turkey is a team who despite their quality struggles to dominate games.
Many of these issues stem from a lack of balance in midfield, as Turkey operates with few ball carriers who can play through the transition. These problems then feed their way through the whole team, as shown by Steven Zuber's ability to mark Zeki Celik out of the game against Switzerland.
Celik is an excellent progressive full-back who has come off the back of a title-winning campaign with Lille, his quality, however, comes in marauding into space and providing the option to overload the wings. By failing to offer Celik an out ball, he has been constantly targeted by the opposition in an attempt to maintain pressure and force mistakes from a backline whose inexperience has ultimately shone through.
Steven Zuber hadn't started a single game prior to Switzerland's match against Turkey, but his performance tonight was arguably one of the best individual displays in this summer's tournament. Zuber's ability to press high up the pitch and apply pressure to Celik was crucial to Switzerland's game plan, allowing them to box Turkey in and create overloads in the attacking phases. Wing-backs have proven their worth throughout the group stages, and Zuber's performance may well have trumped them all.
Zuber only registered three assists with Eintracht Frankfurt last season but managed to match that tally in just 90 minutes against Turkey. His first assist was in the main down to the quality of Haris Seferović's finish, but in twisting and turning away from Celik, he sent an early warning sign to the Turkish full-back, one that the 24-year-old would not heed.
His second assist was similarly overshadowed by the quality of the finish, this time from Shaqiri but again it displayed his willingness to push in the field and receive the ball in tight spaces in and around the area. The third and final assist, however, was all down to Zuber as he picked out the run of Shaqiri with a well-timed ball that bypassed a static Turkish backline.
Shaqiri will rightly receive all the plaudits for his display, but Zuber's influence, despite the fact he has been on the outskirts of the starting line up was perhaps the most impressive if not surprising part of a dominant Switzerland performance. Vladimir Petković will surely be considering whether or not to drop Fabian Schär again and start Zuber if the Swiss do manage to advance to the Round of 16.
Author: Sam Tabuteau ( @TabuteauS )
A Look Ahead
It should come as no understatement that Switzerland will go as far as their mercurial master will drag them, which could be quite far depending on the ensuing fixtures and the luck of the draw. For Turkey, this tournament is an apt representation of the state of affairs. Internal measures seek to limit foreign players and drive up the domestic transfer market, all whilst their best talents take refuge across Europe, finding shelter from the toxic environment and in many cases finding greener pastures. 
Author: Patrick Caskie ( @CaskiePatrick )