F

rance has entered EURO 2020 as overwhelming favorites for the trophy, and if Tuesday was an appetizer for what's to come from them, expect to be served the grandest of main courses in approximately a month.
They, alongside Germany, Portugal and Hungary make up what most have been quick to label the Group of Death, and with Cristiano Ronaldo and Co. making light work of the Hungarians earlier in the day, the onus was on Die Mannschaft and Les Bleus to join them at the top of the table. 
And while this game was a meeting of the previous two World Champions, it couldn't have been more obvious as to who was the most recent winner. The French are hardly changed from 2018, with the notable difference being the return from exile of Karim Benzema upfront. Meanwhile, Germany, still licking their wounds from the humiliation in Russia, were forced to recall the aging Mats Hummels, Thomas Muller, and Manuel Neuer, to a group littered with inexperienced, and so far, unreliable young talents.
The Germans showed promise at times, but particularly in the second half, there was only ever going to be one winner. It was France's game-changers in nearly every position, against a German team desperately crying out for just one player who could do that. 
From the sensation of Kylian Mbappe to the all-around brilliance of Karim Benzema, this France team has individual brilliance operating in the constraints of a great system. And after 20 minutes, perhaps the most enigmatic of the lot showed his class.
Paul Pogba, so maligned at the domestic level by both media and fans alike, had a night and performance to remember, and surrounded by 3 German defenders, he played a ball struck with the outside of his foot that looked like it had completely missed his target, but masterfully evaded everyone to perfectly fall at the feet of Lucas Hernandez. His ensuing cross was destined to be met by Mbappe for a hattrick and the intercepting Mats Hummels was left with no hope of keeping the ball out of his own net.
France was largely comfortable all night, as Germany kept possession but accomplished very little with it. However, the French showed that the second they felt like turning on the tempo, their opponents were no match, and quite frankly some better-timed runs by Mbappe and an earlier played ball by Pogba would've ensured France ran out 3-0 winners on the night. 
The Germans had no answer for the raw burst of Mbappe, and he terrorized the likes of Hummels and Matthias Ginter all night. Only a brilliant last-ditch tackle prevented Mbappe from scoring what would've been a vintage EURO's goal, but unfortunately, Germany's ineptitude at the other end couldn't reward the resoluteness and control they showed. 
Germany didn't have a shot on goal all game, and although that was in part to extremely quiet nights from Thomas Muller and CO, credit must be directed towards Raphael Varane, who has suffered a difficult two seasons at club level. However, like so many other members of this French squad, joining up with the national team is a short-term memory wipe of sorts. They won't want to forget this night in any hurry.
UEFA Star of the Match: Paul Pogba
As good as Varane was, there was one man who ran the show. Paul Pogba often uses the international stage to shut his critics up, and it was no different Tuesday night. Toni Kroos and Ilkay Gundogan couldn't get near the towering frame paired with the dancing feet of the man nicknamed La Pioche, and his technique, power, intelligence, and his magnificent passing range were sharp to show for the world to marvel at. His sublime trivela pass to set up the only goal of the night was a thing of beauty, he won more duels than anyone(12), won more fouls than anyone (4), recovered the ball back more than anyone (13), and played more through balls resulting in big chances than the entire Germany team combined. Quite simply this was a midfield masterclass from Paul Pogba. When he's on this form, the only question is; where is this guy more often?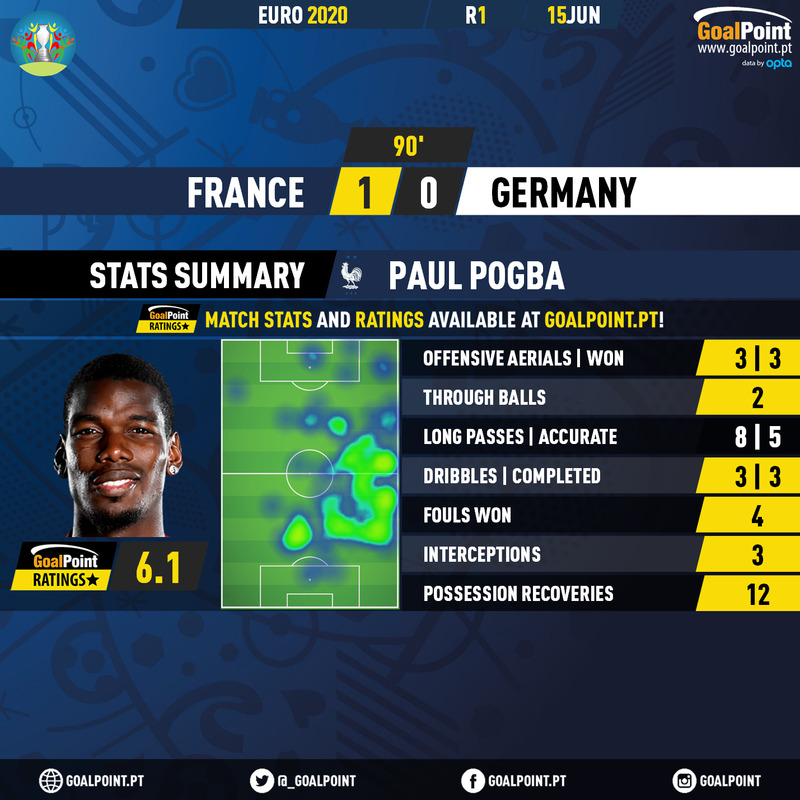 Author: Lyes Bouzidi ( @WholeLottaLyes )
Joachim Löw's Half-time Tactical Change
Germany started the game against France with a 3-4-3 formation, with Joshua Kimmich and Robin Gosens acting as wing-backs alongside the central midfielders of Toni Kroos, who acted within the "6" role, spreading the ball to generate attacks for Germany and İlkay Gündoğan who acted as a roaming 8.
The 3 center-backs of Matthias Ginter on the right, Mats Hummels playing centrally, and Antonio Rudiger on the left, allowed fluidity throughout most of the first half with Rudiger stepping into a more advanced role and carrying the ball forward, leaving Ginter and Hummels to shuffle more to cover. And therefore, meaning Kimmich and Gosens had to drop alongside the two center-backs, causing a temporary 4-3-3.
Albeit a smart transitional formation from Joachim Löw; having Joshua Kimmich, one of the most influential midfielders in the world, a natural 6, a ball-winning midfielder who allows club teammates such as Leon Goretzka to play more advanced within the Bayern team. Kimmich seemed to be held back from helping generate Germany counter-attacks within the first 45 due to Paul Pogba, N'golo Kante, and Adrien Rabiot overrunning the center of the pitch due to a lack of German midfielders willing to break up play centrally.
The tipping point was after half-time, when Low decided to switch to a more permanent 4-3-3, with Kimmich being played more advanced, thus allowing a more structured midfield to form. Causing an early overload from Germany in the second half due to France not expecting the change in the formation from Low.
With the back four more stable due to the full-backs staying more defensively minded it allowed for Gundogan to almost act like a 10 in behind Thomas Müller who played as a false 9. Therefore meaning that Gnabry and Kai Havertz could overlap and generate more space within the wide areas for Germany.
Unfortunately for Kimmich and Germany, the change in structure did not return an equalizer for them due to France generating a strong defensive line, making it incredibly hard for Germany to try and break the lines. Causing frustrated balls to be played when the pass was not always on, giving France a much stronger chance to intercept.
Tactical Contrasts
Robin Gosens, a left-midfielder for Italian side Atalanta, sees himself playing as a flying left-wingback role for Germany. With a combined 19 goals/assists in 32 Serie A games for Atalanta, Gosens is keen to join the German attacks by acting as a winger in attacking situations to give a higher chance of a goalscoring opportunity due to the overflow of players.
Gosens is a very adventurous wing-back for the German national team within Low's 3-4-3 formation, albeit Gosens prefers to remain on the wing. Barely cutting inside centrally unlike how he plays for Atalanta, in which he prefers to cut in to hit it with his right foot.
However, this was a downfall within Gosens game in the 2-1 defeat recently to North Macedonia in the Qatar 2022 World Cup Qualifiers. This was due to Gosens maintaining his advanced position more so than defensively, leaving Germany more exposed within the wide areas.
Going into the game against France, Gosens had to be more defensively focused to match up against players of a much higher caliber of Antoine Griezmann and Kylian Mbappe compared to the players of North Macedonia.
Gosens started the game as a wing-back, partnering with Kimmich on the opposite side, however, due to an unfortunate own goal by Mats Hummels mid-way through the first half, it cut out the hard work generated from the first 20 minutes.
Directly from this own-goal, Gosens found himself pushed high up the left-wing receiving a loose ball before whipping in an inch-perfect cross to Thomas Müller who was an open man within the box, who unfortunately guided the ball wide after trying to find the top-right corner of Hugo Lloris' goal.
It was only until half-time when Gosens got forced to play as a left-back due to Kimmich being played in a more central and advanced role by Low, it was this change that saw Gosens be much more defensively stable within a back four due to not having the authority to push as high as he would as a wing-back. Therefore, allowing Gosens to focus more on his defensive acumen and ensure that Germany did not concede again in their quest to find an equalizer.
The only time Gosens got into a threatening attacking position within the second half was within the 54th minute in which he crossed in another fantastic ball to find Serge Gnabry who made a run from the right. For Gnabry to volley the ball into the ground which bounced just inches above the crossbar, which was Germany's best chance to score within the entire game.
Author: Oliver Hargreaves (@TownEndAnalysis)
A Look Ahead
Ultimately, France showed what most expected from the World Champions, and the growing consensus is that the only team capable of stopping Les Bleus is themselves. They next play Hungary before wrapping up the group against Portugal, but surely the hope will be to use these games to continue growing the connection between Benzema, Mbappe, and Griezmann.
On the other hand, Germany will need to show more edge in the final third than they did today. The next game vs Portugal will go a long way in determining who comes second in this group, and off today's showing, the reigning European champions will be licking their lips…
Author: Lyes Bouzidi ( @WholeLottaLyes )