I

n a tepid tie between two sides that began the match with an average age of 25.1 for Spain and 29.6 for Sweden, it was players aged 18 and 21 that shone by far brightest for their respective sides. For Spain, it was the next in a long line of midfield maestros, Pedri, and for Sweden, their fearless frontman Alexander Isak.
A colorful atmosphere in Seville set up a black-and-white affair, with Spain in the ascendancy throughout, containing Sweden within the confines of their own half with long spells of possession separated only by a measured press to win back the ball.
Spain's control saw them start to create opportunities as the game went on, and even putting Morata tax aside, Luis Enrique's men should have been comfortably ahead as halftime approached.
Alas, that control, that comfort soon brewed complacency within the Spain ranks, which allowed Isak to produce the encounter's best two chances. On both occasions, he did everything right. The first saw his shot steered onto the post by Marcos Llorente, the second was spooned wide by Marcus Berg.
A 0-0 draw will no doubt suit Sweden, but it was a game they could so easily have won.
Writer's Choice MOTM: Pedri González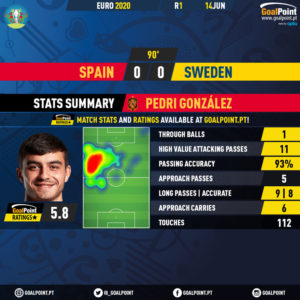 Though a decision verging on football terrorism saw Janne Andersson bring Isak off on the hour mark with the striker primed to propel Sweden to three points, one positive that Spain can take from a disappointing draw was their facilitation of the impressive exploits of Pedri.
Their youngest ever Euros representative had an aura of calmness and confidence from minute one that you rarely see from such a young player at a major tournament.
Pedri wasn't just exhibiting a punching pass or an eye-catching ball carry here and there, he was the tempo dictator and the main source of Spain's most potent attacking probes, completing eight of nine long passes as well as 11 high value attacking passes.
Where few others were capable of threatening Sweden's two banks of four, the teen was picking them apart without breaking stride and his understanding with Jordi Alba was the spark in an otherwise uninspiring display.
With that being said, on another day where Spain scored one or two of their key opportunities, we're all singing Pedri's praises after what was one of the most productive midfield performances of Euro 2020 to this point.
Author: Bradley Jones (@bradjonessport)
Major Tactical Genius: Sweden's Masterplan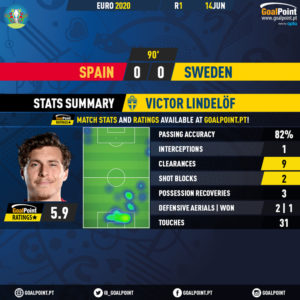 Coming into the game, Sweden was left with little hope to win or draw the match as the Spaniards dominated headlines led by the vaunted management of Luis Enrique, but quietly the leaders in the north were meticulously plotting. Manager Janne Andersson went with the traditional 4-4-2 formation, selecting a mix of established players and young prospects. The plan was simple, rather than trying to press Spain's elite technical players, they sat deep and built a defensive wall, goading their opponents to break them down, and when given the opportunity, they broke on the counter with the mercurial Alexander Isak leading the charge.
During the first half, they weathered the early storm, keeping compact, leaving little spaces for Spain to attack, instead of forcing them wide to cross the ball, which the Swedish defense was more capable of handling. Sweden then almost managed to take the lead in the closing moments of the first half as Sociedad striker Isak broke loose, controlling a looping pass and almost bundling an effort past Unai Simón. In the second half, Sweden kept the same approach as Spain continued to pepper their box in every approach imaginable, but still, the siege set by Andersson stood firm. 
The spirited style the Swedes played with was commanded by Manchester United's Victor Lindelöf, who marshaled his teammates into defensive positions, kept his concentration throughout, and managed his defensive duties with vigor. Over the 90 minutes, he accomplished one interception, nine clearances, two blocked shots, and three possession recoveries. He was also backed up by the superlative Martin Olson, whose herculean effort between the sticks kept Spain at bay on numerous occasions.
The simple but effective plan implemented by Janne Andersson to stick with his footballing philosophy of playing a traditional 4-4-2 helped to navigate to a crucial draw and has set the Swedes in good stead for their next group match against Slovakia.
The Flop: Off Target Alvaro Morata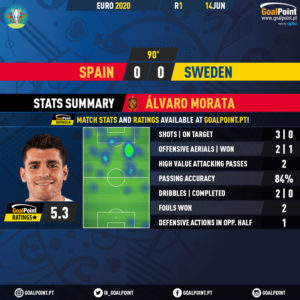 Morata has had a superlative season for Juventus, scoring 20 goals and assisting 11 (a career-high in both stats), and coming into the European Championship, he helped Spain to finish top of the qualifying group scoring four in five games, but his night in Seville painted a very different picture.
Morata started where he left off in qualifying with a bright opening twenty minutes. He was the trigger to the Spanish defense applying incessant pressure to the Swedes and provided an array of runs in the attack which opened pockets of space for his teammates. However, things quickly changed as in the 39th minute, a lapse in concentration from Swedish center-half Marcus Danielson allowed a Jordi Alba cross to fall to Morata's feet with only the keeper to beat. Amid copious amounts of time and space, he attempted to curl a shot into the far corner but instead, it drifted beyond the post, keeping the scoreline level.
This key chance presented a turning point. As the first half wore on, the striker grew noticeably frustrated as his relentless pressure converted into nonsensical fouls and his off-the-ball movement became increasingly predictable and languish.
The first half eventually drew to a close and La Furia Roja was unable to score from the numerous chances which they created and most glaringly was the missed opportunity from Morata.
The second half proved no different for Morata as he failed to take advantage of another chance that kindly bounced to him at the edge of the box, which he dragged wide. Eventually, as the frustration and impatience amongst the Spanish players grew, Luis Enrique took action with two substitutes, and Morata found his number on the substitution board in only the 67th minute, ending the game with no completed dribbles and three shots, all off-target.
Author: Toby Rathborne (@TobyRathborne)
A Look Ahead
In a match – monotonous for the most part, but ultimately one that could have gone either way – both teams showed tactical strengths and good game management for an opening group game to carry forward.
Although the cutting edge was absent, both teams proved they are capable of sticking to a game plan with success once the goals come.
Slovakia may be sitting atop Group E as things stand, but on today's showing, I wouldn't be surprised to see Spain and Sweden claim those top two spots with the rising stars spearheading their momentum ahead of the knockouts.
Author: Bradley Jones (@bradjonessport)