F

our days into the tournament is all it took to wrap up the goal of the tournament award. It's a safe bet to assume no strike is topping Patrik Schick's second goal in Czech Republic's 2-0 victory over Scotland.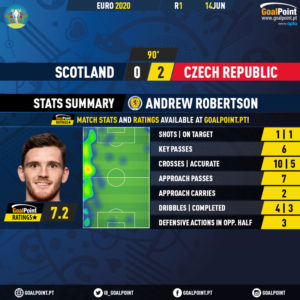 The Scots were the brighter team from the off, creating several chances through Andy Robertson down the left flank. Czech boss Jaroslav Šilhavý soon rectified this by instructing his players to move hard to press the Scottish captain and double up on any runners, effectively nullifying Scotland's left-hand side.
For all Scotland's efforts to open the scoring, it was the Czechs that broke the deadlock. With only a few minutes left of the first half, Vladimír Coufal's excellent cross met the towering header of Patrik Schick. 
Che Adams was introduced at halftime and made a quick impact, with the Scots creating some early second-half chances. Jack Hendry's effort rattled the bar shortly before Tomas Vaclik had to scramble back to his goal to prevent a Tomas Kalas own goal. 
It was Hendry's poor judgment, however, that ultimately led to Schick's second, when the Celtic man opted to try his luck from range with little defensive support behind him. The shot was blocked and ricocheted into the path of Schick, who caught David Marshall way out of his goal with a truly incredible finish.
GoalPoint's MVP and UEFA Star of the Match: Patrik Schick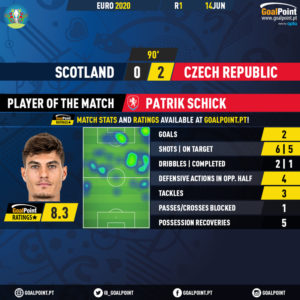 It was Patrik Schick's goals that were ultimately the difference today. His 12th and 13th international goals place him ninth in the all-time goalscorer list for the Czech Republic. His performance has got football fans comparing him to Czech legend and number one all-time top goalscorer, Jan Koller. 
The 25-year-old proved to be a handful for Steve Clarke's side, hitting five of his six shots on target. His willingness to run and work hard defensively was also on show, yielding four defensive actions in the Scotland half as well as completing five possession recoveries.
The 6'1 striker loves to attack the box, using his aerial prowess to score most of his goals inside the penalty area. But for now, he'll be remembered for outrageously scoring from just in front of the halfway line, dampening Scotland's hopes on their return to the European Championships.
What might go under the radar is his first goal, which in itself was quite spectacular. It would be easy to nitpick and critique Scotland's defenders in this situation, but sometimes you just have to admire the pure quality of the assist and the finish. It's a superb assist by Coufal, who whips the ball into the area he expects Schick to attack, and the latter uses his power and determination to beat two Scottish defenders to the header and leave the keeper without a chance to react.
Author: James Lloyd (@Jlloyd2000)
Tactical Mistake: Steve Clarke's team selection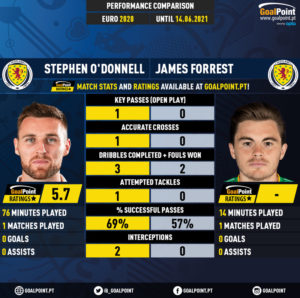 5.5 million Scots grimaced at 12.45 when the name of Kieran Tierney was not only absent from the starting eleven, but the matchday squad. A ploy from Steve Clarke not to announce his key man's injury in an attempt to fool Czech Republic coach, Jaroslav Silhavy could not make up for Tierney's disappearance. Clarke's selection headache turned into a migraine as he juggled who and what system to deploy. Usually commended for his pragmatism, the former Kilmarnock boss' decision to select on loyalty rather than out and out talent cost Scotland a dream start to their 23-year international tournament sabbatical.
The debate over who should start in the right wing-back role was one of the key talking points amongst the Tartan Army. Conservatism with Stephen O'Donnell or a greater attacking threat in Nathan Patterson or Ryan Fraser. As is the nature of the opening game in this year's Euros, not losing is the key factor and thus Clarke elected his old colleague in O'Donnell. Unfortunately for the Scots, this made them heavily reliant on the ever-consistent captain Andy Robertson down the left-hand side.  Despite a good first-half of creating chances down the left, the Czech Republic adjusted well in the second period and drowned out the skipper's roaring overlaps.
With only 11 minutes to go, Clarke threw caution to the hot breeze and implemented James Forrest into the role. Immediately he imposed a threat using quick feet to generate a good chance for the Scots. The question now is what does Stevie Clarke do for the grudge match against England on Friday?

Raheem Sterling is without a doubt a greater threat than Jakub Jantko and defensive acumen will be called upon to suppress his threat, but they have to pick up at least a point on Friday if they're going to progress past the group stages for the first time. If Clarke adopts a gung-ho approach then look no further than youngster Nathan Patterson who impressed at the champions Rangers this season or even give Forrest greater time to jiggle through the backline as he did against the Czechs.
Author: Taylor Toney-Green (@TaylorTG_)
The Flop: Lyndon Dykes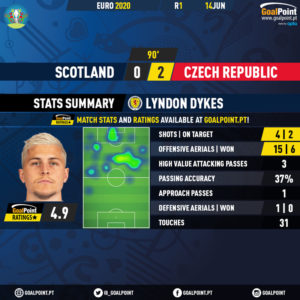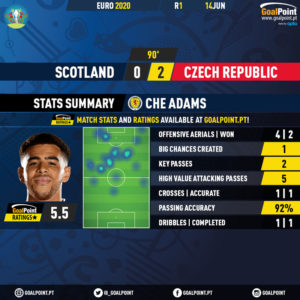 Another selection mishap came in the form of Che Adams' demotion to the benches of Hampden Park. Dykes and Adams gelled together at the perfect time in the run-up to the tournament and many thought their migrant partnership would propel the Scots to glory. Instead, Christie lined up adjacent to Dykes in a fluid role that meant the QPR man was often isolated.
What Dykes lacks in goals he makes up for in aerial prowess and energy that was expected to spearhead the Scottish front. His performance, however, was blunted by poor finishing and towering Czechs.
On 15 attempts, Dykes won 40% of his aerial duels, and those that he did win more often than not did not translate into Christie or later Adams getting through. Just as much credit must be given to Kral and Soucek as they would either drop deeper to win the duel or Kalas and Celustka who would meet it. Glossing over his ineffective link-up play, the chances that came his way proved the need for him to develop as a better goalscorer. Of the six chances that Andy Robertson created (the most chances created by a single player in Euro 2020 so far) Dykes failed to either convert or attack effectively. Scotland's best chance fell at Dykes' feet which he flimsily prodded goalwards and forced a good save, but the opportunity had to go in if the Scots were going to mount a comeback.
Fellow-striker Che Adams came on at half-time and provided a vastly greater option than Dykes who remarkably stayed on the pitch until the 79th minute. Dykes did not have a horror performance, but the substitutes who came on offered energy and tenacity that Dykes was lacking. If Scotland's number 9 is going to start against England he has to be more efficient in linking up play with his strike partner and taking the chances that Scotland will find hard to come by in their next two games. 
Author: Taylor Toney-Green (@TaylorTG_)
A Look Ahead
Ultimately, Czech Republic took the three points but was arguably a distant second. Scotland played pretty well and created enough chances to warrant taking at least a point from the game. In the end, though, the quality in front of the goal just wasn't there, and Steve Clarke may rue the decision not to start Che Adams, James Forrest, or even Nathan Patterson. 
The Czechs will be delighted though, storming to the top of their group ahead of the more-favored England and Croatia. Šilhavý's side will be aware that just one point in their final two group games should be enough to see them advance to the next round. 
For Scotland however, a bitterly disappointing result leaves them anticipating an uphill battle to qualify for the last 16 from here. They'll be hoping Kieran Tierney's return will give them another dimension in their huge clash with arch-rivals England on Friday.
Author: James Lloyd (@Jlloyd2000)