U

nai Simón's redemption following a horrific goalkeeping error, 'game over' gloats turn gulps of fear in the wake of an extraordinary comeback, Álvaro Morata muting the doubters when it mattered and Dani Olmo being the difference against the country where he broke through. Spain may have won this game, but even in celebration, they will continue to feel sick with stress for some time after that.
After writing a report on the Spain-Sweden opener, this feels like recapping World War II in full after covering a water fight at a family party two weeks prior. Only this time, there was a team that competed in both encounters. Uninspiring spells of possession became penetrative attacking sequences, a stagnant frontline became seamlessly spellbinding, on an unforgettable night in Copenhagen, Luis Enrique's disjointed assembly of players became Spain once more.
It was no secret that Spain did not have the sufficient strike power to break down the stubborn Swedes, or Poland five days later, for that matter. In a miraculous turn of events, they are now the first team in history to score five in back-to-back European Championship matches.
After conceding early on through an own goal, Spain showed grit to level things up before half-time and use that as leverage to render Simón's mistake obsolete and justify their superiority. Even when Croatia clawed their way back to 3-3 through courage and one rare moment of quality, Spain stood firm, made smart changes, and engineered their way through chaos with incredible composure.
Extra time saw them control proceedings once more, score a couple of goals, and constrict a Croatia team that had been let loose towards the end of normal time. Barring brief moments of complacency, Spain has pages full of positives to take from overcoming the obstacle that was the undisputed match of the tournament.
GoalPoint's MVP and UEFA Star of the Match: Ferran Torres
Before said chaos descended on this clash, Spain put on an impressive attacking display, and whilst Alvaro Morata was at the heart of the threat they posed, it was the moving pieces around him that really made things happen. Pablo Sarabia, Pedri, and most importantly, Ferran Torres. Pedri has received a lot of the plaudits as the torch-bearer for Spain's next generation, but there are times when he needs to pass on the baton and Torres is so often a worthy recipient.
In what was a tense affair, for the most part, it wasn't frightening pace or fearless carries that set Ferran apart. Instead, it was his intelligence, his ability to retain the ball in key areas, calculating than creating a handful of chances where most others would rush and ruin breaks forward. These are attributes crucial to the incredible competitiveness and consequent carnage knockout football provides.
With very little separating the two teams closing in on the hour mark, it was Ferran who put the ball on a plate for César Azpilicueta to head his side ahead before he showed strength, first physically to brush past Joško Gvardiol, then mentally to coolly slot under Dominik Livaković for 3-1. Whilst he is one of many that continue to improve as the tournament progresses, Ferran has been consistently outstanding.
Author: Brad Jones ( @bradjonessport )
Croatia's Half-Time Tactical Adaptation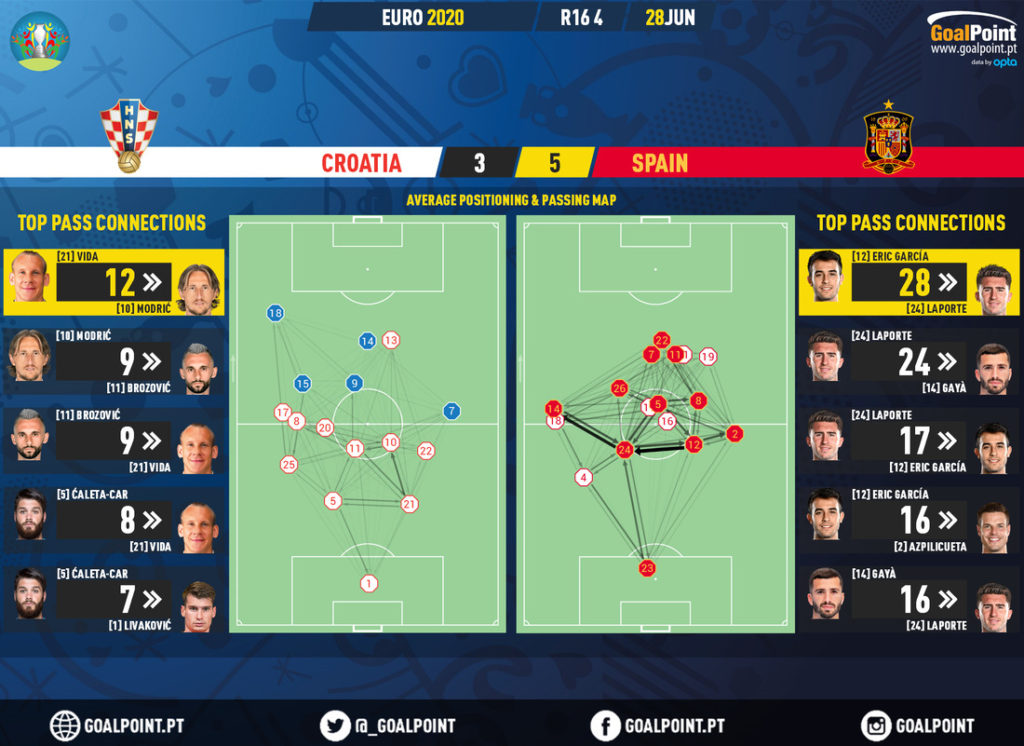 Despite the scoreline being level at half-time, it seemed inevitable that Spain would clinch a win come to the final whistle. In the opening 45, Croatia accepted that they're not going to have the ball and so sat back in a 4-5-1 block. This was reinforced as a result of Spain's fullbacks on both sides pushing high, forcing the Croatia midfield deeper.
Consequently, seeing as Luka Modrić was playing deep, concerned about what Pedri was doing, he couldn't get up the pitch to support Bruno Petković upfront. It was the same for Ante Rebić and Nikola Vlašić who couldn't have an impact on any potential counter-attacks. Croatia was giving Luis Enrique's side too much respect and wasn't utilizing what their strength should be – keeping the ball with passing in midfield.
Modrić, along with Mateo Kovačić and Marcelo Brozović, is a midfield trio that excels technically and is capable of keeping the ball even against the likes of Spain. However, this was impossible to do for Croatia in the first half seeing as they weren't pressing, as it allowed Spain to sustain attacks. In contrast, every time Spain lost the ball their entire team was surrounding the ball so they were able to counter-press with ease.
Zlatko Dalić rectified this at the halftime interval, changing their approach to a high press, making the game far more competitive. Unfortunately, they conceded two goals – one of which was the result of a daft moment from left-back Joško Gvardiol and the other being a genuinely good goal from the Spaniards. Despite these two goals, they were much improved in the second half. The difference in the quality of their performance compared to the first half was light and day. Dalić deserves credit for recognizing his mistake and adapting.
The tactical change was eventually rewarded as Croatia crawled back a two-goal deficit, many thanks to their maintained aggression and composure in midfield. Ultimately though, it was Spain who edged through, despite a valiant effort from Croatia. If it wasn't for some poor individual defending from the Croatian fullbacks, it could've been Vatreni heading to the quarter-finals in Saint Petersburg.
The Almost-Costly Blunder from Unai Simón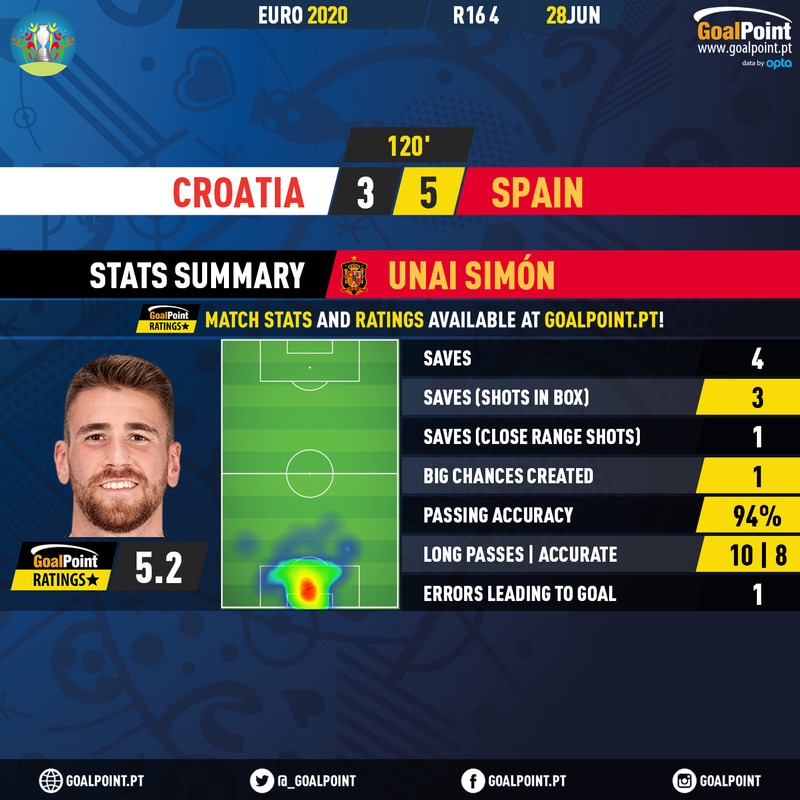 Unai Simón is a goalkeeper that is often praised for his calmness on the ball and his distribution with his feet, which is why it felt so bizarre when he failed to control a pass back from range by Pedri, resulting in the ball rolling under his foot and into the empty net. Making such a crucial error at even game state on the biggest stage was a big test of his character – both immediate and future.
Before the uncharacteristic error, the Athletic Bilbao keeper has been very impressive in this tournament. His aforementioned distribution is top drawer, which is an invaluable skill to have in the modern game.  Despite conceding another two goals, Simón showed character and stepped up, putting his mistake behind him. The 24-year-old made some important saves for his team and ultimately contributed to Spain seeing the game out in extra time.
Author: James Lloyd ( @Jlloyd2000 )
Conclusion
On the back of a classic encounter, Croatia should hold their heads high for the enormous fight they displayed that would have seen them through on many occasions. But this was a Spain team that, for the first time in almost a decade, showed they have championship credentials.
With a nice blend of youth and experience, an abundance of rotational talent that is integral to success at this tournament, and the spirit and strategic adjustments that got them over the edge against Croatia, Spain might just be in with an outside shot. With that being said, irrespective of the stage they reach this summer, it's safe to say that a nation – starved of success by comparison to this time ten years ago – has plenty of encouragement for future years.
Author: Brad Jones ( @bradjonessport )