t

hree years ago in Moscow, Croatia stunned the footballing world, as they knocked the spirited but ultimately limited, England out of the 2018 World Cup Semi-Finals, adding to their 2008 upset in eliminating The Three Lions from even competing in that year's tournament. However, as "God Save the Queen" was belted around Wembley Stadium by thousands of passionate supporters, a golden generation burdened with a nation's expectations knew the order of the day against what is becoming an increasingly common enemy: Revenge.
And it was clear to see from the opening seconds that this England side is more than just false hope and typical overhype from the media. A starting 11 from Gareth Southgate that was heavily scrutinized pre-match took no time in asserting themselves, and within 5 minutes, their energy, aggression, and will was nearly rewarded. Phil Foden, sporting a cut not too dissimilar to that of the great Paul Gascoigne, nearly replicated Gazza's 1996 EURO's heroics, as he cut in onto his wand of a left foot, curling an effort that beat Croatian goalkeeper Dominik Livaković but couldn't beat the post.
This would prove to be a sign of things to come, as England dominated early proceedings at Wembley. Starting the relatively unproven Declan Rice and Kalvin Phillips together in their first experiences of international tournament football, against a midfield trio oozing with just that, in Luka Modric, Matteo Kovacic, and Marcelo Brozovic, was a call that had many eyebrows raised, but the two performed admirably, almost completely nullifying any threat the three would provide in that first half.
However, for all of England's first-half possession, they only had Foden's early effort alongside a strike from Kalvin Phillips that was comfortably parried away to show for it. Meanwhile, Croatia had begun to get a grip on proceedings, and Luka Modric was slowly starting to put his fingerprints on the match. It seemed like it was proving to be yet another opening day EURO campaign for England. The Three Lions had failed to win a single opening match since the tournament's inception, but in 57 minutes, their will was rewarded. 
Kalvin Phillips, whose inclusion over 17-year-old Jude Bellingham was heavily questioned, showed great positivity to latch on to a stray pass from Kyle Walker, skip past a few defenders, and brilliantly slip in the advancing Raheem Sterling through on goal. Sterling's form in front of goal has been questioned all season, but Southgate's trust in his most experienced player was repaid, with Sterling banishing his club woes by scoring past Livaković and giving England a deserved 1-0 lead.
The floodgates immediately opened, and almost instantly, England nearly had a second, as the trio of Phil Foden, Raheem Sterling, and Mason Mount created a chance for Harry Kane that should have been a tap in, but the stretching right boot of Tottenham's talisman just struck it over the bar. Croatia desperately tried to regain a foothold in the match, but a combination of brilliant defending from the hosts, coupled with a real lack of quality in the final third from "The Blazers" ultimately meant there would only ever be one winner in this match.
GoalPoint's Man of the Match: Kalvin Phillips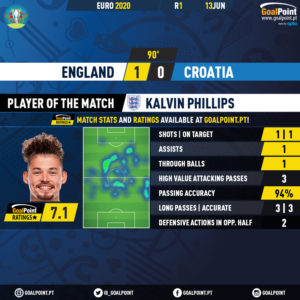 Amongst a host of criticisms directed at Gareth Southgate's first-team selection at EURO 2020 was the choice to go with Leeds United's Kalvin Phillips over the teenage sensation, Jude Bellingham. However, Southgate was more than repaid with his faith in Phillips, who followed up a great debut season in the Premier League with an outstanding performance in midfield for England.

Playing alongside Declan Rice, who occupied more of a holding position, Phillips was allowed to take up more of a roaming role, one he himself says he prefers to the sitting one he takes up at club level. He was everywhere on Saturday, and although Luka Modrić poked the ball through his legs more than once, Phillips showed great enthusiasm and was crucial to England winning the midfield battle.
Even throughout his energetic showing, though, Phillips still kept it neat as he almost always does. He finished the match with an astounding 94% pass accuracy, but the most important one came in the second half. His assist to Sterling after more positivity in driving forward was the cherry on top of a brilliant individual performance, that not only gave England all 3 points but ensured the calls for him to be dropped for Bellingham will be that much quieter.
Author: Lyes Bouzidi (@WholeLottaLyes)
Tactical Analysis
Southgate used a very clever trick to beat the Croatians and he obviously studied their structure well before the game. While defending with a medium block, Croatia went with 4-4-2 in pressing, as Modrić went up alongside Rebić on the first pressing line, so Rice was falling between the two CBs To create a 3V2 situation that allowed Mings to push up and pass easily to the left side, and from here it all started.
Southgate put Trippier as a left-back in the starting XI due to Chilwell's absence, he aimed to create an overload on the left flank and target Croatia's weaker side.
Trippier, who uses his right foot, was always making the pass from inside to outside which is exactly what Southgate wanted. Mount and Sterling were switching positions between hugging the sideline and occupying the left half-space, with Kane falling on the same side to pull Vida.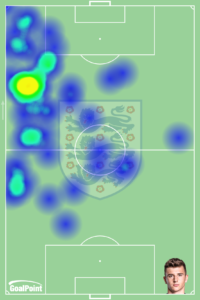 In fact Kramarić was drifting towards Trippier while Vrsaljko got busy with Sterling on the touchline, at that time Mount was dropping next to Trippier to get Brozović out of position as Sterling moved from the line into the center space which we have seen on more than one occasion, but his usual finishing problem prevented him from scoring early.
England also tried to use the third man runs based on Phillips' diagonal run from the middle towards the left side of the penalty area due to his ability to keep the ball under pressure
That wasn't the only benefit of having Trippier on the field. Trippier actually allowed his team to apply the counter-pressing as soon as they lost possession, as Phillips climbed forward more with Mount, Kane, Sterling, and sometimes Foden to make the team's block tighter.
In the second half, Croatia manager, Dalić asked Modrić to go to the right side (England's left side) to prevent a repetition of what happened in the first half. This created a numerical equivalence there, but this allowed England to create a 3V1 overload on Croatia's first pressing line, as Rebić found himself alone against 3 CBs as Walker returned to form an asymmetric structure. 
This made life easier for Phillips, who no longer had to fall deeper to receive the ball and actually started moving between the lines.
England's winning goal started from the moment they created a numerical overload over Rebić, so Kovačić had to go up next to him and then he pressed Stones, who passed the ball on the right side towards Walker, 
Perišić did not know where he should go. Should he go to the left side to press Foden? Or close the passing lane over Phillips on the right half-space, but he eventually chose to stand in the middle and allowed Phillips to receive the ball between the lines.
It was easy then for Sterling to move into the central space, especially after Kane got Vida out of position. He only waited for Phillips' decisive pass that secured England's first victory in their opening match in the Euros.
Author: Omar Mokhtar (@OmarMokhtar6643)
Conclusion
England is favorite not only to progress from Group D but also win it, and beating their biggest competition to first place in Croatia will go a long way in securing that. Next up, they will welcome a familiar neighbor in Scotland on Friday, whilst Croatia will be looking to bounce back against the Czech Republic at Hampden Park.
It's still early days for the Croats, and they won't face many sides this tournament at the level of England, but they will need to look much more threatening going forward than today, or else the highs of 2018, will feel like a lot further back than that.
Author: Lyes Bouzidi (@WholeLottaLyes)