E

ngland, Scotland, and Wembley. A concoction, which has previously made for some of the most explosive and memorable football derbies to date. Instead, during their first competitive encounter since Euro 96', the game ended in an extremely anticlimactic fashion, given the great expectations when the group was first drawn.
The opening minutes initially signaled for an exciting match as an early chance fell to Che Adams, whose shot was neatly blocked by John Stones. The Manchester City defender would then come right back with a chance of his own at a corner when he broke away from his marker for a free header, but his effort rebounded off the post as David Marshall stood rooted to the spot.
Scotland had the biggest chance of the half with a Kieran Tierney's cross that found Stephen O'Donnell at the back post. The wing-back mustered up a powerful volley back across goal, but Pickford met the shot with equal strength, pushing the effort away from danger. The second half proved a little different. Half-chances came and went for both sides, but a lack of impetus from England made easy-watching for the Scots who sat back and absorbed the spiritless attacks.
In an attempt to liven up proceedings, Southgate substituted on Jack Grealish and Marcus Rashford, which was met with great applause from England fans, but neither could break down the unwavering, courageous Scottish defense set by Steve Clarke. A late goalmouth scramble inside the Scottish box during stoppage time would be the last chance for England to score, but still, the Scots stood firm, and the final whistle was blown for a 0-0 draw.
UEFA Start of the Match: Billy Gilmour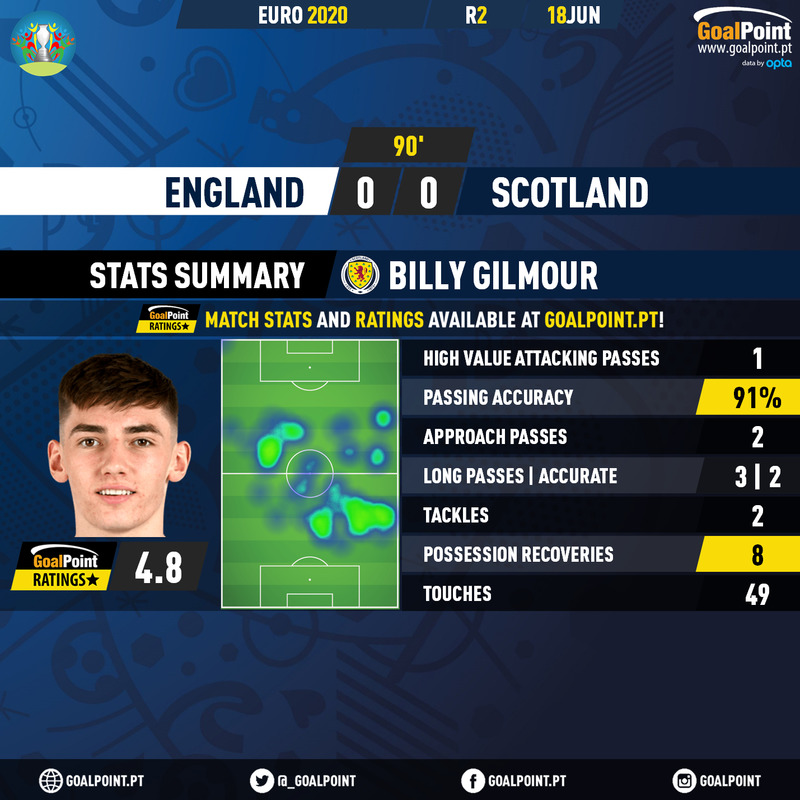 Despite an underwhelming contest, one player stood out from the rest, and that was Billy Gilmour. In his first-ever start for the Tartan Army, the 20-year-old controlled the tempo of the match, organized the midfield, and was impeccable in possession.
Gilmour's composure on the ball allowed him and his teammates to recover and recuperate from defensive pressure, with his ball retention proving key. The young Scotsman also pulled his weight defensively to cope with England's attacks when they came in their fleeting moments, managing two tackles and eight possession recoveries.
He then looked to convert his defensive work to attack, supplementing strikers Che Adams and Lyndon Dykes with two approach passes, one high-value attacking pass, and an overall passing accuracy of 91%. It was the complete midfielder's performance from the youngster against a star-studded opposition. Gilmour held his own, proving that he is, and will continue to be a pivotal player in the Scottish national team for years to come.
By: Toby Rathborne ( @TobyRathborne )
The Flop: Gareth Southgate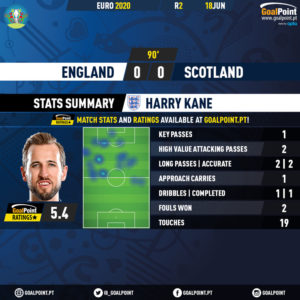 Gareth Southgate has always been a somewhat polarizing managerial hire for England. He got an abundance of praise during the 2018 FIFA World Cup for getting England to the semi-finals for the first time since 1990. However, he has his fair share of critics due to his tactics, and his team selections, and this match was no different. 
England came into this match as favorites, given that this squad does have more experience at international tournaments than the Scottish side, and simply put, they do have the better team. Southgate however, opted for a more conservative approach, which was baffling, given two things.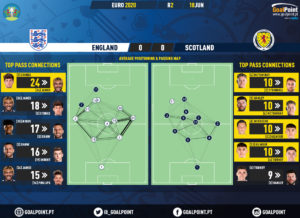 Scotland's current team is an improvement over previous generations, but one place they still struggle is goals. They do not have a reliable goal-scorer, something that was highlighted as an issue leading up to the tournament. Thus, England's choice to go overly defensive does not make sense. 
Scotland's first game of the tournament saw Andrew Robertson, Scotland's captain, and clear best player, create an abundance of chances, especially early on. This saw the Czech Republic resort to pressing Robertson and ensuring that his threat was nullified. Scotland failed to convert any of Robertson's chances and ended up losing the match 2-0. 
England's defensive approach against the Scot's did not benefit them at all. It stifled their attack to the point where their front players had little chance of scoring. Harry Kane, one of the world's top strikers, only had 19 touches in the 90 minutes with only one key pass. Fullbacks Reece James and Luke Shaw contributed two each, but Raheem Sterling, Phil Foden, and Mason Mount all were only able to have one key pass.  
Southgate's defensive tactics also led to poor substitutions from the English manager. He opted to sub on Jack Grealish in the 63rd minute, which seemed great, as Grealish is a progressive player, who is known for his chance creation. However, he subbed him in for an attacking player in Foden. His only other change was Marcus Rashford for Kane, leaving all wondering why Jadon Sancho was left as an unused substitution. 
By: Yara El-Shaboury ( @yaraelshab )
Scotland's Improved Defending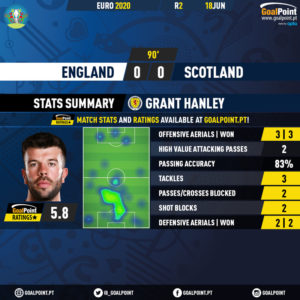 Scotland conceded two goals in their first matchup against the Czech Republic. Their clean sheet today was due to a small change from manager Steve Clarke. In the first match of the tournament, Scotland struggled to get a hold of the midfield, with the Czech players occupying that space and dictating play.
Against England, Clarke packed his midfield and ensured his players were a bit more compact. England not using the flanks, and having their forward players drift infield more made them play right into Scotland's hands. James, who was expected to add width for England, played uncharacteristically cautious, leading Shaw to really be the only English player who contributed some width, as seen in the position maps below. 
It also helped Steve Clarke that all of his defenders were up for it. Robertson did well to track Foden, Scott McTominay looked comfortable at center-back, a new role for him a role he's unfamiliar with, Kieran Tierney likely created Scotland's best chance, and Grant Hanley was commanding as the middle center-back in a back three. The Norwich City defender successfully held off Kane all night. Winning five aerial duels and successfully completing three tackles he was a presence in the box that England could just not get past.
Scotland has given itself a lifeline. Now, they need to fix up their scoring. Che Adams did everything right on the night but wasted three good chances. Scotland will be upset to have not won the game, but a well-deserved point against a team they were expected to lose against should give them momentum against a struggling Croatia. 
By: Yara El-Shaboury ( @yaraelshab )
A Look Ahead
Scotland will be feeling very pleased about the result, as their hopes of progressing to the round of 16 are kept alive. Now with renewed momentum following their previous bitter defeat, they face the 2018 World Cup finalists Croatia, who will also be desperate to win. But with Kieran Tierney back from injury and Steve Clarke starting to find his best team, the Scots will be feeling ever-so optimistic as they travel back home to Hampden Park for their final group game.
As for England and Gareth Southgate, this result should be a massive wake-up call. They had little direction or intensity and failed to inflict any damage to a Scotland side that, whilst well structured, lacks overall talent when compared to the England squad.
To get into the knockout stages, they will need a strong result against a high-flying Czech Republic side. But, even if they are to progress, they must improve. The players are there to go deep into the competition; now, it is up to Southgate to find the correct eleven. Otherwise, they could be in for a nasty shock.
By: Toby Rathborne ( @TobyRathborne )