F

ollowing Slovakia's Group E fixture against Sweden, Newcastle United goalkeeper Martin Dubravka received mountains of criticism for his role in the Sokoli's defeat. Penalised for fouling Robin Quaison in the penalty area, the 31-year-old was powerless to resist Emil Forsberg's well-struck effort from 12 yards.
Thus, having been widely blamed for his side's 1-0 defeat against the Swedes, Dubravka's delight at saving a twelfth-minute penalty against Spain was understandable.
Unfortunately for the Tyneside-based 'stopper, though, Slovakian joy was short-lived in Seville as Luis Enrique's side eventually ran out 5-0 winners in Group E.
Eighteen minutes after Spain failed to convert their fifth penalty in a row, Dubravka gifted the hosts the lead with an own goal for the ages. With the ball spinning in the air above his head, Dubravka jumped highest and inexplicably smacked it into the Slovakian net.
From that moment, the game was done for the travelling side.
Aymeric Laporte doubled Spain's advantage on the stroke of half-time, before Pablo Sarabia and Ferran Torres scored the Roja's third and fourth goals of the evening after the break.
A Juraj Kucka own goal added to Slovakia's woes on 71 minutes, although it made no difference to the outcome of Group E.
Following Sweden's 3-2 win over Poland, Spain progress to the round of sixteen as runners up while Slovakia crash-out of the European Championship in third place.
Like his nation's run at EURO 2020, Martin Dubravka's delight has been extinguished.
Writer's Choice MOTM: Pablo Sarabia
With a goal and an assist to his name, PSG playmaker Pablo Sarabia was integral to Spain as Luis Enrique's side concluded the group stage with a dominant win over Slovakia.
Pablo Sarabia emerged as the Roja's unlikely star against Slovakia on an afternoon of Spanish dominance in Seville.
Deployed on the right of Luis Enrique's three-man attack, the 5'10" creative midfielder was a constant thorn in the side of Slovak right-back Tomas Hubocan.
Credited with the assist on Ferran Torres' second-half strike, the Real Madrid academy prospect made the final third his own by providing exemplary service to Spain's rotating cast of centre forwards.
A creative force from the first whistle, Sarabia's introduction to the Spanish line-up often created space for his teammates to exploit by drawing the attention of multiple defenders.
However, the brightest moment of the 29-year-old's afternoon came on 55 minutes, when he swept Jordi Alba's low cross into the bottom corner. Although Sarabia's finish was unspectacular, his ability to drift into the penalty area unmarked is a talent few players share.
If Spain are to reach the latter stages of the European Championship, they will require Sarabia to continue his playmaking and goal-scoring exploits in the knockout rounds.
 As the touch map from his performance against Slovakia shows, Sarabia is a player capable of making his mark across the pitch. With Croatia up next, Enrique could once again turn to the PSG creator for inspiration in the final third
Author: Luke James ( @LukeJames_32)
The Slovakian Decline
Since the first group game against Poland where they performed beyond expectations and earned an impressive 2-1 win, Slovakia's Euros journey has proven to be a downward slope.
The following two games have seen Stefan Tarkovic's team lose without ever having a sniff of the opposition goal and conceded six goals in the process.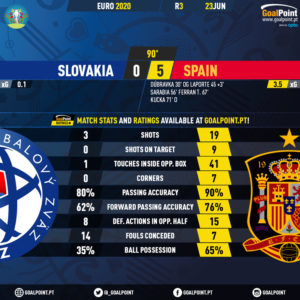 To be fair, there's a huge gap in quality between the Slovakian and Spanish teams but that's not the main reason Sokoli suffered an embarrassing 5-0 loss against La Roja.
Spain are quite frankly not as good as Slovakia made them look, the draws against Sweden and Poland showed that. Stefan Tarkovic set up his team with that in mind, playing the exact 11 that won against Poland but the shape and application of the team was different.
Nobody expected them to win the possession battle but the least they could have done was to carry some reasonable offensive threat when they did have the ball as it was against Poland.
Yes, Poland are not Spain but Luis Enrique's men are not infallible. Poland and Sweden got a draw against them and could have even won had they converted their chances.
The difference is Slovakia never even created chances, 0.1 xG and no shot on target are the major reasons they're now out of the Euros altogether.
Author: Tunde Young ( @tunde_young)
The Flop: Álvaro Morata
In the same game where Marcin Dubravka scored an hilariously embarrassing own goal and conceded five goals, Alvaro Morata still managed to stand out as the worst player on the pitch.
This game witnessed the latest in a trilogy of poor performances from the Juventus striker and he continues to grab all the Spanish headlines for the wrong reasons.
His poorly-taken penalty was the fourth big chance Morata had missed in this Euros and he failed to add to his overall tally of one goal in a game where Spain scored five.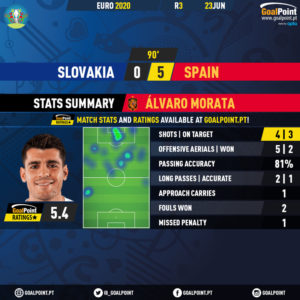 It's no coincidence that the man who came on in his stead, Ferran Torres found the back almost immediately and the Spanish attack actually flowed better in his absence.
As it is, Morata has no choice but to improve because Luis Enrique seems to like him and won't be dropping him anytime soon. He has to step up and lead this Spanish team from the front.
Playing as the lead man in a team that creates so many chances, it's almost criminal that Morata has only one goal so far.
If Spain hopes to go far in this competition, they need Morata firing as soon as possible which is against Croatia on Monday.
Author: Tunde Young ( @tunde_young)
A Look Ahead
Having watched his side draw their opening two fixtures of EURO 2020, Luis Enrique required a big performance from his side for the visit of Slovakia. Within fifteen minutes of kick-off, it was clear that the 51-year-old's players would be up to the task.
Ahead of Spain's round of sixteen meeting with Croatia, Enrique's most pressing task is to decide which players will constitute the Roja's midfield trio. Sergio Busquets was assured in possession upon his return from self-isolation, but was his solid performance against Slovakia enough to keep him in the Spanish line-up?
For Slovakia, EURO 2020 is over. Although Stefan Tarkovic will rue his side's penalty concession against Sweden, the Sokoli's performance versus Spain will be of serious concern. With several players approaching the end of their international careers, Slovakia is headed for a period of transition. Which players survive the imminent reshuffle remains to be seen.
Author: Luke James ( @LukeJames_32)