"It was a fight, and it wasn't easy. We gave them the two goals from mistakes. We tried to win it. It means we're top and that's the best position. We're going to appreciate it and recover now as new competition is starting." French manager Didier Deschamps stated in his post-match interview. A game that ended in a messy contest with flashes of brilliance from individuals, but ultimately neither of the competition favorites were able to add the finishing touches needed to win.
The first mistake came from France when captain Hugo Lloris attempted to punch clear João Moutinho's free-kick but instead found the face of Danilo Pereira, resulting in a penalty. Cristiano Ronaldo stepped up and smashed his penalty to the left of Lloris, sending him the wrong way to give Portugal the 1-0 lead.
France responded quickly through a clipped pass from Paul Pogba to Kylian Mbappé, whose path was well-blocked by Nélson Semedo. However, referee Antonio Manu saw the challenge as obstruction and awarded France the penalty. This allowed Karim Benzema to respond to his ex-Real Madrid teammate with equal composure by powering his penalty to the left of Rui Patricio to draw the French level despite an abysmal first half.
Amongst the mess, Pogba produced another picturesque pass which careened past a swathe of Portuguese patterned shirts into the vicinity of a looming Benzema. The striker ran onto the delivery and dispatched the opportunity to devastating effect, giving France the lead early in the second half.
However, France once again made a mistake when the flailing arm of Jules Koundé blocked Ronaldo's cross, resulting in yet another penalty. Ronaldo assumed his magisterial stance over the ball with hungry eyes bearing down on Lloris.  This time he placed his penalty into the bottom left corner before wheeling away in celebration as he put Portugal on level terms.
Towards the closing stages of the game, Pogba almost stole the headlines all to himself with an adroit piece of skill to evade his marker before a curling effort that was a fraction too close to Rui Patricio, who was able to palm the effort onto the post and save the follow-up shot from Antoine Griezmann to keep Portugal level.
GoalPoint's Man of the Match: Paul Pogba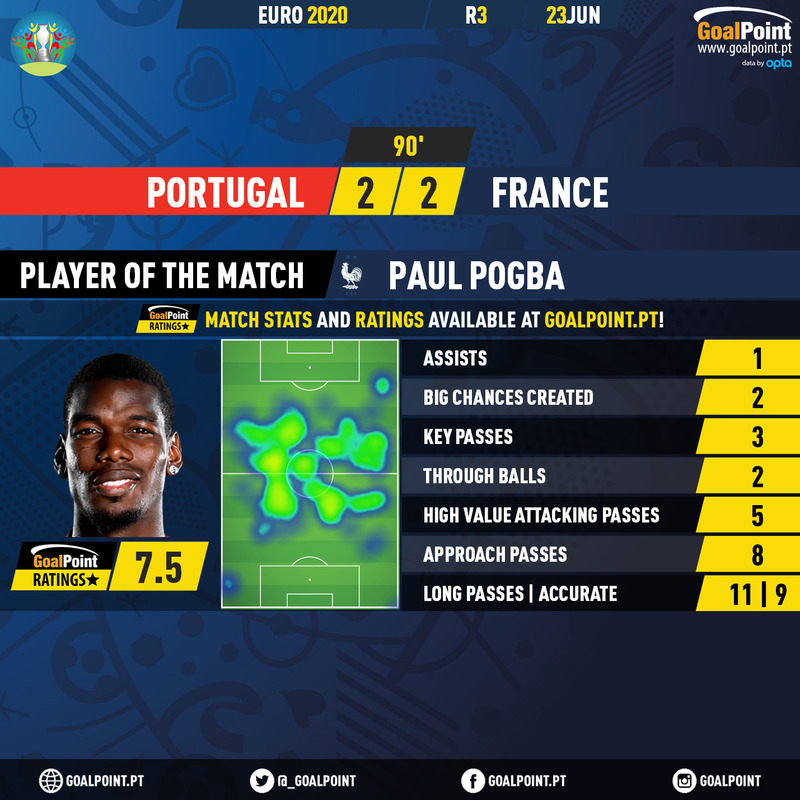 Pogba was a constant threat to Portugal's defensive set-up, posing a problem throughout with his devastating passing range that put the wealth of French attackers in numerous goal-scoring positions.
It was a highly contested match-up with numerous standout performers ranging from the tidy Renato Sanches to the deadly Karim Benzema and the inevitable Cristiano Ronaldo. But Paul Pogba once again proved his world-class presence with a glorious display.
Pogba's ability to break the lines from deep continues to be an invaluable asset for France's attack, with his vast array of passing techniques enabling him to cut through defenses and place either Mbappé or Benzema in goal-scoring positions. Over the course of the 90 minutes against Portugal, he created two big chances, had three key passes, five high-value attacking passes, and one resulting in an assist.
His shooting range also put Patricio under constant duress with the threat to find any corner of the goal from a distance. Pogba's leadership qualities were also crucial in helping his side overcome some of the challenging phases of the game and will be essential as they aim to go one step further than the agonizing loss faced in Paris at the 2016 European Championships.
Author: Toby Rathborne ( @TobyRathborne )
Portugal's New-Look Midfield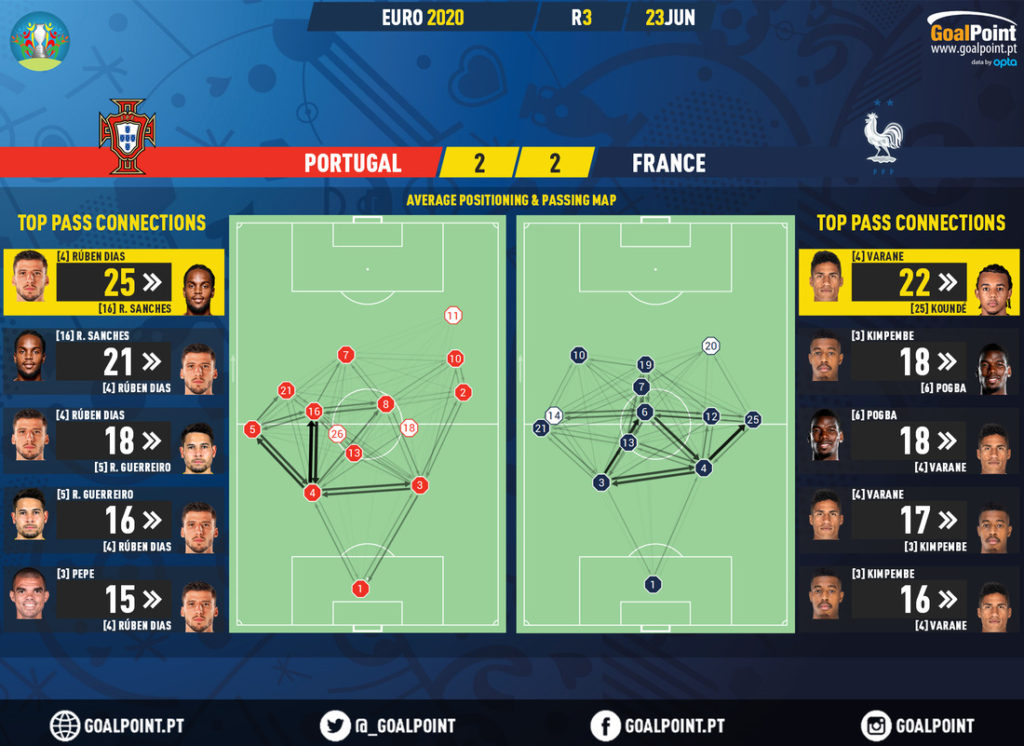 Portugal made this game a proper midfield battle from minute one, but this was mostly due to a key tactical change in both personnel and shape from the much-maligned Fernando Santos. The two-time EURO-winning manager learned from his mistakes of the previous two games, and broke up the defensive duo of William Carvalho and Danilo Pereira, benching the former for the quality and guile on the ball of the veteran Joao Moutinho.
An even bigger call was dropping Bruno Fernandes, who after coming into this tournament off an all-time great midfield season with Manchester United has really struggled to find the same influence in this Portugal setup. In his place came Renato Sanches, who absolutely ran the show in Portugal's engine room.
It was a stroke of genius from Santos, albeit two matchday's too late, but with the unpredictability of the match in Munich, a draw that could so easily have been a loss and elimination was mostly due to the quality performances from midfield for the Seleção.
Author: Toby Rathborne (@TobyRathborne)
The Flop: Jules Kounde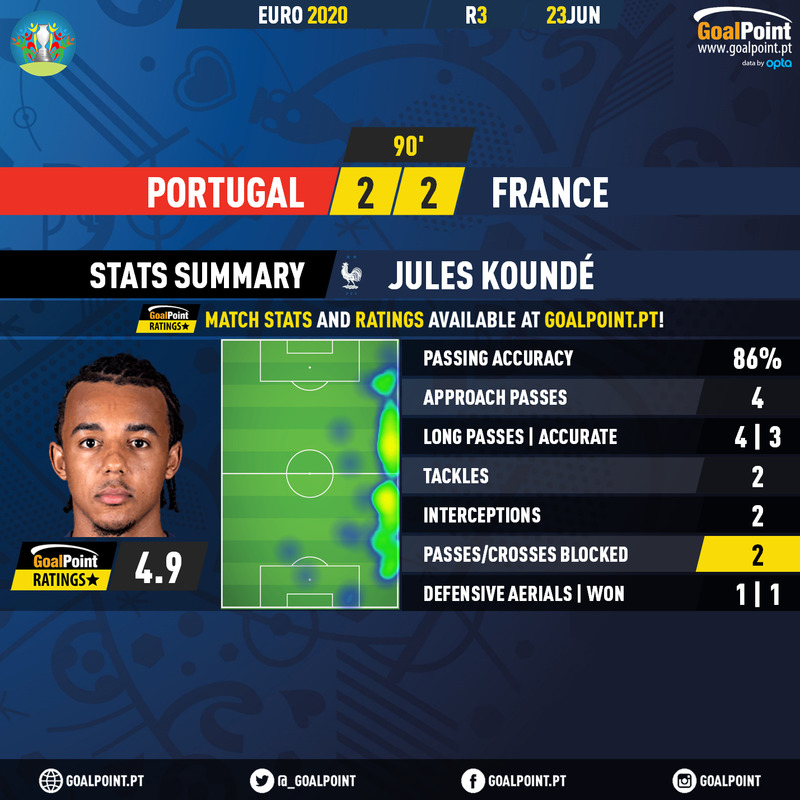 Getting the start ahead of Benjamin Pavard and Leo Dubois, Jules Kounde struggled to perform in the unnatural position of right back and was a liability in possession.
Benjamin Pavard has had a shaky start to EURO 2020 and was replaced in the starting lineup today for Sevilla's highly touted center-back, Jules Kounde. The problem, however, is that Kounde is just that: a center-back. While defensively, Kounde was mostly solid, his production on the ball was sorely lacking, and numerous french attacks died when it was swung out to the right.
Furthermore, the Sevilla defender was punished for carelessly leaving his hands up and stopping Ronaldo's cross from entering the box, which Cristiano consequently buried the ensuing penalty. All in all, it wasn't Jules Kounde's finest night, and it will be further evidence that although France is spoilt for choice in numerous positions, fullback remains one where quality is a bit more scarce.
Author: Lyes Bouzidi ( @WholeLottaLyes )
A Look Ahead
As Deschamps alluded to, now a new competition is starting in the round of sixteen. France is against an on-off Swiss side that struggled in their group but has players that have proven to be a handful, such as the dynamic Breel Embolo. But after topping the group labeled as the group of death, Les Blues will be feeling confident heading into the bout with their neighbors in Bucharest.
Meanwhile, Portugal will play a buoyant Belgium side that stormed through the group stages with relative ease headed by the breath-taking Romelu Lukaku and a Kevin de Bruyne out for revenge following the bitter end of his season with Manchester City. Several decisions will be crucial to overcoming Belgium, but above all are the frailties in defense that have leaked into Portugal's play during moments of the group stages which need addressing if they are to try and contain the overwhelming force of Lukaku.
Author: Toby Rathborne ( @TobyRathborne )