H

eading into the final matchday of the group stages, Group F had lived up to its billing as the "group of death" with all four spots still up for grabs on the final day. It certainly wasn't about to disappoint. An instant classic was on our hands as Hungary and Germany faced off for only the third time in a major tournament; the two previous encounters producing a frantic 16 goals and more were on the cards.
Germany saved their blushes late thanks to an emphatic finish into the bottom right corner by Leon Goretzka, as they came from behind twice to draw 2-2 in the last 6 minutes of the game, unconvincingly sealing their progression into the last 16 considering their rampant 4-2 win over reigning champions Portugal just four days ago. This result cruelly dumped out the fearless Hungarians, who surprised most with solid performances throughout their short-lived campaign.
Having conceded in the first 20 minutes of their first two games against France and Portugal respectively, Germany soon found themselves trailing once more owing to a swift move against the run of play by Hungary, which was slotted home in style by their captain, Adam Szalai in the 11th minute. The Hungarian talisman left Manuel Neuer scrambling as he beautifully glanced a diving header past the German number one.
A calm 10 minutes of controlled pressure from the Germans ensued soon resulting in a Mats Hummels header rattling the crossbar from a corner kick. This proved to be as close as Die Mannschaft would get to a leveler in the first half. A torrential downpour, a stunned Joachim Löw on the touchline, and a humbled Allianz Arena; the signs weren't looking promising for Germany as they faced an early exit. Looking for inspiration, Löw promptly opted to bring on Leon Goretzka in place of Ilkay Gundogan a little after the break, who would soon prove to be the difference-maker but before all that more drama was in store.
With the pressure building up on both sides, for different reasons, it was soon Germany who gratefully found themselves level in the 65th minute due to some questionable goalkeeping by Peter Gulasci, who was caught out by a Joshua Kimmich free-kick – that was headed into the path of Kai Havertz by Mats Hummels, leaving the prior with an easy header into an open net. Order restored with still to complete the comeback, so they thought.
Straight from kickoff, the Hungarians wasted no time in reclaiming the lead as a long ball pinballed in the German half, soon finding its way to Szalai who calmly played a ball over a disoriented German backline, inviting Andras Schafer to bravely head it past an onrushing Neuer at the edge of the box.
Left with no other choice, Löw made more attacking changes that were soon rewarded in the 84th minute as a ricocheting shot from Timo Werner ended up in Goretzka's path 16 yards, who made no mistake in dispatching the ball past a forest of Hungarian legs into the goal. 2-2.
Germany chased a winner but was denied by the heroic defending from a staunch performance. Marco Rossi and his men who unfortunately bowed out with two points to their name. A point was enough to see the Germans through and set up a mouth-watering encounter with England in the Round of 16.
Euro 2020 Star of the Match: Joshua Kimmich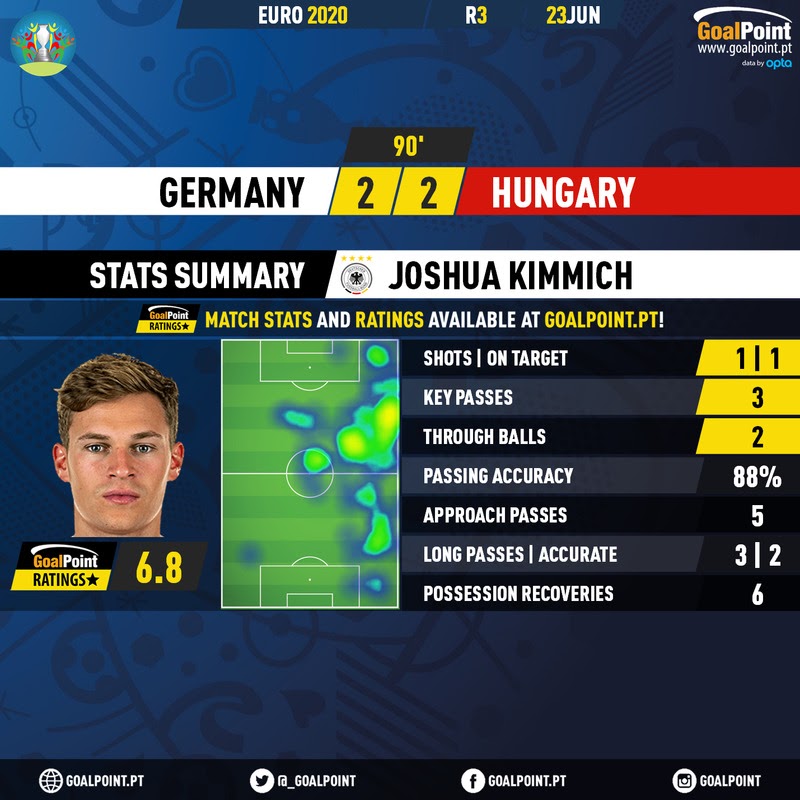 Playing as a right wing-back in Löw's 3-4-3, Kimmich once again stepped up to the task and led Germany to the knockout round.
In spite of all their inconsistencies as a team, one man seems to show up for Joachim Löw time and time again when he needs him most and that's Joshua Kimmich. The versatile Bayern Munich midfielder has grown into his new role as a wing-back for Die Mannschaft. He seems unfazed for the most part by both his defensive and attacking duties.
Very much comfortable at right-wingback, the shift in formation hasn't affected him too much but he seems to be flourishing even more than most expected. His measured distribution of the ball, be it from set-pieces or simple switches of play is second to none and he demonstrated his worth once again against Hungary with a mature showing.
His free-kick proved to be pivotal as he drew out Péter Gulácsi who wasn't able to deal with his pinpoint ball that was pounced on by Hummels. The fact that he takes free kicks and corners before Kroos tells you everything you need to know about the quality of the seasoned playmaker. A lot of Germany's hopes lie at his feet as he can be instrumental in deciding games with his quality service. Something that is invaluable in tournaments especially.
Author: Vuyo Ndebele ( @RegaloJnr )
Hungary's Precise Gameplan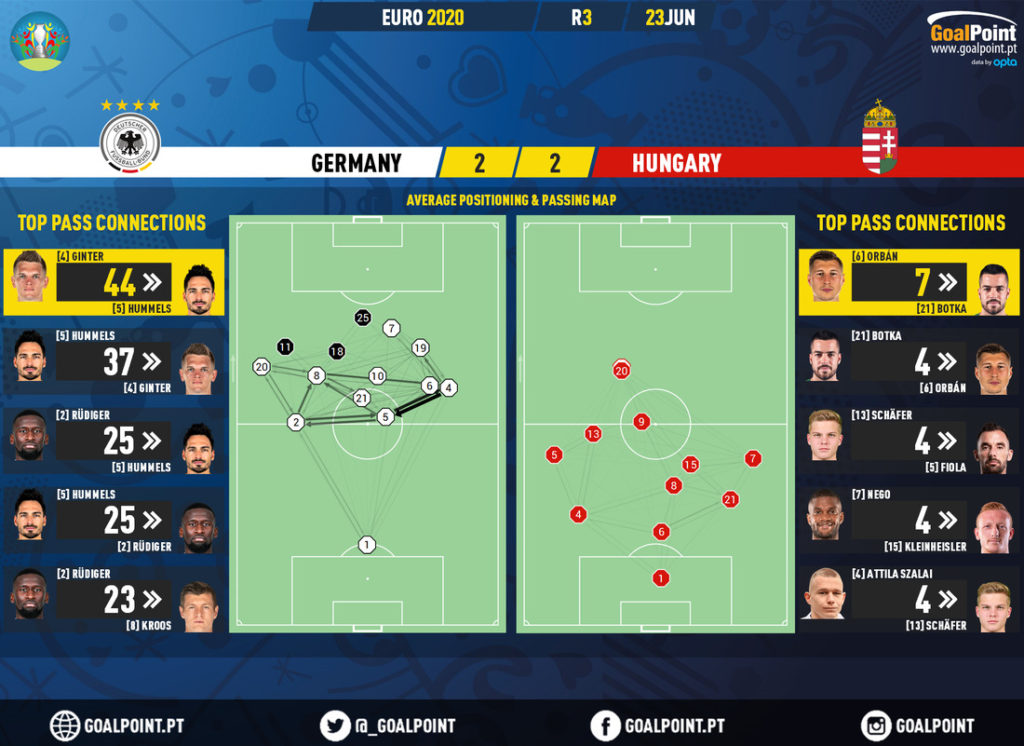 On paper, Germany and Hungary lined up in what was essentially the same shape. Both teams played a variant of a 5-3-2, with the difference being that Germany's full-backs pushed up to play as wingers, while Hungary's pair played much deeper. This, plus the fact Germany's midfield was very narrow, is what allowed Hungary to storm ahead in the first half.
A similar pattern of play repeated over and over. Hungary would defend the deep, and Kimmich plus Gosens would push high in a bid to stretch Marco Rossi's back five. Hungary would win the ball, and immediately their full-backs, Loic Nego and Attila Fiola, would spring forward into the space that Kimmich and Gosens had vacated.
In the first 65 minutes, Germany simply could not cope with this game plan. Fiola and Nego had 20 touches in Germany's half, including 2 shots, 2 crosses, and 1 dribble. Every single Hungary attack came down the wings, including the one that led to their opening goal. Germany did make it easy for them though. They appeared either helpless or determined not to engage the ball in wide areas, instead of leaving acres of space behind their isolated full-backs.
Author: Alex Barker ( @EuroExpert_ )
A Series of Fortunate Events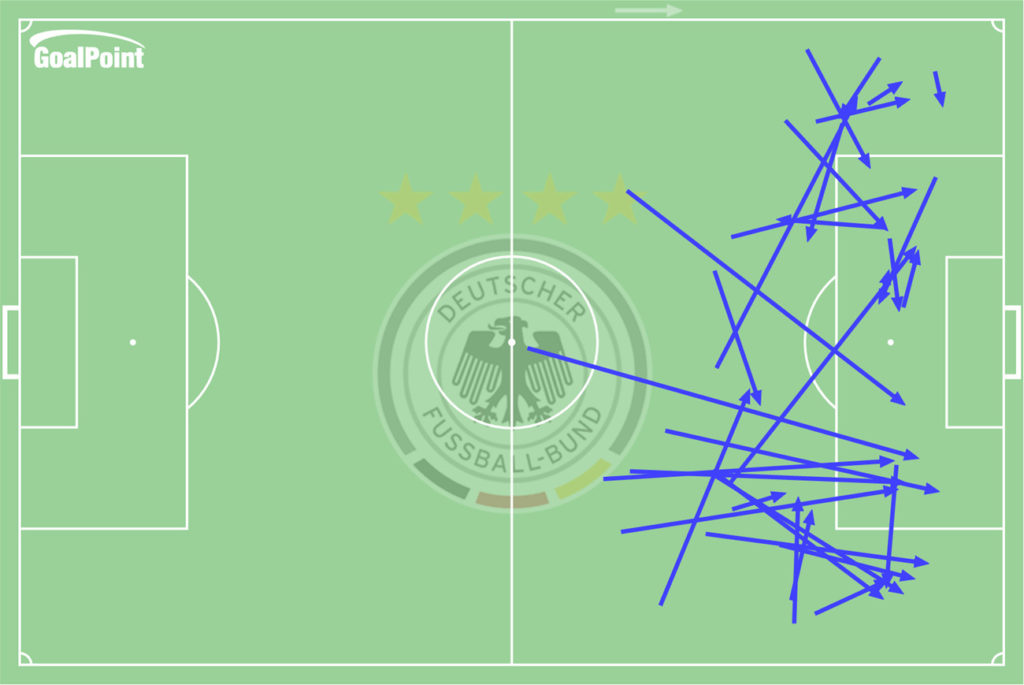 As alluded to above, Germany, fortunately, changed the game midway through the second half, at the 68th minute. Although, it is unclear if Joachim Löw intended the exact positive effect his substitutions made. Just seconds before Hungary went 2-1 up again, Serge Gnabry and Kai Havertz came off for Thomas Muller and Timo Werner.
Neither sub played particularly well, but the attacking changes combined with Hungary's quick second shortly after Germany's equalizer, led to the Hungarians sitting much deeper. They were now willing to completely shut up shop in a way they avoided doing so at 1-0 up.
The results of this change are clear. In the time before the 68th minute, Germany had 73.4% possession, with just 19 touches inside Hungary's box. However, after that magic minute, Germany was able to trap their opposition. They managed 11 touches inside the Hungary box in just over 20 minutes, able to be more persistent with their attempts without the constant threat of having to race back towards Neuer's net.
This domino effect of circumstances was key for Germany avoiding embarrassment. The combination of fresh attacking faces just as Hungary was about to defend for their life, turned the balance of a game that Germany, for most of the tie, was the worse team in.
Author: Alex Barker ( @EuroExpert_ )
Goretzka aiming for a starting role
Although through to the knockout stage of the competition, Germany still has a lot of unresolved defensive problems that could be rigorously tested by a very talented English attack come Tuesday. They've conceded 5 goals in 3 games so far and could look to introduce Leon Goretzka in a starting role for the first time in the tournament to offer protection for the backline.
On the other side of the pitch, the Germans are second to none on their day as they can be devastating with the use of Kimmich and Robin Gosens as the wide fullbacks, Gnabry and Werner haven't shown their quality yet which may be worrying but they haven't struggled for goals, netting 6 so far. They'll be looking to produce a more fluid performance in their attempts to progress further and potentially win the Euros.
As far as Hungary goes, they can hold their heads up high having caused trouble in an uncompromising group. The absence of Dominik Szoboszlai due to injury was a huge miss for them but the future of the nation is bright with the likes of Attila Szalai, Roland Sallai, and András Schäfer putting in great performances despite coming short of progressing into the next round.
Author: Vuyo Ndebele ( @RegaloJnr )