B

efore a ball had been kicked, EURO 2020 looked like it could be a tournament for the dark horses. Yet, on a day when a heavily-tipped Turkish side was seemingly written off for good, it was another of the more serious outsiders who underlined their genuine aspirations to go on and win the entire thing.
From minute one, Italy was dominant against Switzerland, just as they had been five days before against the Turks. Having never previously scored three goals in a European Championship game, Gli Azzurri has now done it twice in a row, driven by a magical midfield with the perfect balance of technique, defensive bite, and attacking verve, and a lethal attacking trio brimming with pace, power, and trickery.  
It doesn't end there though. In limiting their two opponents to xG's of just 0.52 and 0.26, and winning their last nine games by an aggregate score of 27-0, the Italians look defensively emphatic too. Throwing bodies in the way of the few chances they concede, they defend as intensely as they sing their national anthem before every game. 
 With the mentality of underdogs but the quality of champions, Italy is going to be a very difficult team to beat. The only question that now remains is how their infectious positivity and passion will fare against the superstar quality of the other tournament favorites in the knockout stages.
GoalPoint's MVP and UEFA Star of the Match: Manuel Locatelli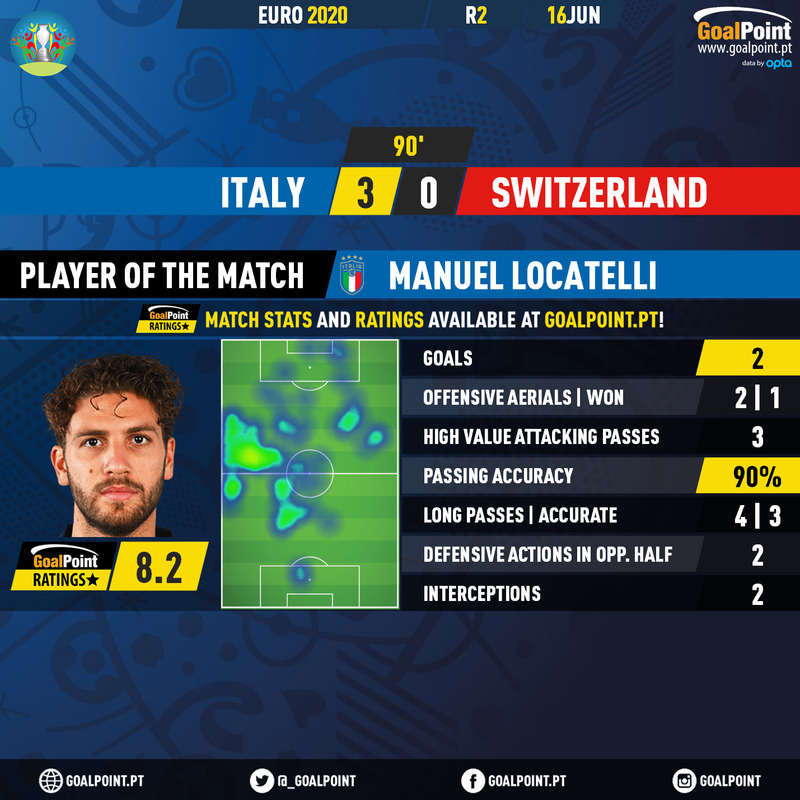 If anything, Locatelli's first goal perfectly encapsulated his complete midfield performance. Starting the attack with a sensational volleyed ball out to his Sassuolo teammate Domenico Berardi, the midfielder burst through the midfield with a powerful 50-yard charge to meet the tricky winger's eventual cross, thumping the ball into an empty net with a perfectly-timed run.
Imagination and vision to start the move, coupled with determination and positivity and finish it off, was a goal that showed that the young midfielder has it all. His second strike was similarly eye-catching, unleashing a vicious driven shot into the bottom corner from distance, with his supposedly weaker foot, leaving Yann Sommer absolutely rooted to his spot. 
His attacking contributions, though, were simply added bonuses to an outstanding midfield performance. A player whose possession retention and passing ability couldn't be any better suited to Mancini's total football philosophy, expect to see a lot more of the 23-year-old as the tournament rolls on. 
Author: Thom Harris – (@ThomHarris_)
The Swiss Implosion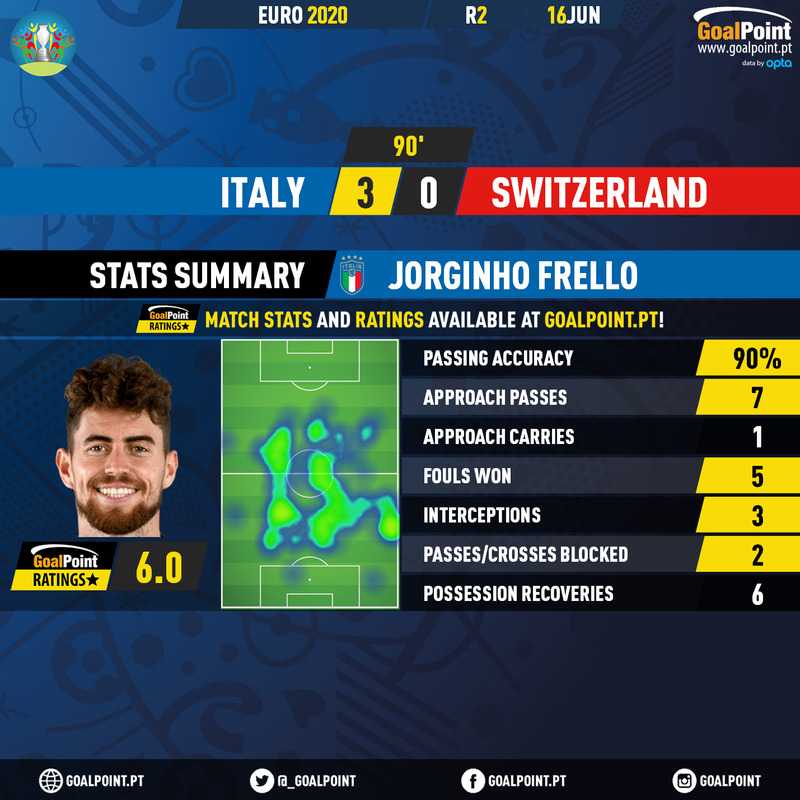 Rather than meet the Italians head-on, Switzerland manager Vladimir Petković persisted with a 3-4-1-2 formation and was severely punished. The Swiss midfield was entirely overwhelmed by the Italian trio of Nicolò Barella, Jorginho and Manuel Locatelli. Together they coordinated defenses, launched attacks, and were the catalyst to eventual victory for Italy.
Whilst Locatelli will rightfully receive the mass commendation for his "coming-of-age" performance, Jorginho was once again the unsung hero of the side. He patrolled the center of the park finishing the game with five fouls won, three interceptions, and six possession recoveries.
However, Switzerland made it all too easy. In a game that they needed structure, they were unorganized and easily unpicked by the Italians who weaved their tapestry of delights. Too often, Kevin Mbabu and Ricardo Rodríguez bombed forward, leaving swathes of space for Domenico Berardi and Lorenzo Insigne to exploit.
The decision to play Xherdan Shaqiri as a roaming attacking midfielder was incomprehensible as he quickly became void when out of possession due to his lack of work rate and defensive awareness, allowing the likes of Locatelli to blitz forwards unmarked and unimpeded for both goals. They may have come up against the most in-form team of the competition but the starting eleven and match tactics left a mountain to climb for the Swiss before the first whistle had even been sung.
The Distant Breel Embolo
Embolo had a difficult night in Rome against the Azzurri, a shadow of his prior performance against Wales in which he dominated all game.
Breel Embolo was a destructive force against Wales, his runs through the heart of the Welsh midfield all but unstrung their entire defense giving Switzerland an unstoppable attacking outlet, but against Italy, he looked a mere shell of his previous performance.
Having scored four days prior, Petković would have been looking for his talisman to be the difference-maker, but it was clear to see that in the opening minutes, Mancini and his midfield gladiators were not going to make it as easy in Rome. Every time the striker received the ball, he was hounded by the midfield trio, with Jorginho commandeering the charge. The Champions League winner kept touch tight to Embolo, giving him little time to fire up his engines and prevented him from embarking on those long, menacing runs.
Still, the Swiss midfielders continued to force-feed Embolo the ball, clinging to the hope that he could be the facilitator for attacking triumph. But time and time again, he was refused entry to the Italian box until the passes eventually stopped altogether. It ended in a tough night for the Borussia Mönchengladbach striker, who only completed two dribbles out of his six attempts, one approach carry and zero shots. 
If Switzerland wants to keep their hopes alive, they will need their star man to produce a performance akin to his game against Wales rather than his disappointing rally against the Italians.
Author: Toby Rathborne – (@TobyRathborne)
A Look Ahead
A result that leaves Italy on cloud nine, Switzerland, on the other hand, is now teetering on the edge of elimination, needing a victory against rock-bottom Turkey to give themselves any chance of scraping through in third place. There was a discouraging lack of ambition from Vladimir Petković's side today, and they're going to need an injection of self-confidence and belief ahead of that crucial, fate-deciding game.
For Italy, though, and with one more group game against an impressive Wales side still to play, they just need to concentrate on extending their unstoppable run. You can only beat who is put in front of you, and, at the moment, Mancini's men couldn't really be doing that any more emphatically. 
Author: Thom Harris – (@ThomHarris_)