T

he final game of group B in Euro 2020 saw Finland needing just one point to guarantee safe passage to the Round-of-16. Unfortunately, they faced a Belgium side who had won 10 out of their last 11 tournament group games since 2014. Within 25 minutes, the tone had been set.
Finland set out to defend in a 5-3-2, tasking Roberto Martinez's Belgium with unlocking a deep block. This was a task Belgium appeared to relish. Jeremy Doku and Eden Hazard caused Finland problems from wide, and Belgium attacked directly throughout the game. Though this did not quite reap rewards in the first half, in the second half their bold approach paid off.
Finland saw a warning sign when Romelu Lukaku finished superbly midway through the second half after a great Kevin De Bruyne pass, only for the goal to be ruled offside. Belgium's broke through from a corner though, with Thomas Vermaelen heading on to the post only for the ball to rebound off Lukas Hradecky, marking it an own goal for the Finland keeper. Any hope of an equalizer was shattered when Lukaku was fed by De Bruyne and rifled home into the bottom corner. It was a deserved 0-2 victory for the better side, one Finland simply could not cope with.
GoalPoint's MVP and UEFA Star of the Match: Kevin De Bruyne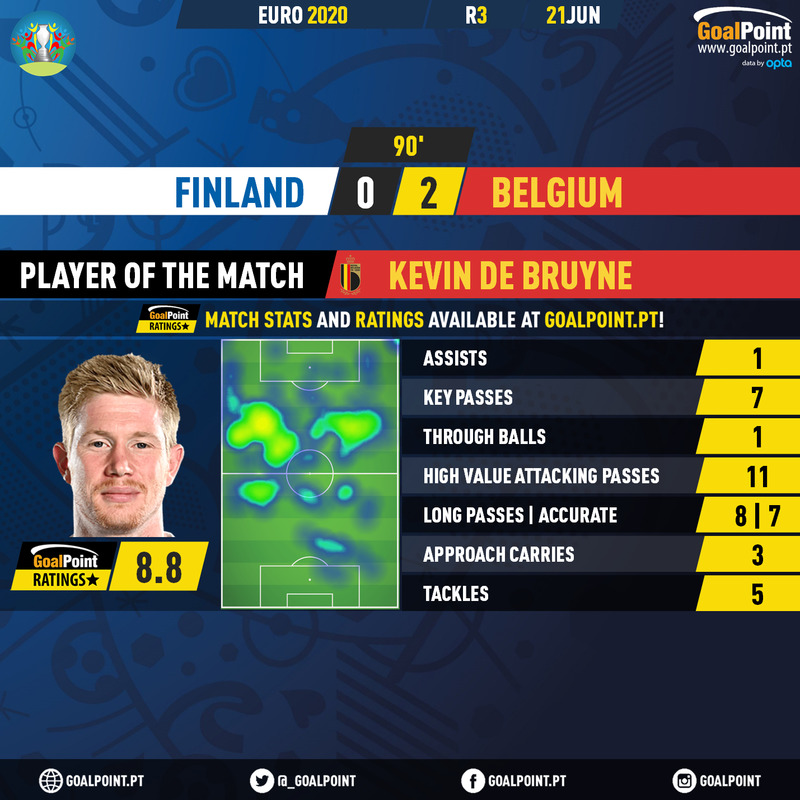 With an 8.8 rating from Goalpoint, only Xherdan Shaqiri (Switzerland) and Gareth Bale (Wales) have achieved better ratings so far at Euro 2020.
English pundits like Jermaine Jenas were quick to make comparisons of Belgium to England before the final whistle had even been blown. More specifically, what Harry Kane could do with Kevin De Bruyne behind him. Considering De Bruyne made 7 key passes, 3 dribbles, and completed 2 crosses against Finland, it is a fair question.
Not only did De Bruyne perform well statistically but with him on the side, Belgium looks capable of unlocking the tightest defenses in the world. He was stunning with his vision too, consistently threading balls through to Lukaku inside the box. In Fact of the 92 passes he attempted, 11 were high-value attacking passes.
This was key in upsetting Finland's defense. They were not sure whether to press the Manchester City playmaker and risk leaving space inside the box or to give him time to pick a pass out anyway. De Bruyne was also taking players in 1v1, completing a match-high 3 dribbles.
These were not aimless either, with a particular highlight coming inside the first 15 minutes when De Bruyne raced into the box and cut the ball back dangerously. With any questions of his fitness dispelled, De Bruyne could be on track for truly standout tournament performance.
Author: Alex Barker ( @EuroExpert_ )
Roberto Martinez's Tactical Superiority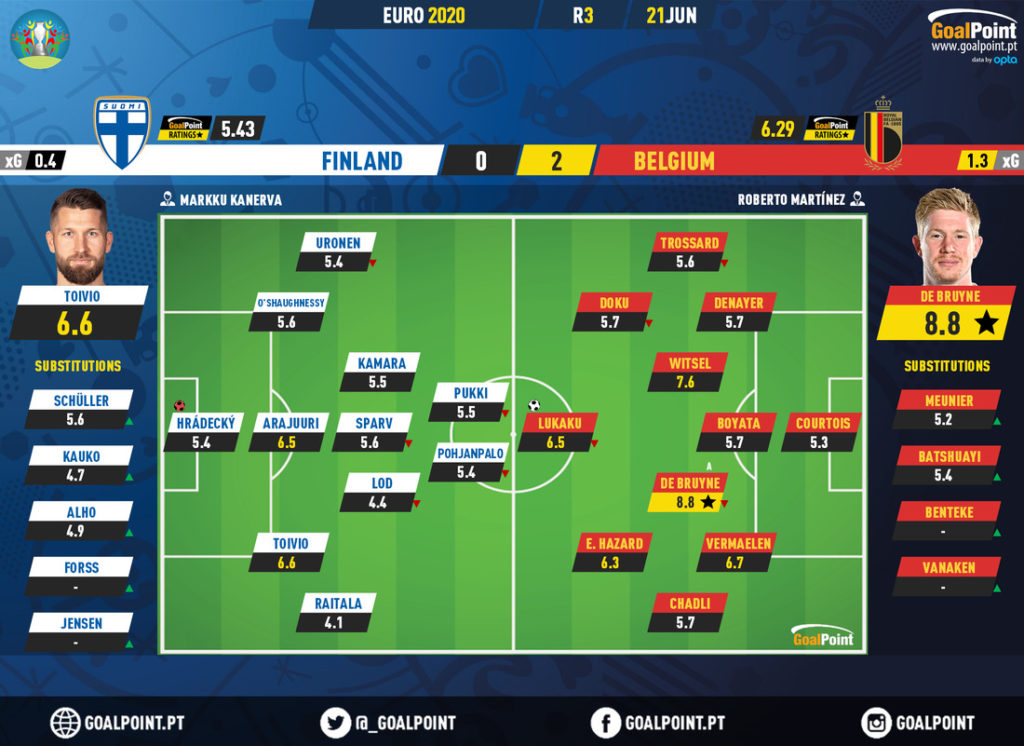 In a game where a draw would have made both sides happy, Belgium played with urgency and intensity against Finland who was simply holding on for dear life. Roberto Martinez delivered a masterclass on how to break down a deep block, showing the likes of Luis Enrique and Gareth Southgate what to do against teams that just refuse to come out and play.
The Red Devils simply upped the tempo and kept running at the Finnish defense (which was their entire starting 11 by the way) with Kevin DeBruyne at the heart of it all, making sure their opponents never had breathing space. One could be forgiven for thinking this was a lineup from 2015 after one glance at the Belgian left side with Thomas Vermaelen in left center-back and Nacer Chadli playing further in left wing-back.
Neither of them looked out of place, 35-year Vermaelen proved solid as a rock while Chadli proved to be a nightmare matchup for Jukka Raitala. Belgium's kitchen-sink approach to a game they really didn't need is the main reason they are one of the favorites to win it all.
Martinez has a perfect blend of technique and energy at his disposal and he knows exactly how to use them. He found a way to fit Chadli, Leandro Trossard, Jeremy Doku, Kevin De Bruyne, Romelu Lukaku, and Eden Hazard into the starting 11 all at once and created a highly efficient attacking dynamic in the process.
Flop of the Match: Teemu Pukki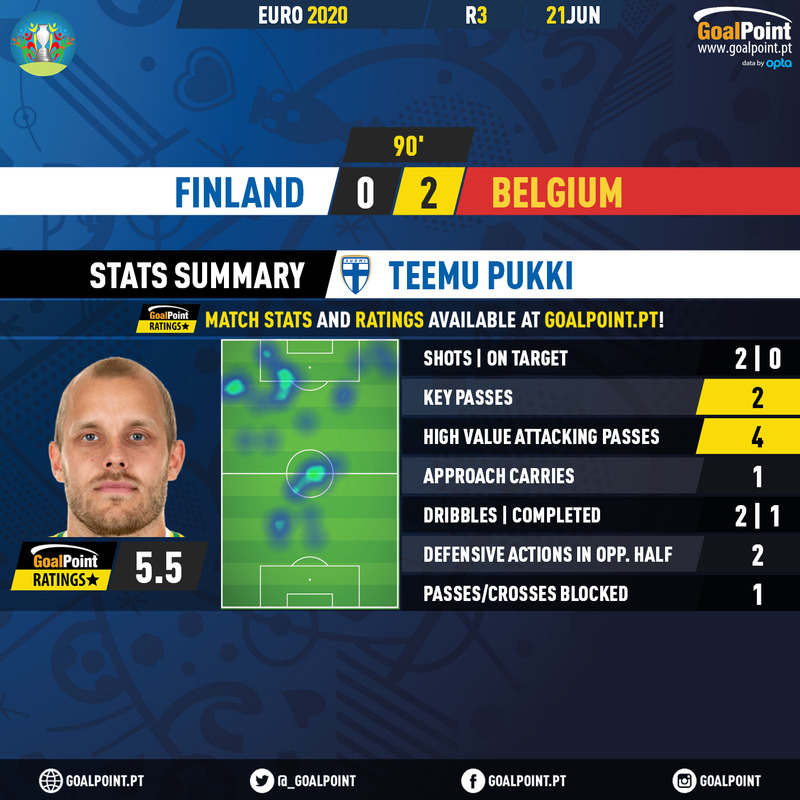 After another disappointing display in an increasingly underwhelming Euros for the Finland national team, it's difficult to single out just one man when everyone not named Lukas Hradecky or Glen Kamara failed to perform. However, the rules are different for the star of the team, Teemu Pukki who many had thought would lead the way for his team but struggled through all three games.
Against Belgium, Pukki had two attempts at goal to take his overall Euros tally to four and none of the shots were on target. Finland's negative approach didn't do him any good, Pukki had the second-fewest touches among the states for Finland with 32 and never looked like the Finnish savior he was portrayed as pre-tournament.
As his heat map indicates, Teemu Pukki was oddly positioned and forced to drop deep or stray wide and out soon the wings where he carried no threat at all. The Norwich striker is at his best in the penalty box and Belgium made sure to deny him access which is the reason Finland failed to carry any threat going forward in this game. If by some miracle Finland advances to the Round of 16, they will be hoping Teemu Pukki can step up, he's their best shot at making an impact in this tournament and he's not playing like it.
Author: Tunde Young ( @Tunde_Young )
A Look Ahead
Finland could still progress through to the Round of 16 in their first-ever major international tournament, however on 3 points with a -2 goal difference it already puts them behind both Switzerland and Ukraine. Whatever happens, it has been a strong display from a side that finished their first game in such difficult circumstances.
Belgium meanwhile will play one of the third-placed teams from group D, E, or F in the round of 16. With confidence flowing and momentum in full swing for Martinez's side, regardless of the identity of their next opponent, they will feel confident of going far in Euro 2020.
Author: Alex Barker ( @EuroExpert_ )