I

t was billed as the main event of the round of 16 fixtures. Belgium-Portugal boasting an array of footballing talent on show was unmissable, but for 45 minutes, in particular, it was anything but. Lee Dixon described it as ´pragmatic´ constantly in commentary, that was being nice.

The game got the jolt in the arm it needed with a thunderbolt from Thorgan Hazard

, it was Belgium's only shot on target.
In the second half, Fernando Santos was forced to unleash the pristine attacking talents at his disposal but even then it was probably just about too little too late. Portugal only became urgent and had some attacking intent with half an hour left as Santos threw on Joao Felix and Bruno Fernandes as Santos decide to throw the kitchen sink at the Belgians. In fact, the move did pay off as Portugal went close on goal with a Ruben Dias header and Raphael Guerreiro struck a post as the Portugal attack launched wave after wave.
In the first half Cristiano Ronaldo bellowed at his teammates to push up and press higher, because of the fact Portugal didn't do this earlier and listen to their captain, Belgium resisted their attacks and clawed their way through. Eden Hazard and Kevin De Bruyne both nervously gesticulated on the touchline, both sidelined by injuries in a game that got increasingly petulant and petty.
As Portugal's urgency searching for an equalizer increased, so did the irritation levels and the fouls as both teams finally made the game more competitive. The star playmakers of Real Madrid and Man City just wanted the whistle to blow as they watched on like Belgium fans at home helpless to make a difference, it seemed if the game had ten more minutes in it Portugal would've gotten an equalizer, but they simply woke up too late.
Eden Hazard
With Carlo Ancelotti back at the helm at Real Madrid, it could mean a new lease of life for many players at Real, one of which could be Eden Hazard. Picture the blockbuster narrative, the Belgian reminds the world why he cost Real Madrid 100 million euros by leading an aging golden generation Belgium team to the Euros crown and henceforth rejuvenating the twilight years of his career.
Hazard dazzled and delighted in the Premier League becoming one of the world´s best and most sought after especially in the last decade or so he is right up there with being a Premier League icon. Days like today reminded us of why he is held in such high regard. Belgium was under heaps of pressure for the second half but the brilliant Romelu Lukaku and Hazard ensured that there were moments of stoppages to give Belgium respite, particularly in the four fouls won by Hazard.
Belgium wasn´t at their attacking best today, nowhere near it, but Hazard kept them ticking with neat play, dribbling Belgium out of trouble or in midfield and then spraying the ball to players in space. Hazard has struggled for fitness and has only played 90 minutes once since 2019, he could use the tournament as a launchpad to get his old mojo back. With his brother Thorgan scoring the winner, it was a good day for the Hazard family.
Author: Dharnish Iqbal ( @DharnishSizlak )
A Recognisable but Altered Belgium Side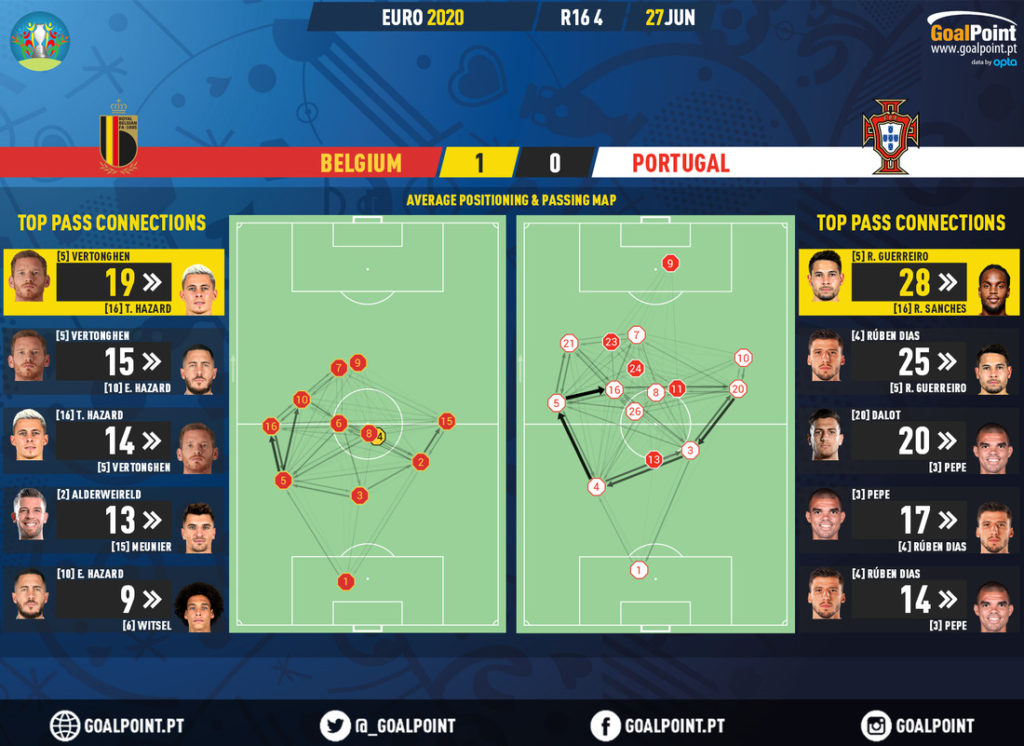 Following a dominant group stage performance from the Belgians, Roberto Martínez decided he would display some tactical dexterity by instilling a defensive approach in the round of 16 to cope with an extremely potent Portugal team.
When attacking, the majority went down the left-hand side through Thorgan Hazard. He played in a left-wing back role allowing him to pick up the ball from deep and drive forwards where he was supported by his elder brother Eden Hazard and striker Romelu Lukaku. Their persistence in playing on this side paid off as Thorgan Hazard was given the time and space to score the all-important goal.
After scoring, Belgium defended deep and looked to hit a desperate Portugal on the counterattack. The idea worked partially as they held firm in defense, but failed to score on numerous occasions kept the game on a knife-edge. In the end, the experienced defensive trio of Thomas Vermaelen, Toby Alderweireld, and Jan Vertonghen, who combine for 1343 club appearances, were able to see out the rest of the match, only calling Thibaut Courtois into action on a few occasions.
Surprisingly, Portugal adopted a similar approach to Belgium, attacking the left side rather than targeting the defensively inexperienced Thorgan Hazard. Still, a lack of creativity and clinical finishing was the larger issue at hand that led to their eventual ticket home.
The Flop: A Dismal Performance from Diogo Jota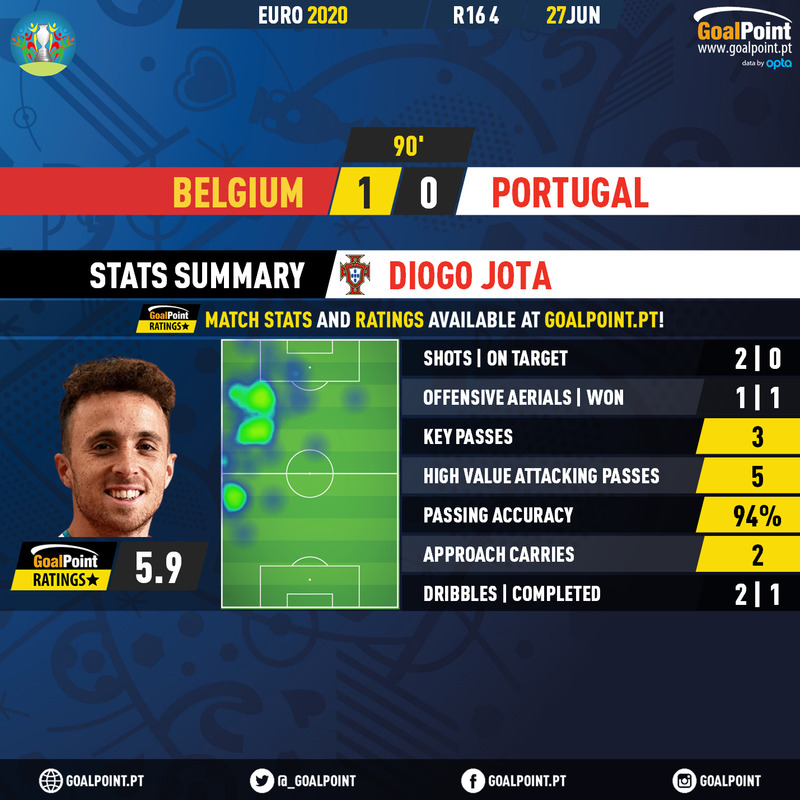 Diogo Jota had a strong debut season with Liverpool following his move from Wolves. Despite the injury, he managed to score 13 goals becoming a bright spark in an otherwise disappointing Liverpool season. However, his first major international campaign in the Portugal red has been one to forget with poor performances in the group stages, which continued in his abject outing against Belgium.
His first opportunity to impact the game came a mere five minutes from the opening whistle when Renato Sanches picked out the 24-year-old inside the box; he took a neat touch but dragged his shot wide of the far post. Not the clinical finishing that he exhibited at Anfield. From here, he continued to drift with the play of the game, shrinking behind the presence of Cristiano Ronaldo and failed to assert himself in possession on the wing as he was well patrolled by Thomas Meunier.
The second chance came early in the second half as Portugal trailed by a goal when Ronaldo went on another mazy run from the right before playing a pass to Jota's feet inside the penalty box. But again he snatched at the ball, blazing his effort over the bar. Eventually, in the 70th minute, as Portugal continued their struggle for an equalizer, Jota was substituted, bringing his underwhelming European Championship campaign to an end.
Author: Toby Rathborne ( @TobyRathborne )
Conclusion
Belgium-Portugal was not the match we thought it would be, but personally, I think we should perhaps get used to it as the tournament gets further, it is not mentioned enough how these lavishly paid men are simply exhausted. Belgium moves on to play Italy in the quarter-finals in another difficult but compulsively tantalizing encounter for the neutral, as the tournament gets more serious, the matchups and stakes increase.
Belgium has a plethora of very good footballers which increased the pressure on this team to win an international trophy, this may be this generation´s last best chance to do so, and their dogged determination in defending their lead displayed these players may be fully aware of their last chance saloon. As for Portugal, Santos never found a way to best utilize the increased weapons at his disposal from the last tournament which Portugal won, it felt like he had more resources at his usage than five years ago but never knew what to do with them.
Despite actually having four good games for Portugal we wave goodbye to Cristiano Ronaldo who gave the tournament a sense of star power, his displays were particularly eye-catching as it seemed the rumors of him being ´finished´ could be far from the truth, Ronaldo looked focused and seemed to relish the stage as he thrived as an attacker in leading Portugal, there is yet more to come from the Madeira native you sense. The question before the tournament was are Portugal too reliant on Ronaldo, when in actuality the true takeaway from Portugal at Euro 2020 was why could Portugal rely on Ronaldo only and none of its other brilliant forwards?
Author: Dharnish Iqbal ( @DharnishSizlak )