T

he world's biggest sporting event since COVID-19 ravaged the globe has finally begun. It's a year late, there is no official host country, and only a handful of spectators have been permitted in the stadiums, but football fans worldwide won't care. The European Championship has always promised fantastic, free-flowing football. It's promised shocking moments, wonder goals, drama, and theatrics. It's promised entertainment.
Enter Senol Güneş.
The Turkish manager took all those promises and ripped them in half when Turkey took on Italy at the legendary Stadio Olimpico in Rome for the first game of the EURO 2020.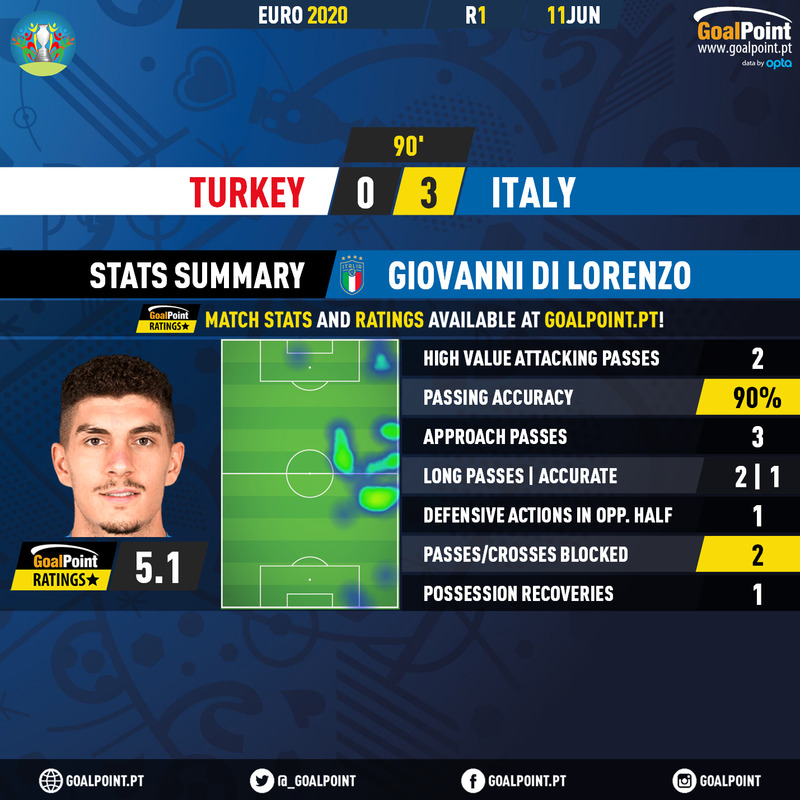 Turkey have historically always been a side that leaks goals. Güneş has looked to rectify that, with his side coming in second in their EURO 2020 qualifiers, managing to take four points off France, the current world champions. What stood out during the qualifiers was Turkey's defence, keeping eight clean sheets and only conceding three goals, none of which came from open play.
So it was no surprise that Güneş set up defensively against Italy. Mainly because this new era isn't the Azzurri of old. After missing out on the 2018 World Cup, Roberto Mancini has revitalized Italy with a solid midfield and a dynamic forward line.
Güneş set up his team in a 4-1-4-1 to combat Italy's 4-3-3, with Okay Yokuşlu often dropping back to form a back six. This low-block was the Crescent-Stars' way of inviting Azzuri into their own box, with the hopes of soaking up the pressure. For the most part, the Turks stayed narrow, with the centre-back duo Merih Demiral and Çağlar Söyüncü using their height advantage to head away any crosses from the flanks.
And Turkey's defensive style worked for the first half. Was it boring? Yes. Did they ever look like they were going to score on the other end of the pitch? No. But the first half ended with the score tied at 0-0, with the Italians failing to convert any of their 12 shots on goal.
After half-time, we saw Turkey become a bit braver in possession. They opted for a half-pressing system in an attempt to try and get an attacking return. All that led to, however, was their defensive shape to become sloppy. Italy pounced on those fluffed lines, and from there, there was no going back for the Azzurri.
With a relentless Domenico Berardi on the wing, alternating between the right flank and midfield, a non-stop Leonardo Spinazzola whose pace and energy from left-back is always an attacking threat, the legendary centre-back pairing of Giorgio Chiellini and Leonardo Bonucci, and two proven goal scorers in Ciro Immobile and Lorenzo Insigne, Italy had quality all over the pitch.
Their first of three came in the 53rd minute when Berardi cut inside and found enough space to cross it into the box. It looked to be another clearance, but Demiral was unable to control the spin of the ball and accidentally chested it into his own net, making it the first time in EURO history that the tournament's opening goal was an own goal.
THE FIRST GOAL OF #EURO2020 IS AN OWN GOAL! 😅 pic.twitter.com/fkqykh0g4q

— ESPN FC (@ESPNFC) June 11, 2021
Thirteen minutes later, Berardi again was the opportunist, forcing a save from Uğurcan Çakır. However, Çakır was unable to grab hold of the ball, leaving Immobile to score the rebound from short range.
ITALY LEAD 2-0! 🇮🇹

Ciro Immobile with his first goal of #EURO2020 💥 pic.twitter.com/osQAfxYBMr

— ESPN FC (@ESPNFC) June 11, 2021
With Turkey tired and defeated, Italy continued to have fun, and the final goal came in the 79th minute, with Çakır's poor clearance being picked up by Berardi. A couple of one-touch passes led to Insigne's curling effort going straight past Çakır and into the net.
INSIGNE MAKES IT THREE! 🇮🇹 pic.twitter.com/zLT6xN1eOv

— ESPN FC (@ESPNFC) June 11, 2021
UEFA Star of the Match: Leonardo Spinazzola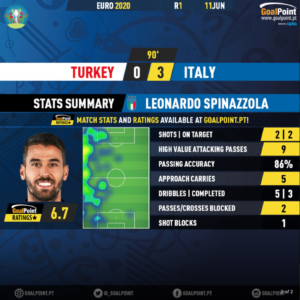 It's hard to pick just one Man of the Match, with several players of Italy deserving the title. My pick however is Spinazzola, who commanded that left-hand side, and was both an attacking threat, yet solid defensively.
Spinazzola's heat map shows just how involved he was in Italy's buildup when they had possession. He was often used as the outlet when the centre of the pitch got too congested, and Zeki Çelik struggled to contain him, constantly finding himself out of position against Spinazzola.
In the final third, Spinazzola was always attempting to make something happen. The left-back completed ⅗ dribbles, which was the most of anyone on the pitch, and those dribbles were completed when he would take on Çelik in an attempt to find space for a quick layoff to a teammate across the box.
While Spinazzola did not score, both his shots were on target, showing that Italy does have him as an option for a goal threat, and he, of course, provided the assist for his team's second goal.
Defensively, Spinazzola was not truly tested, as were the rest of Italy's backline. Still, when called upon, he delivered, as he was able to nullify any counter-attacks that came through Kenan Karaman.
Author: Yara El-Shaboury (@yaraelshab)
Şenol Güneş' Tactical Mishap
Burak Yilmaz was one of the most highly anticipated players heading into the opening match on Friday evening. In red hot form for club & country, many even tipped the 35 year old to be the dark horse for the golden boot, in a Turkish side competing for the title. Yet, after 90 minutes neither of these outcomes look feasible, with Yilmaz a non-existent entity in a sluggish Turkish defeat.
With just 22 touches, Yilmaz saw the ball the least of any player with 45+ minutes, even completing 6 fewer touches then Italy's relatively unemployed keeper Gianluigi Donnarumma.
Perhaps even more worrying are the areas in which Yilmaz picked up possession, registering just 3 touches in the opposition penalty area, none of which ended in a shot on target. Yilmaz is a striker who lives off of service in and around the box, highlighted in the fact that 8 of his 10 open play, Ligue 1's goals came from within 18 yards of goal.
For Turkey to get the most out of an aging Burak Yilmaz, Şenol Güneş will need to reduce the distance between the Lille forward and the supporting midfielders. This will not only enable more controlled phases of possession in the final third, but will also allow the likes of Hakan Çalhanoğlu and Yusuf Yazıcı to use their creative abilities to supply Yilmaz ammunition to score from.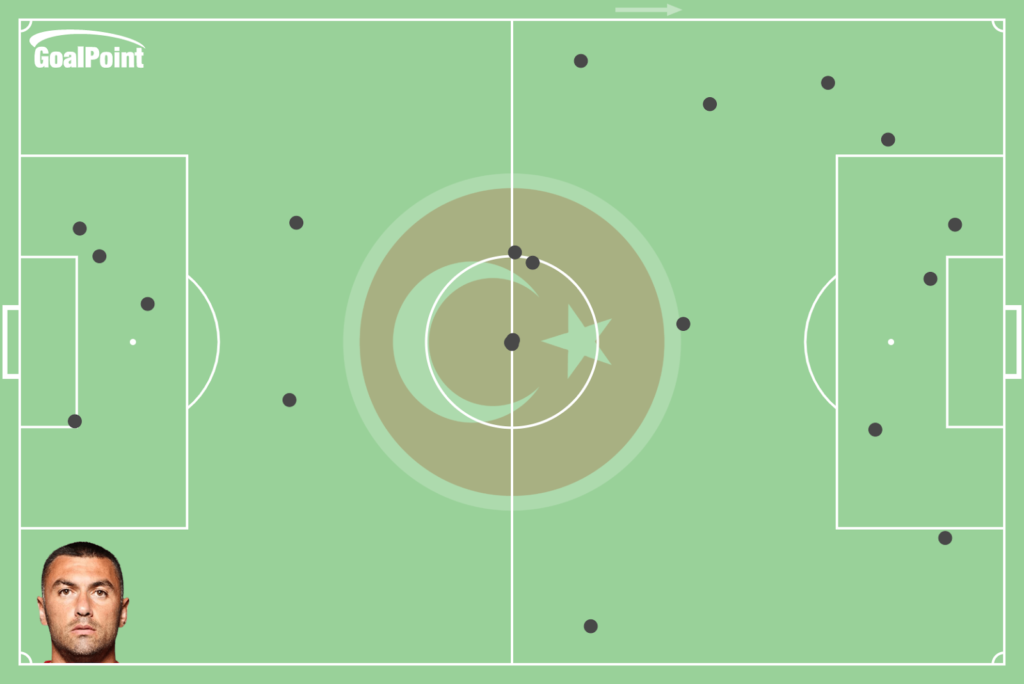 Author: Adam Khan / @xxAdamKhanxx
Mancini's Perfect Substitution
3 goals in 45 minutes say it all, with the second half clearly the more dominant from the Italians. One of the main reasons for this was the introduction of Giovanni Di Lorenzo for Alessandro Florenzi at right-back, an attacking change that was evidently the missing piece in cracking the Turkish rearguard.
Whilst Florenzi was by no means poor in the opening 45', he did not bring a lot to the Italian's attacking game. Without an overlapping presence, Italy's right-winger Domenico Berardi was far less effective than his opposite Lorenzo Insigne, thriving in the first half with the space afforded to him by left fullback Leonardo Spinazzola's overlapping runs.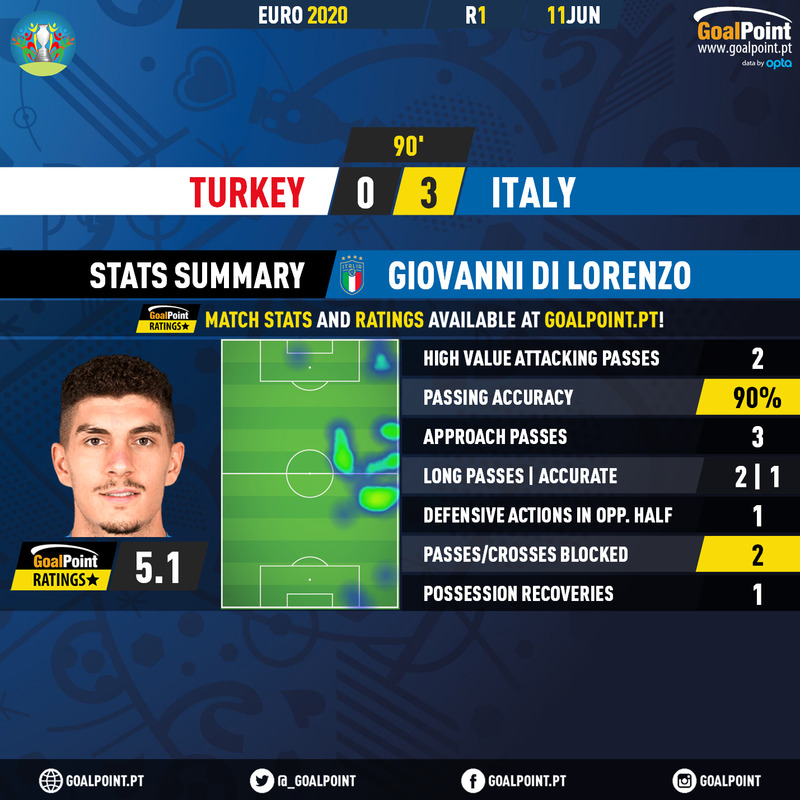 Sensing the need for change in order to crack Turkey's stubborn defense, Roberto Mancini opted to reduce Italy's defensive security in order to bring on a right-back that would contribute in the final third.
This worked a charm, with Di Lorenzo's marauding runs allowing Berardi the space to force an own goal for Italy's opener. Mancini's smart tactical change created a far more balanced attacking outfit in the second half, pulling a tiring Turkish defense left & right in Rome's night sky.
With a meeting vs Switzerland coming up on June 16th, Mancini will have an interesting dilemma on his hands; forced to pick between Di Lorenzo's attacking incentives or Florenzi's reserved style which brings much-needed recovery speed to Italy's aging center back pairing.
Author: Adam Khan / @xxAdamKhanxx
A Look Ahead
It may have been a frustrating first half for Italy, but they more than made up for it in the second, with their strong showing solidifying why most had them as their dark horse pick of the tournament. They showed their quality throughout the pitch, and they should easily look to top Group A, with Switzerland and Wales as their next two opponents.
Marco Verratti, who has not fully recovered from a knee injury, was obviously not in contention against Turkey. Verratti is a technically gifted central-midfield playmaker and a crucial component of this Italy team. He was hardly missed today, which means that
A) when he slots back into this team, they have the potential to be even better, and
B) Italy know how to play without one of their star players.
This ability to not have to rely on a single player or single system can lead them far.
Turkey, on the other hand, will be upset with the loss. A draw against Italy would have been a win for Güneş. Regardless of the poor tactics and execution, their lack of experience really shined; it is not surprising that they have the youngest squad in the competition and have only three players who have had international experience at a tournament. Now they face Switzerland, and Wales, two opponents that should be easier than Italy on paper, but with a goal difference of -3, they have to switch up from their overly defensive style of play if they want to make it to the Round of 16.
Author: Yara El-Shaboury (@yaraelshab)