L

ondon's Wembley stadium was the contemporary battleground for the most recent iteration of the long and storied history between Italian and Austrian forces. Some 200 years on since Italy's northern heartlands were the jewel in the Austrian Empire's crown, Italy came out on top in this showpiece event against their once overlords.
Italy came into the tie as clear favorites as both their arsenal of players and recent form suggested that the Italians should make light work of the overmatched albeit hardworking Austrian side; however, this couldn't be further from the truth, as the Austrians gave the Italians their toughest test to date at this summer's tournament.
The 90 was an attritional affair dominated mainly by the imperious nature of both sides CB's who did well to avert almost all threats from either side. The man with many friends, Marko Arnautović, though he had put Austria in the lead and in the process soiling Italy's clean sheet record, whoever the striker can not count those in the VAR room as one of his many diverse, close associates.
In extra time, the game exploded, with Federico Chiesa the first to strike, who found the net after some impressive ball control. Ten minutes later, it appeared that the game had run its course as Matteo Pessina put the ball past Daniel Bachman and into the Austrian goal with his left foot.
The colossal Saša Kalajdžić pulled one back from a seemingly impossible angle which proved to be little more than a consolation strike for the Austrian side. Questions must be asked regarding why it took so long to get the talented Kalajdžić on to the pitch as his impact was clear to see; however, this will be one of a small number of concerns, as the Austrians played their heart out but were undone by a top-tier Italian side.
Writer's Man of the Match: Martin Hinteregger
Martin Hinteregger put on a display beyond any expectations of the Eintracht Frankfurt man. He was one of many Austrian foot-soldiers who kept them in the game long enough for questions to be asked and what-ifs to fester. Italy has embarrassed Turkish and Swiss backlines already in this tournament; however, Hinteregger and co made sure no Austrian could leave the stadium with their tails between their legs as Ciro Immobile and Andrea Belotti were kept quiet.
Hinteregger and the rest of the Austrian backline appeared like a wall for long swathes of time, as every shot attempted by an Italian immediately bounced back. Whether it be due to mental or physical fatigue, the gargantuan effort expired long into extra time with regular service returning as the Italians found their goals, albeit not down to any Austrian mistakes.
Author: Patrick Caskie ( @CaskiePatrick )
Austria's Disruptive Tactics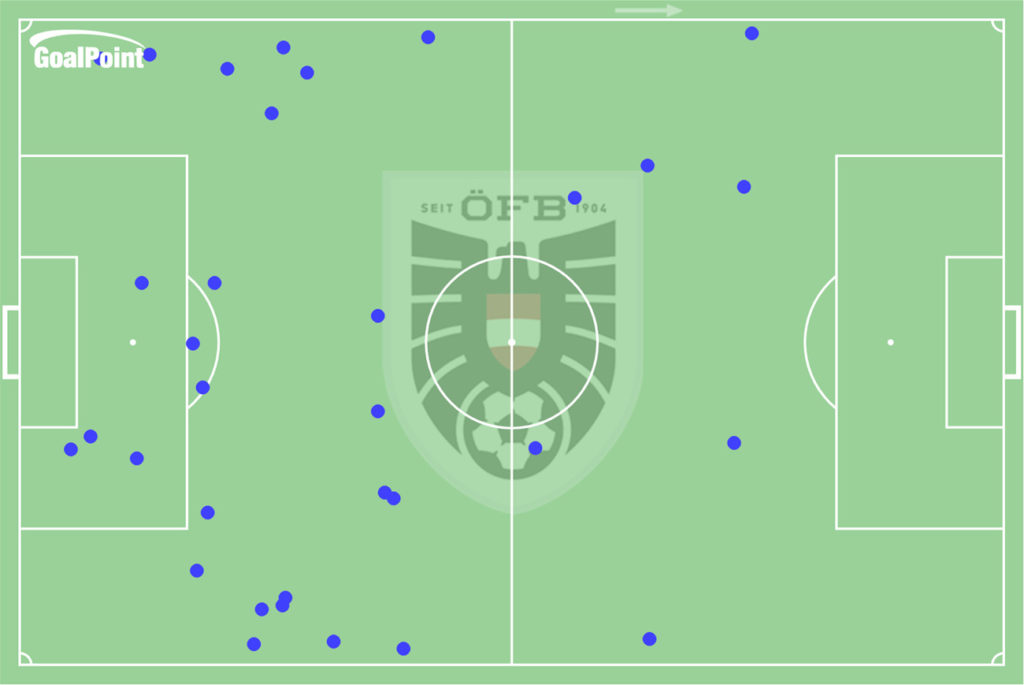 Euro 2020 has been an opening to a new era of Austrian football. The birth of RB Salzburg has not only helped transform talents like Marcel Sabitzer into Bundesliga-ready players, but it has helped cultivate a pressing philosophy in its domestic football. Against Italy, it was this approach that so-nearly prevailed.
From the first minute, Austria looked to win the ball in midfield. They surrounded their opponents well, and by the end of the 90 minutes had won the ball in Italy's half 8 times. They attempted an incredible 36 tackles, double the average (p90) of RB Leipzig in the Bundesliga last season. They also committed 16 fouls before they went 1-0 down, well above the Netherlands' average of 11.5 per game so far in Euro 2020. This helped disrupt the Italian rhythm.
In possession, they were incredibly direct and bold with their play. Not only was Hinteregger fantastic at playing vertical passes, but Marko Arnautović was also used particularly well as a target man. He touched the ball 37 times in 90 minutes, losing it on just 5 occasions.
Italy found it exceedingly difficult to advance through the press. In the second half alone, they lost the ball 16 times and were outshot by Austria. Across the night, they lost the ball inside the night, Italy lost the ball 35 times from inside their own half. Though they were knocked out, Austria outplayed Italy at various points. They can be proud of a bold performance that was easily the toughest challenge Italy have faced in Euro 2020. 
The Flop: Domenico Berardi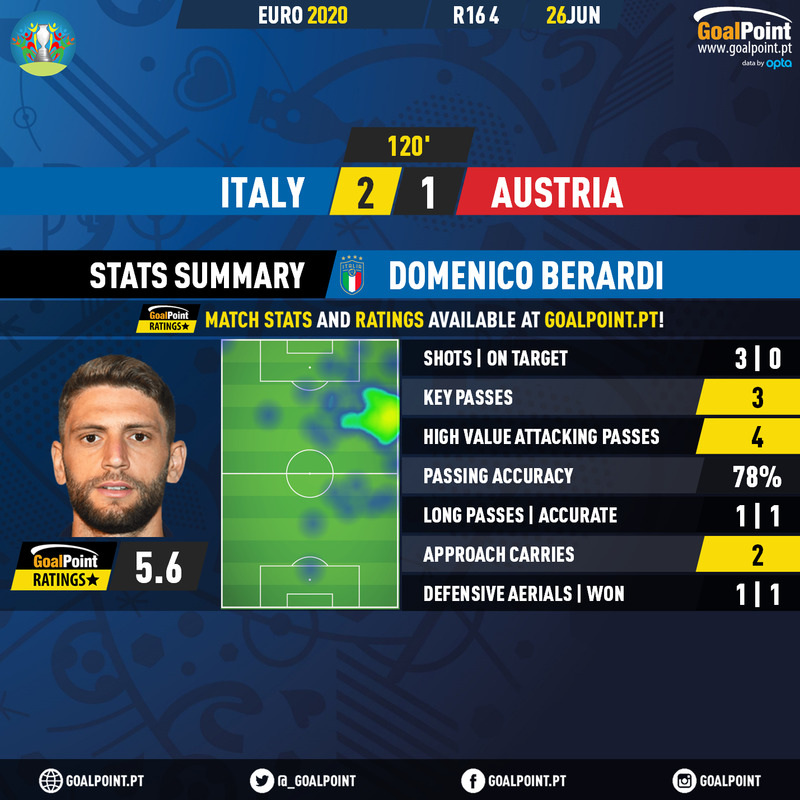 Despite Austria doing its best to disrupt Italy, there were plenty of opportunities for an Italian player to make a difference. That turned out to be Federico Chiesa in extra time for, but the man he replaced, Domenico Berardi, failed to prove his quality in the 84 minutes he played.
Berardi felt absent from the match for someone who has made 24 goal contributions in his last 30 Serie A matches. He had three shots, with two coming from outside the box and one being a failed attempted bicycle kick from a Leonardo Spinazzola cross. None of his attempts troubled Daniel Bachmann in goal, all coming off-target.
He can be forgiven for not getting on the end of chances, but Berardi failed to create any either. He created 10 big chances in Serie A in 20/21 but created zero against Austria. He also failed to complete a dribble. Perhaps this would have been forgiven had he been offering anything defensively, but that was not the case.
He was the only player to start the game and not complete a single tackle or interception. It was telling that Austria lost possession just two times down Italy's right side, compared to 6 occasions on the opposite flank. While the performance was far from abysmal, it was a ghostly display from the 26-year-old.
Hopefully, for Berardi, it is one that the reportedly interested clubs in Leicester City and Liverpool choose to ignore. However, if he wants to cement himself as one of the top players in Europe, he needs to make more of a difference this summer. It remains to be seen whether or not Roberto Mancini will stick with the Sassuolo forward in the line-up for the quarterfinal match or give an opportunity to Federico Chiesa in the attack.
Author: Alex Barker ( @EuroExpert_ )
Conclusion
Italy continues on their charge towards European glory, intending to return to Wembley in mid-July; however, more challenging tasks lay in their wait. For the efforts, Austria can be proud. Still, many of their fans can be left pondering multiple tactics and personnel, what if's not least the limited role that the in-form Kalajdžić played at this summer's tournament.
Author: Patrick Caskie ( @CaskiePatrick )